Crotone midfielder Ahmad Benali spoke exclusively to Football Italia's Ramez Nathan about his time in Italy and how it all started with Joe Hart in Manchester.
With the relegation battle intense on who will join Benevento in Serie B next season, one team is hoping to replicate their last great escape: Crotone.
The Pitagorici performed a miracle by staying in Serie A on the final day of their debut campaign and we spoke to their star midfielder on how they are fighting to stay in the top flight another season.
"I think Crotone expected anyway to be in the fight, it is not something we are too surprised about. We need to try to get the results, especially playing at home, and try to beat the teams in and around us to stay in the fight till the end. I think that's the most important thing to try and stay till the end.
"(Coach Walter) Zenga always tries to keep us calm even if a few results didn't go our way, it is one of his main attributes. All the time we stay together, a lot of the time we eat dinner together, we try to stay with each other as much as possible to try and create a family feeling."
Born and raised in Manchester, the Libyan international was trained in one of the best academies in England and as he put it, Manchester City's academy was more of a life school.
"It shaped my character very well, because in England before the money arrived, Manchester City was one of the best youth academies in terms of creating players and the way they taught us how to behave outside the pitch. It was kind of like a complete package, so we had to behave well in school and if we weren't behaving well in school, we weren't allowed to play the games."
Benali was the captain of the Citizens throughout all their youth sectors and after only one senior spell with Rochdale, he took his boots to Brescia.
"The English game is very different from the Italian. The Italians prepare the game from the very first day of the week in terms of tactics on the pitch, we start doing training on how to catch the other team, what their weaknesses are and we are watching the videos. While in my time in England, especially with English Coaches, they were less on the preparation and more on the physical side, more on the challenges, the tackles and getting up and down the pitch.
"I find the Italian league very difficult because Coaches study every single game by knowing how to catch you out, what your weaknesses are and defensively it is the best country in the world."
After three seasons with the Rondinelle, The Libyan player signed for Pescara, a side brimming with hope and a squad that helped Benali spend his best years in Italy.
"I can only speak well about my time with Pescara. On my first season with them we reached the play-offs and the manager Massimo Oddo was a huge champion, I learned a lot about the game from him, we went all the way to the Final. I scored in the Final, it was an unbelievable memory, one that I will hold forever. The city was crazy when we got back it was unbelievable, thousands and thousands of people were out celebrating.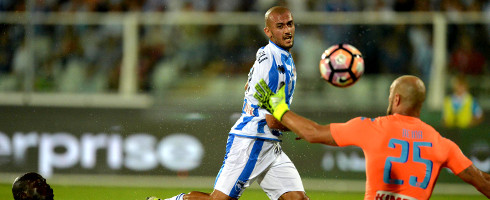 "Then we went to Serie A, the start was incredible I scored after eight minutes past Napoli and we drew 2-2 and then unfortunately we started to slowly not get points and it just got worse and worse for the team. It was a difficult season to accept because we went straight back down. Personally it was unforgettable to play against top teams and score past top sides.
"I was training with Joe Hart when I was 16, crossing the ball for the goalkeepers in the warm up and stuff like that and to play against him and score two goals, it's the great stuff of football that happens."
The midfielder was coached by three managers who have enjoyed an incredible stature in Italian football, whether as players or Coaches, and Benali had a few thoughts to share on each Oddo, Zdenek Zeman and Zenga.
"They are all three different people, Oddo was more on the pitch, played really good football, never wants to play long balls, always wants to keep the ball on the floor and get his team to play great football, and as he put me as an attacking midfielder and with the ball always on the floor, as a small player it benefited me a lot really.
"Zeman is a big name in Italy, but we never really saw eye to eye as maybe we could have done. He was playing me in a position where I didn't want to play, he was playing me as a wide player and I've never played there before, he totally refused to play me in the middle.
"Zenga is a really good guy, off the pitch he's one of the people that helps everyone stay positive and he prepares the game well on the pitch. He likes to play football, but again off the pitch he is a really great guy and he knows how to help the players stay calm and gives them the tranquility."
Unluckily for Benali, he broke a bone in his foot and will be out for two to three months, which means he will not be playing any of the remaining games. However, the 26-year-old had a message to share with the fans.
"Unfortunately I got this injury, I'll be out for the rest of the season, I just need to think about coming back strong for the next season and I just want to thank everyone for the support as I received a lot of messages, so I'd like to thank everyone for their kind words and I wish Crotone the best because we really deserve it, the city, the fans, the players. I hope with all my heart that we stay in Serie A and we'll see what happens next year."
It turns out, Benali also has a message for readers of Football Italia and includes himself among them.
"I like this website because it always has the latest news and usually when you go on a website 70% to 80% of that they say isn't true, but I like to see it because your website is based on facts and you bring the real stuff that's why I like to follow it. It's not just made up stuff, you get it with quotes from people."
Watch Serie A live in the UK on Premier Sports for just £11.99 per month including live LaLiga, Eredivisie, Scottish Cup Football and more. Visit: https://subscribe.premiersports.tv/