Gianluigi Buffon will play his final game for Juventus on Saturday, his 656th appearance for the club.
The goalkeeper confirmed in today's Press conference that he won't be staying with the Bianconeri, though he hasn't yet decided if he'll hang up his gloves.
In tribute to the veteran, we take a look back at some of his best moments in a Juve shirt.
The world's most expensive goalkeeper
Buffon signed for Juventus from Parma in the summer of 2001 for a fee of €52m, making him comfortably the most expensive goalkeeper in the world.
After some initial shaky performances which had some questioning the Bianconeri's outlay, he was pivotal in helping Marcello Lippi's side to reclaim the Scudetto.
To Hell and back
In the summer of 2006, Gianluigi Buffon was a world champion and widely considered to be the best goalkeeper in the world.
He could have joined any club he wanted when Juve were relegated to Serie B and stripped of two Scudetti in the Calciopoli scandal.
However, along with Pavel Nedved, David Trezeguet, Alessandro Del Piero and Mauro Camoranesi, among others, he opted to stay and help the Old Lady climb back to the top flight.
In today's Press conference, President Andrea Agnelli described Buffon has having "been in paradise, dropped down to Hell and back to paradise".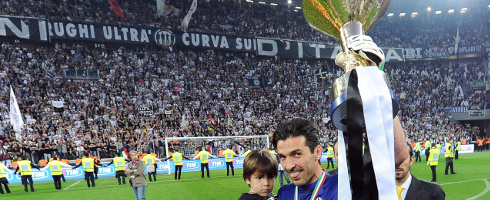 Return to the top
The post-Calciopoli years were a struggle for both Buffon and his club.
The goalkeeper suffered with back problems, while Juventus endured the ignominy of finishing seventh for two seasons in a row.
Buffon managed just 16 Serie A appearances in the latter of those, and many thought he was a spent force.
Antonio Conte arrived in the summer of 2011 though, and Buffon played in all but three Serie A games as Juve won the Scudetto unbeaten.
The Old Lady is yet to be unseated.
Unbeatable
In the 2015-16, Buffon added another record to his collection when he beat Sebastiano Rossi's record for the longest clean sheet.
Buffon went 974 minutes without conceding a Serie A goal, a run of 10 games.
He would keep 21 clean sheets in total that season - another record.
Record breaker
With Juventus' 0-0 draw at Roma on Sunday night, Buffon won his ninth official Scudetto, making him the only player to have achieved that feat.
The man himself would say it's 11, counting the Calciopoli titles, but in either case it's an extraordinary record.
Buffon will leave Juventus having won more Scudetti than anyone, played more minutes than anyone, and having made more appearances than anyone bar his fellow club legend Alessandro Del Piero.