Long-time enthusiasts will recognise the disorienting feeling that only a good old-fashioned Italian football scandal can create. Most years it's just a case of looking up who's been promoted and being met with images of players cavorting in their Y-fronts and fans holding up outsized cardboard cutouts of the letter A, but every now and again you get a summer like this - a tangled web of charges, court cases, sanctions and mooted promotions/relegations.
Chievo and newly-promoted Parma both narrowly avoided demotion to Serie B a matter of weeks ago after being accused of match-fixing and false accounting respectively, while the play-off final, originally contested back in June, feels like it's dragged on for two months never mind 180 minutes, the losers Palermo intent on overturning their 3-2 aggregate defeat after winners Frosinone showed roughly the same amount of regard for the concept of fair play as an apocalyptic Paolo Montero.
Then there's the dumpster fire that is Serie B, full of furious clubs that feel they should have been elevated to Serie A at Chievo, Parma and Frosinone's expense and seemingly due to kick off this weekend with only 19 participating teams after Bari, Cesena and Avellino went bankrupt.
It's all a bit of an unedifying mess, but the reality is none of it will really figure in the deliberations of those trying to figure out what channel or streaming service Serie A is on this season. The presence of the third highest paid athlete on earth might, though, as might the potential reprise of a title race that was Europe's most compelling by a country mile last season.
But what about the team that scraped into fourth place with just nine minutes to play? The one that's cycled through 10 Coaches in the last eight years and whose supporters have been subjected to more seasons of gloomy tedium than fans of The Walking Dead?
Yes, it's our hilariously dysfunctional black and blue friends Inter. Only there's been nothing hilarious or dysfunctional about the way they've conducted their business this summer. By early July they had already snared Stefan de Vrij - one of the division's best defenders - and Kwadwo Asamoah on free transfers, nabbed potential striking superstar Lautaro Martinez for a mere €16m, took Radja Nainggolan off Roma's hands in a players plus cash deal and secured wing-forward Matteo Politano on loan from Sassuolo.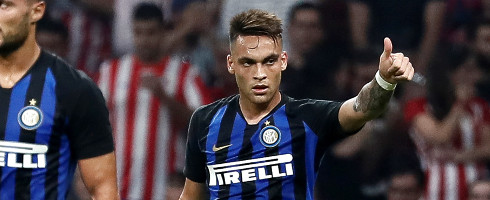 Considering the pressure they've come under to comply with FFP regulations in recent years, plus the fact last season was already their most successful campaign since 2011, nobody really could have blamed the Nerazzurri if they reined it in at that point.
But they did nothing of the sort, going on to arrange further loan deals for right-back Sime Vrsaljko - after his terrific displays for Croatia at the World Cup - and former Lazio attacker Keita Balde Diao, before really anteing up and trying to land Arturo Vidal then Luka Modric.
Ultimately neither of those deals was done - leading to rival fans circulating some savage but funny GIFs and memes on social media - but the very fact that both players seemed interested was fascinating.
In spite of all their travails and missteps in recent years, Il Biscione clearly retain a certain allure, otherwise De Vrij, Nainggolan, Vrsaljko and Keita - all of whom were linked with wealthier English, Spanish or German clubs - wouldn't have signed up.
There are of course a number of meaty disclaimers to dish out before anyone mentions the dreaded S-word. Sunday's spectacularly underwhelming 1-0 loss to nemesis Sassuolo was a timely reminder of the dangers of getting carried away, and of how much work Luciano Spalletti still needs to do to merge the old guard with the new and find a system that best suits the talent.
Before Inter can even think of achieving anything more than another top-four finish and maybe getting out of their Champions League group, Spalletti also has to eradicate the mental frailty that saw them plummet from first to fourth during an eight-match winless run last winter. And they only need to look to neighbours Milan last season for an example of how a supposedly game-changing transfer spree can actually leave you treading water.
One positive is that Inter appear to have sidestepped a boobytrap several rivals have tumbled into in recent years, by ensuring they have an option to sign the loan players permanently, not an obligation. Therefore half of next year's budget isn't ring-fenced and they won't be forced to shell out for players that have flopped, like Milan were with Nikola Kalinic and Fabio Borini this summer.
The £99m capture of Cristiano Ronaldo by Juventus is a huge shot in the arm for Italian football as a whole and with it the black-and-white-hole that's sucked in every domestic trophy since 2014 has only grown larger and more ominous. But beyond that it's mostly a case of clubs tweaking established formulas.
Napoli were quiet on the transfer market and replacing Maurizio Sarri with Carlo Ancelotti feels sensible but ever so slightly dull. Meanwhile Monchi and Roma were again extremely active but any improvements made could be undercut by the losses of Nainggolan and Alisson.
Milan had a much better window than expected thanks to Leonardo and Paolo Maldini (who knew an aggressive takeover by a hedge fund could be a good thing?), but still have one hand tied behind their back financially and a Coach whose acumen perhaps doesn't match his passion.
Then there's Lazio, where Simone Inzaghi can surely only work miracles for so long, and Fiorentina, who seem to have quietly slipped out of the elite group of clubs over the last two years.
As the only member of that group that appear unequivocally stronger than last year, Inter could be the joker in the pack, and the team with the most say in deciding whether this turns out to be a merely an interesting campaign or an engrossing one.