Something is rotten in the state of Roma: a tragedy in three acts.
Act One. What is rotten in the state of Roma?
Edin Dzeko isn't working: that's a plain and simple fact, and one which, in hindsight, should have been easier to predict. Last season, the Bosnian's Champions League heroics overshadowed his very real dips in Serie A form, but the truth is that his goal tally from the 2016-17 campaign almost halved.
Dzeko is supposed to be the main attacking terminal for Roma, but so far he notched only one goal in six games. His two assists hardly serve to sweeten the pill: why is he making and not receiving them?
So what can be done?
Dzeko improved his effectiveness dramatically from 2015-16 to 2016-17, and this came down to positional play. Then Coach Luciano Spalletti all but nailed him to the inside of the box, which resulted in more shots, which resulted in more goals. Against Bologna, Dzeko's heat-maps reveal that he was all over the place, constantly tracking back in the midfield or drifting wide on the left wing.
Di Francesco would do well to study the two seasons before his tenure and figure out what changed about Dzeko's positional play, making it a priority to get his poacher into positions where he can quickly turn and shoot.
Either that, or bench the man and start Patrik Schick a lot more. The 22-year-old does not offer a greater threat on goal, but what he does admittedly have are sharper passing and dribbling skills. If EDF really insists on a mobile, wide-ranging striker, then Schick is a better option for that than Dzeko (though admittedly still not ideal).
What is not rotten in the state of Roma?
Coach Eusebio Di Francesco, whom I proposed would be the key variable to the club's season. I could comfortably lay the blame on him now and tell everyone how right I was, but really that would be dishonest.
My concern with DiFra was that he might be too tactically rigid, but he has already proved me wrong. He is switching formations and players all the time in a clear effort to find Roma's optimal shape. That he has not succeeded so far does not signify that his approach is wrong or that booting him out is going to resolve anything.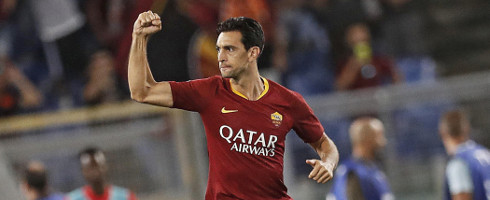 Act Two. What is rotten in the state of Roma?
Javier Pastore is not integrating properly. I was delighted to see the 29-year-old step off that plane from Paris, as Roma have been in desperate need of a true playmaker ever since the departure of Miralem Pjanic.
Early performances, however, have been disappointing. The Argentine seemed awfully hampered and slow, and his rare flashes of brilliance (the goal against Atalanta) do not make of him an effective midfielder, much less the game-changer he was supposed to be.
So what can be done?
Fixing Pastore is the key to fixing Roma's midfield, which means that he cannot be left on the bench. Instead, he should be assigned a role and made to stick with it: so far, Pastore played three games and covered three different roles (mezzala, trequartista, and left winger), which would be a bit much even for a player who hadn't just joined the team.
As well, Pastore's ability to cooperate with Daniele De Rossi needs to be worked on quite urgently. The latter's experience and mentoring ability suggests the two should play together for now. The problem is that De Rossi tends to pick up the ball from the defence and take up the playmaker mantle himself, which leaves Pastore confused and redundant. These two must work on their mutual play, and EDF must assist them in the process.
What is not rotten in the state of Roma?
Sporting director Monchi and president James Pallotta. I have already extensively (and controversially) defended Roma's management, even if the Spaniard and the American are turning into everyone's favourite dartboards.
The criticism that the Lupi would be doing just fine if the key players had been retained is impossible to ascertain. Radja Nainggolan went to Inter, who struggled almost as badly as Roma, and Kevin Strootman to Marseille, where he is having a hard time endearing himself to the fans (especially after a gift of a penalty to Lyon).
Alisson is the only one doing very well, but anyone who believes that his presence would guarantee results just needs to look at his blooper against Leicester (which was even worse than Aleksandar Kolarov's against Chievo). Robin Olsen has been more than adequate between the sticks, so that's clearly not where Roma's rotten core lies.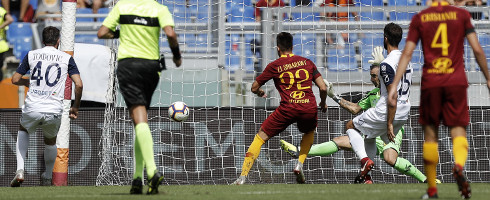 Act Three. What is rotten in the state of Roma?
Stephan El Shaarawy is a poor fit for this team, even if his condition looks relatively good. He is a natural seconda punta, which is not a role available in Di Francesco's 4-3-3. Il Faraone's specialty is dashing into the box and hitting mid- to close-range shots, while as a left-winger, he should be doing a lot more passing, dribbling and defending.
It does not help that Di Francesco himself insists on using him that way, with the 25-year-old having already played four games and 257 minutes across all competitions. In combination with Dzeko's positional troubles and Cengiz Under's surprisingly subdued performances, it's easy to see why Roma's attack has seemed so toothless.
So what can be done?
I believed that El Shaarawy should have been sold in the summer, and since this was not done, I now maintain he should be sold and replaced this winter. Bench him until then and play Diego Perotti, who has the right malleability for the role, or try Justin Kluivert, or adapt Pastore to play in that position like he sometimes did for PSG. In any case, DiFra must find a winger to play on the wing, and not shoehorn a striker in there.
Otherwise, the only way that El Shaarawy can be used to good effect is in a different formation. Di Francesco can switch to a 3-5-2, which he has sometimes done in the past, and this would allow the young Italian to play where his set of skills have real effect.
What is not rotten in the state of Roma?
The team's morale, their heart, their concentration. Don't get me wrong: the recurrent defensive bloopers are a clear cause for concern, as is the fact that the team has no "fire in the belly", in Di Francesco's own flustered words.
But these are the symptoms, not the cause, of Roma's malaise. Every team sees its drive and focus eroded when results are not coming in, and although there are undeniable (tactical) problems, none of the Giallorossi have forgotten what they are: a good team at core, managed by an intelligent Coach.
The right way to get out of the crisis is to identify those problems that can be fixed and then fix them, not to rile hysterically against the managers, the club, the city, the stars and the universe. To keep things in perspective, as Monchi himself keeps shouting in the dark, and not to turn the routine ups and downs of football into a Roman tragedy.
Watch Serie A live in the UK on Premier Sports for just £9.99 per month including live LaLiga, Eredivisie, Scottish Cup Football and more. Visit: https://subscribe.premiersports.tv/