Zlatan Ibrahimovic explains he didn't want to sign for Paris Saint-Germain in 2012 - "I was happy at Milan".
In his new book, 'I Am Football', the striker reveals that he was sold by the Rossoneri without being consulted, and he expanded on that in an interview with L'Équipe today.
"That's right, I said I wasn't interested, that I didn't want to go to PSG," Ibrahimovic confirmed.
"In the end that wasn't quite right: I didn't want to change clubs, that's all, because I was happy at Milan.
"Things hadn't been easy at Barcelona, I had a really good first six months and then the next six months weren't so good.
"At Milan I'd finally found form and happiness. My family was happy too, so yes: I didn't want to change everything.
"I hoped that PSG would refuse my demands, that's the truth. Of course you never close the door, you always talk to people, so I listened to Leonardo.
"I had specific conditions, not difficult ones, but it was a long list. The problem was that after 20 minutes PSG said yes to everything! I'm a man of my word, so I said: 'if you agree then I can come'.
"I'm very happy I went to Paris, and PSG are very happy I came, because with me they saw something they never had before.
"Mino [Raiola] said he gave the Mona Lisa to Paris. And you had the Mona Lisa, but not on a wall: on a big stage, in the spotlight."
There's a famous debate about whether the Mona Lisa is smiling…
"Who cares? I got results, and that's much more important than whether I was smiling or not. But if you really want to know, yes, I smiled!"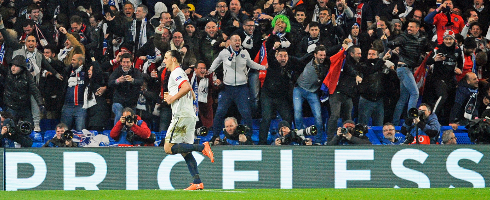 Raiola also says in the book that Ibra pushed the PSG project forward by 10 years…
"I don't know, that's not for me to say. I came with my qualities, with my talent, with my charisma. That's what I do: I'm efficient and I bring results.
"Was I too big for Ligue 1? I think… not too big, but we showed our level. You're never too big for a league, because what counts is showing what you're capable of and how good you are.
"Everything went as I said it would: I came, I performed and I left. Do you remember? I came as a king and I left as a legend. Period.
"And I'm glad I did it in France, because the French see things differently. So I'm happy I could do all that in their back garden for four years.
"When the French look at me, they do not see the player, nor my career, they see the character.
"That's why I'm happy I showed it in your garden, because now no-one can say anything anymore.
"I know I've succeeded in every country I've been, but if I hadn't come to France you'd have said: 'well, OK, but he couldn't do it in our home'.
"I did it at your place."
Ibra didn't always endear himself to the French public though, saying he found it boring playing in Ligue 1.
"I didn't say it was boring, I said it was difficult," Ibrahimovic qualified.
"I played at San Siro in front of 80,000 fans, so when I ended up in stadiums with 10,000 people, as I told Leonardo from day one, it wasn't always easy to motivate myself. But I did it.
"Fans are 50 per cent of football, so if you go from 80,000 fans to 4,000 it's very different in terms of the adrenaline rush, even if you are professional, even if you are happy for these 4,000 people."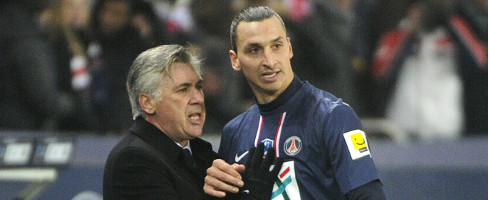 His first season at PSG was under Carlo Ancelotti, but the Italian left for Real Madrid the following summer.
"It was difficult. When I arrived, it was not easy to build something in such a short time, but we did it.
"Carlo Ancelotti had the experience we needed, he made us feel good and believe in what we were doing.
"But the club decided to change everything in the middle of what we were building, and you have to accept it, that's it. It's football, I know it very well, just like I know at any moment the club can sign a player to take my spot.
"I had a good relationship with Ancelotti though, I really liked him. Not just as a Coach, but as a man.
"We had a positive time with [successor] Laurent Blanc, we won a lot of things. He made sure the players were themselves and could express ourselves.
"He imposed very few restrictions, and he had a very good assistant, a really fantastic guy [Jean-Louis Gasset].
"Together they created a style of play that I've rarely experienced, it reminded me of Barcelona. So I didn't speak much [about him] but that's because things were going well. That's how it works.
"I never had a problem with Laurent Blanc. We left together, as champions, as winners.
"My farewell? I have never been so moved as at that moment. I had tears flowing, my children in my arms and that night I showed the world and French that Zlatan has a big heart.
"It was good to show that, because they always thought I was Superman, and I was happy to show them that Superman had a heart.
"I laughed when they wanted me to laugh, and there they wanted to see me cry. I wasn't crying, by the way, but I had tears in my eyes!
"I was very moved because we had created a fantastic spirit in a short time and I also felt that special connection.
"The fans were amazing with me that night, and I think it was the only club I was so emotional about leaving.
"But that depends on the challenge you choose to meet at the start, and in Paris, it was to write a new story.
"It's like if you said: 'I've been working at L'Équipe for twenty years, I want to experience something else'.
"You turn the page and you start again. When you change countries you're alone, no-one knows you. You have to show what you're worth."