With River and Boca Juniors' Superclasico, the Manchester derby and Der Klassiker between Bayern Munich and Borussia Dortmund this weekend, fans of those clubs will attest to the ferociousness, anger general disdain in their football rivalry as opposed to others.
Compared those derbies as well as others in Italy, Juventus-Milan might not have fans and players frothing at the mouth like Olympiacos v Panathinaikos does.
But in terms of quality and competitiveness, few can put on the show two of Italy's most successful ever teams have over the years. Few have had fixtures blessed by legends such as Paolo Maldini, Fabio Cannavaro, Roberto Baggio, Ronaldinho, Ronaldo, Pavel Nedved, Zinedine Zidane and more in a seemingly endless list of footballing greats.
That's not say this derby has no spark, no fire. Constantly pitted against each other for title and trophies, at the mercy of terrible refereeing calls, off-field scandal or just bad luck this rivalry has seen it all in its 118-year history.
Most of their early meetings were friendlies, happening in now-defunct competitions such as the Medaglia del Re, Ministry Cup, Turin City Tournament and Lombardy cup.
But in their first competitive bout Milan, showed they could compete, winning 3-2 on their way to their first ever Campionato Italiano di Football title, breaking's Genoa's stranglehold. They won five of their six first matches against Juve, the biggest a 7-0 thumping.
By the time Serie A was under way in 1929 the record was far more even. Juventus, lead by the goals of Felice Placido Borel, won five league titles in a row between 1931 and 1935. Head to head, Milan found it difficult to break Juve in those dominant years.
The Bianconeri's supremacy in head-to-head games culminated in a 6-3 aggregate win for the Turin side when the two met in the Coppa Italia final in 1942.
Through the 50s and 60s Juventus became the whipping boys in that fixture. Even if the two didn't share the same pitch, they were always in competition. Through the highs and lows of Italian football, both have always been among the fight for the Scudetto.
But while Juve led domestically, they were still looking to emulate the European success Milan and Inter had enjoyed, so they turned to man the Rossoneri knew well.
A Milan player for most of his career and their Coach twice, a lack of results and experience saw Giovanni Trapattoni let go by the Diavolo. It was all the more surprising, then, that he was appointed Juve boss at age 37. He made them pay for it, doing the double over Milan in his first season as he secured a league and Uefa Cup double.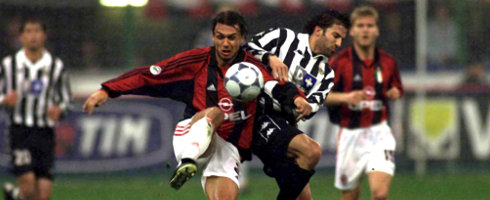 He would go on to win everything he could including seven league titles, ushering in an age of dominance Milan simply could not match at the time.
With the quality in their ranks, repeated Coppa Italia meetings were all but an inevitability. They have met 25 times in the competition, of which five were finals. Few more significant than the 1990 final.
Juventus were as close to underdogs as they could considering they were up against Arrigo Sacchi's mighty Milan side. Come the late 80s and early 90s Milan were indisputably one of the best sides it Europe. They had reached the final of the European Cup five times in seven seasons and won the league three times between 1991-92 and 1993-94.
Armed with the likes of Ruud Gullit, Marco van Basten and Frank Rijkaard, opponents were right to fear them.
Before they would go on to win back to back European titles later that summer they would play Juventus in a two-legged Coppa final. After a stalemate in Turin, Juve made the most Milan's tired legs from an extra time semi-final in Europe against Bayern. A 1-0 win thanks to Roberto Galia saw them lift the cup at the San Siro.
Their most prestigious encounter was yet to come. In 2003 both made it to the final of the Champions League.
That was likely the apex of their rivalry as far as recent history goes. Milan were Milan, and under Marcello Lippi the Old Lady had been restored to her former glory. Two of the best teams, not just in Italy but Europe.
The event itself was something of a damb squib though, a game boasting the attacking talents of David Trezeguet, Alessandro Del Piero, Andriy Shevchenko and Pippo Inzaghi produced no goals.
Shevchenko had an early strike ruled out, while Trezeguet and Inzaghi both failed to score with diving headers, the latter stopped by a top save by Buffon. Goalkeepers were the true heroes on the day as Dida saved three penalties in the shootout to secure a sixth European title for Milan.
Like Trapattoni, Carlo Ancelotti could rub his victory in the faces of Juventus, who had fired him two years prior, while Juve were left to ponder what could have been had star man Pavel Nedved not missed the final through suspension.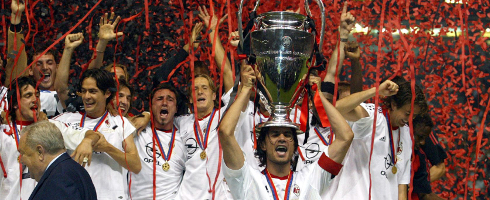 If 2003 was among the peaks for Italian club football, then 2005 may have been the nadir.
Both fought for the Scudetto, and a solitary goal from David Trezeguet, who headed in Alessandro Del Piero's bicycle kick earned Juve a win at the San Siro in May and more-or-less decided the title. What the sides have shared in competition they also shared in scandal, with the title later revoked and both clubs among those punished as part of the 2006 Calciopoli scandal.
It is not the only thing they shared, as the rivalry has been stoked by the numerous players and managers who have pledged allegiance to both clubs.
Right now the two sets of fans are bonded only by their disdain for Leonardo Bonucci. Having left Juventus for Milan in anger in the wake of their 2017 Champions League defeat, the centre back then went back to Turin a deal which saw Gonzalo Higuain and Mattia Caldara go the other way, later calling the move a 'mistake'.
Zlatan Ibrahimovic, Pippo Inzaghi, Gianluca Zambrotta, Andrea Pirlo, Edgar Davids, Cristian Vieri, Patrick Viera, Guiseppe Meazza and Roberto Baggio are all among those to play for both sides.
Ibrahimovic, after only 26 goals in 92 games, left to pastures new at Inter and Barcelona, before returning to Italy with Milan. He found the net in his first game back, and later won the title.
But the ones that cut deeper tend to be direct transfers, with Milan fans forever ruing the day they let Andrea Pirlo go for nothing.
"When Andrea told me that he was joining us, the first thing I thought was: 'There is a God,'" said Gianluigi Buffon. And he played like one. Pirlo inspired Juventus to the Scudetto in 2012 and haven't relinquished their hold on it since.
That season's clash between the two was both controversial and – according to Milan – decisive. After Antonio Nocerino's stunner put his side ahead, Sulley Muntari thought he got a second tipping in a rebound palmed away by Gianluigi Buffon, only for the linesman to say it didn't cross the line. The bad calls cancelled each other out with Alessandro Matri's legitimate-looking goal ruled out for offside. The game finished 1-1, but to Milan they were robbed of a crucial win against title-rivals.
In 2017 Paulo Dybala dispatched a controversially-awarded penalty in the 97th minute to earn Juventus a 2-1 win. What the fixture have lacking in competition they have made up for in drama.
In their last 16 meetings, Milan have won only once. Manuel Locatelli's thunderbolt might be one of the best goals the fixture has ever seen as he scored the only goal in a 1-0 win back in 2016. But it takes more than goals to win games, and fans might more fondly remember the game for a last-minute flying save from then 17-year-old goalkeeper Gianluigi Donnarumma.
The most recent result is as clear an indication as any of the fosse in quality between the two teams. Even after spending millions in that season and enduring a tougher road to the final of the Coppa Italia, Juve beat them 4-0.
While Milan's light has faded somewhat in the full beam of the Juventus' recent supremacy, the games are just as richly anticipated. Still studded with stars and world-class players. Recent results aside, the history and stature of the two sides is not lost on anyone.