It is only the tyranny of rational integers that let Roma and Inter walk away from their 2-2 draw on Sunday with a measly, dissatisfying one point apiece. Were teams rewarded in terms of the number of goals they scored, or for the spectacle, the effort, the hustle they bring to the pitch, the Giallorossi and the Nerazzurri would both have finished that day with three points or more.
The result felt harsh for both teams, which is why it was also fair. Inter were the more productive, more organised side, but it was Roma that hit the post and had a penalty call ignored. The opposing forces balanced each other out, all things considered.
And yet the equality of the two teams on the pitch belies their inequality in the standings, which leaves room for ample commentary. Last year, Roma cruised to a comfortable third-place finish, while Inter scraped to Champions League qualification by the skin of their teeth.
This season, it appears those roles have been reversed. Inter are sitting pretty in third, while the Capitoline team face an uphill battle to recover the five-point differential with fourth-placed Milan.
You could argue that Roma and Inter swapping places is a logical consequence of them swapping personnel, a process which began two years ago with sporting director Walter Sabatini (now departed from the Nerazzurri as well) and Coach Luciano Spalletti, then continued last summer with Radja Nainggolan.
As we all know, the iconic Belgian midfielder left the capital in exchange for two of Inter's men, full-back Davide Santon and diamond-in-the-rough Nicolò Zaniolo, plus €24m in cash. Springing a stream of polemics and debates that continue to this day, that deal perfectly exemplified the different philosophies of the two clubs, and these same philosophies were displayed and deployed on the pitch last Sunday evening.
Out of the six players composing Inter's midfield and attack, only Keita Balde Diao (23) was younger than 25. The rest were mostly champions in their prime, and the group averaged a very healthy age of 26.8 years. Out of Roma's six players from the midfield upwards, only two were older than 25, with baby-faced Zaniolo barely old enough to drive. Their average age was an unusually low 23.5 years.
Consider what this tells us about the two clubs. Inter, for the last couple of seasons, have splashed cash and let go of non-primary personnel in order to build a squad of players in their prime, one expected if not guaranteed to reap immediate rewards.
Roma, on the other hand, invested in youth and inexpensive veterans, looking to build a highly flexible squad according to a strategy that would combine low risk with high sustainability.
The differently-aged line-ups on Sunday were, of course, partly determined by injuries. Coach Spalletti had almost his full Nerazzurri roster, missing only, by a twist of fate, Nainggolan himself. But the Giallorossi had been verily mutilated by injuries, with almost half of their starting XI unavailable.
This disparity should have translated into a demolition of the host team, but the fact that the Lupi held their own is, I would contend, evidence of that very structural sustainability which is at the heart of Roma's overarching strategy.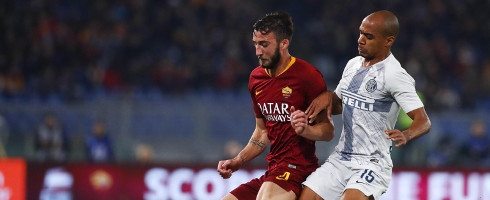 Consider, for example, Bryan Cristante and Patrik Schick. Both were frustratingly ineffective in the first part of this season, yet both showed distinct signs of improvement over the last few games. Against Inter they were proactive and dangerous, if not decisive. The two youngsters are clearly thriving in the gaps left open for them by the injuries to Daniele De Rossi and Edin Dzeko.
Lorenzo Pellegrini also stuttered in his first few games, then emerged impressively in the trequartista position as a consequence of Javier Pastore picking up a knock. Now that Pellegrini is injured too, we are witnessing the prodigious rise of Zaniolo, who is poised to become one of Serie A's revelations of the year.
The abundance – not to say excess – of young talent in Roma's squad implies that crises in key personnel, whether related to injuries, form or mood, have the after-effect of fortifying the squad as a unit, because the downtime of starters is automatically reinvested as development time for youngsters.
The process can be slow and sometimes costly in terms of points, but the improvement in the squad as a whole is very real. And this is demonstrated by the fact that Roma's reserves were able to hold their own against the third power in Serie A, something which was only possible because the club's specific philosophy does not allow for the concept of reserves.
I argued in the past that the essence of Monchi's strategy was, and I quote myself directly, to 'improve the quality of all team-members collectively, and never buy a player above a given value until the average value of the players already at the club has reached that mark'.
This stands in direct contrast to Inter's more individualistic and indisputably more successful approach. The Nerazzurri are the stronger team in many ways, but it seems reasonable to suggest that, had Spalletti been missing five of his key men against a fully-furnished Roma, his side would have had a lot more trouble grinding out such a tightly-contested draw.
This is not a dig at the club, only speculation based on what the evidence suggests. We have seen Inter compromise their results when key individuals underperformed, and also as a result of Spalletti's (ever so typical) reluctance to use his depth appropriately.
Inter and Roma have faced similar challenges in their recent history: the integration of new, foreign ownerships, the constraints of FFP, and the need to permanently establish themselves as an elite force in Italy and Europe, even at the expense of each other. They have, correspondingly, developed parallel but different strategies to deal with these challenges.
The Nerazzurri's philosophy emerged as the most obviously successful of the two. At the same time, their success is also predicated on an underlying fragility – of men, of financial investments – which has yet to be exposed.
Roma have suffered setbacks of their own making, although in their case, we have already ascertained how they respond to a state of crisis, and some of the results have been surprising.
The results notwithstanding, the larger contest between these two teams is far from over. It is a complex, existential and deeply fascinating clash of football philosophies which did not end with the 2-2 on Sunday and which certainly does not end with this article.