Just four draws and three defeats. That is Lazio's record in their last seven games in all competitions and if there is anything worse than the Biancocelesti's results, it's their performances.
The Aquile have looked very short of ideas against lesser opponents,and despite showing glimpses of their quality against stronger teams, they have lacked both the bravery and the character to win those games and could do with a 1xbet promo code to help them return to winning ways.
Duvan Zapata's goal for Atalanta came under 60 seconds in. They began as they had ended the previous match, conceding a Riccardo Saponara equaliser 99 minutes into the Sampdoria draw. Unfortunately for the Lazio faithful, these have not been the only lapses in concentration in defence, as Simone Inzaghi's men tend to do that almost every week.
But what is Lazio's problem? Have Sergej Milinkovic-Savic and Luis Alberto suddenly become terrible players? Has Ciro Immobile become too selfish at times? Or maybe the blame should go to Thomas Strakosha and the defence in front of him?
The truth seems to be somewhere in the middle, as the organization of Lazio's play and the link between the different components of the team seems to be broken. If that is the case, the Coach is the one responsible for finding a solution, but Inzaghi seems to be failing to do that so far and more worryingly it almost looks like he's not even trying.
The 3-5-2 formation that paid huge dividends last year, seems to be handicapping the Biancocelesti this term, as Lazio look very predictable and dull at the moment. In all truth, Inzaghi is missing some key ingredients to successfully use this formation in the longer term, as the lack of quality in defence and in the wing-back positions makes the team extremely vulnerable.
This is fully evident when the team is in transition, as once Lazio lose the ball, they struggle to regroup and often concede silly free kicks or goals when caught on the break. Sergio Pellissier's finish in the 1-1 draw against Chievo earlier this month was the perfect example of that, as the Flying Donkeys needed just two passes to slice through the Biancocelesti's defence. And if a 39-year-old Pellissier and Valter Birsa could do that, how about younger and quicker players?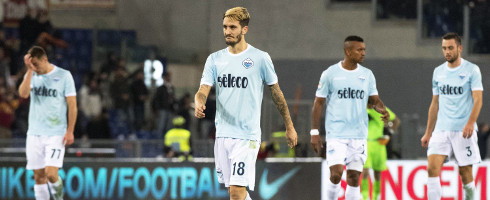 Inzaghi's 3-5-2 formation was probably Lazio's biggest strength last season, as despite conceding more than they would've liked to, the Biancocelesti looked organized, compact and capable of creating chances from almost every position on the pitch.
Lucas Leiva's presence in front of the defence played huge role in that, as the Brazilian was remarkable in his debut season in a Lazio shirt. Unfortunately, he has been struggling with injuries this term and his replacement Milan Badelj has been underperforming badly since moving from Fiorentina in the summer. However, the absence of one player cannot be an excuse for Inzaghi.
Just like Juventus became predictable towards the end of Antonio Conte's reign with a similar 3-5-2 formation, Inzaghi's trusted style has started to become more of a weakness than a weapon in his arsenal. And if Conte, whose stubbornness needs no introduction, was willing to test out different formations and even switch to a four-man defence, why is Inzaghi not doing the same?
In fairness, the 42-year-old has recently started to change his formation in the course of the game, but that usually happens deep into the second half, when Lazio are already trailing and desperately need a goal. It also seems that Inzaghi doesn't have a clear idea of what he wants to achieve, as he usually just throws all of his attacking players on the pitch, often creating more havoc in his own attack than in the opposition's defence.
Is that the reason why Inzaghi is not willing to test a different formation from the start? Maybe he doesn't have the tactical capability to manufacture another formation just yet?
Just a quick look at the Lazio squad shows this team might be better suited for a 4-2-3-1 or a 4-3-1-2 setup at the moment. This would mean that one central defender will be dropped in expense of a midfielder, so just one of Stefan Radu, Wallace, Bastos and Luiz Felipe will be partnering Francesco Acerbi, who is by far Lazio's most reliable defender. Considering the horrific performances of the aforementioned quartet, this could hardly be a bad thing.
Having one less inconsistent performer in the backline could actually decrease the chaos in front of Strakosha,and with an extra body in the middle of the pitch, the defence might actually look a bit better.
Usinga midfield trio of Marco Parolo, Badelj and Milinkovic-Savic with Luis Alberto operating behind Immobile and Joaquin Correa could also add some fluidity and flair to the attack, as well as help Luis Alberto and SMS to get back to their performances of last season. Lucas Leiva and Danilo Cataldi would be adding depth in the middle, while Felipe Caicedo will be an option up front.
Whether a change of formation would work or not, we can only guess, but what is clear is that Inzaghi and Lazio need a change. It doesn't have to be permanent one, but even a temporary, more free-flowing attacking approach could revive the confidence and the sparkle in their game. In all honesty Lazio could hardly perform much worse than they already are at the moment, so they really have nothing to lose.
Inzaghi has proved to be an intelligent and capable tactician, but he is currently facing probably the biggest challenge of his young career. This is where the former Lazio striker should show some flexibility and imagination.I trust he hasn't lost his sparkle, but his 3-5-2 formation has.