No Kalidou Koulibaly, no Lorenzo Insigne, no Marek Hamsik, no Allan. And yet Napoli had no problem completely out-playing top four contenders Lazio throughout the majority of the 90 minutes in the 2-1 at the San Paolo. Despite so many key figures missing, the Partenopei produced some mesmerizing football, especially in the first half, as Ancelotti's men were slicing through the visitors' defence like a hot knife through butter.
Fabian Ruiz, Amadou Diawara, Piotr Zielinski and Jose Maria Callejon ran the show in midfield, as their slick one-touch combinations and sharp movement often left their opponents chasing shadows. Up front Arkadiusz Milik and Dries Mertens once again showed their almost telepathic understanding in what was arguably Napoli's best first half display since the start of the campaign.
In fact putting the start of the second half aside, Ancelotti's experimental starting XI looked in full control from the start, as the hosts' pace and tenacity were something that Lazio couldn't handle. Being able to do that with so many key players missing is a really positive sign for Napoli, as the 3-0 defeat away to Sampdoria in September fully showcased how limited the Partenopei roster was at the start of the season.
The almost non-existent rotation under Maurizio Sarri left players like Nikola Maksimovic, Adam Ounas, Marko Rog and Diawara on the fringe of Napoli's squad, but the results of Ancelotti's fearless approach when it comes to integrating players in the first team were fully evident against Lazio.
Putting an early Sergej Milinkovic-Savic header that required a fine save from Alex Meret aside, Napoli's backline performed admirably well without Koulibaly, as Maksimovic and Raul Albiol displayed a fine understanding. However, the absence of the Senegalese centre back was felt in the second half when Lazio changed formation and pulled one back thanks to Ciro Immobile's first career goal at the San Paolo.
It was encouraging to see Inzaghi changing his favorite 3-4-1-1 formation at half time, but one should wonder why Lazio keep starting games against the big teams with this formation? The Aquile have won just just three of their last 25 meetings against Juventus, Napoli, Inter and Roma and the majority of those games were played with the same system.
Earlier in the season Lazio faced Milan, who were without half of their regular starting XI, but Inzaghi's men managed only a 1-1 draw at home. Actually Inzaghi's men were lucky to get a point from that clash, as Joaquin Correa's last-gasp equaliser came after the Aquile wasted most of the game in the same tactical set-up due to Inzaghi's stubbornness.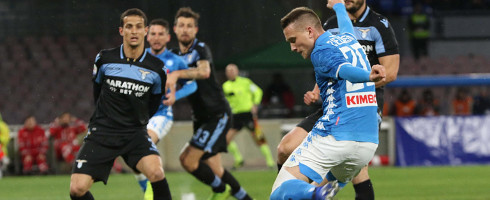 The lack of pace in Lazio's gameplay was their biggest issue in the first half and it really was no surprise to see Correa coming on after the break. However, the Argentinian can only partially solve the Biancocelesti's issues, as Lazio sorely need reinforcements at the back.
Jordan Lukaku's lack of pace and defensive awareness, as well as Senad Lulic's unusual position at right wing back, were fully exposed during the first half. Considering that Adam Marusic was the only notable absentee for Lazio, it was a bit worrying to see Lulic moving on the right, as the composure and defensive ability of the Lazio captain have rarely been on the desired level this term.
Luiz Felipe's injury also forced Inzaghi to field another mediocre performer in Bastos, as the Angolan further decreased the mobility of the heavy Lazio backline. It really was no surprise to see most of Napoli's attack coming through the right channel between Lulic and Bastos, as Mario Rui and Piotr Zielinski were a real menace down that side.
Lulic improved dramatically in the second half when he was moved on the left and Lazio switched to a back four, so Inzaghi's changes had the desired effect. However, despite a questionable second booking for Francesco Acerbi that ended his chance of catching up on Javier Zanetti's remarkable record of 162 competitive games in a row, it could be argued that once again it was a little, too late for this Lazio change.
Inzaghi's decision to replace SMS after Acerbi's dismissal was also questionable, as by doing so Lazio were left without any notable aerial presence at set pieces. That's probably not a good idea, considering that the capital outfit has scored eight goals from corners - the most in the league.
Lazio are still not far off their target for the season, as they are trailing by just one point from their arch rivals Roma, who sneaked in at fourth. However, considering how badly the Giallorossi performed during the first half of the campaign, Inzaghi's men should really be disappointed with the current look of the standings.
As for Napoli, the Partenopei were in a tricky position prior to the Lazio game, as Ancelotti's men had a comfortable lead over Inter and were trailing Juventus by nine points. However, the team performed admirably well, despite not being at full strength and secured an important win, which highlights their growth.
It is important for Napoli to keep the distance between themselves and Juventus as short as possible, as this would help them build their mentality, but even more importantly it would help Serie A to escape from the "farmer's league" label that many are trying to put on it.
The Bianconeri still have a six-point advantage and will most likely dispatch bottom of the table Chievo without much fuss on Monday. However, Juventus can also make mistakes, especially with two heavyweight Champions League clashes against Atletico Madrid coming up, so the Partenopei were obliged to keep the Scudetto race open for the time being. Doing that in a game of supreme technical quality, full of spectacular and, inevitably, some controversial moments, is a feat that deserves admiration and wrapped up what was an excellent weekend of Serie A football.