After a sputtering start to the season, Fiorentina are finally hitting something resembling a stride and they do so by welcoming a Napoli side out for revenge. It was defeat here in April that practically handed the Scudetto to Juventus.
With two decisive Coppa Italia victories and a pair of Serie A goalfests, despite finishing both league games with 10 men, the Viola are poised to contend for both European qualification and taking home the Coppa Italia for the first time since 2001.
Key to Fiorentina's goalscoring form has been the arrival of Luis Muriel. His €13m option to buy will seem like a bargain come July if he finishes the season anywhere near his current return of four goals and one assist in five games. Muriel was brought in to compensate for the struggling Giovanni Simeone, but the competition appears to be having the added benefit of revitalising Muriel's Argentinian counterpart, who bagged a brace against 10-man Roma.
Muriel has also opened up more space for Federico Chiesa to operate. Undoubtedly the brightest part of Fiorentina's recent run, Chiesa has solidified his position as a fan favorite at the Artemio Franchi. Last summer's reported €50m bids for the winger may have seemed premature for a raw talent, but this season he has started to make good on his potential.
While Chiesa's first senior hat-trick in the Gigliati's demolition 7-1 of Roma may have earned him a deserved spot on the front pages of the sports papers, it was his brace against Torino that truly showed how much the young forward has grown. His first goal in Turin was a scrappy rebound that showed real predatory instinct. After Simeone scuffed a shot when by all rights he should have passed, Chiesa didn't stand flatfooted complaining, but instead hustled to be the first man to the loose ball and buried it in the corner of the net. It was the kind of shot that last year he would have slashed at and fired over the crossbar.
His second goal was even better, beating Lyanco first for pace and then for strength to score past Salvatore Sirigu one-on-one. Chiesa's disguised shot showed guile beyond his years. He struck the ball with the outside of his right boot with hardly any backlift and without opening up his body to catch the veteran shot-stopper off-guard. Sirigu could only dive in time to see the ball bouncing behind him into the back of the net.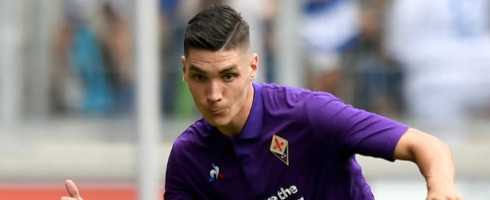 As Chiesa grabs headlines, Kevin Mirallas has been the unsung hero of the squad's front three. Even if his stat sheet only shows two goals and two assists in all competitions, he has contributed with incisive through balls and clutch goals when called upon. At 31, he is also the closest thing to a veteran this youthful side possesses.
Speaking of youth, Fiorentina's defence has been respectably anchored this season by 20-year-old Alban Lafont and 21-year-old Nicola Milenkovic. At 25 goals conceded, they've let past fewer than their rivals for Europa qualification Atalanta, Roma, and Sampdoria. Lafont looks like a revelation this campaign, making some exceptional saves and showing intelligence in his positioning. For his part, Milenkovic has quickly become one of the league's most sought-after defensive prospects, even if he does not always look the most confident on the pitch.
Despite their attacking prowess and creditable defense, the Tuscan club remains inconsistent. They are currently tied for the most draws in the league with Torino on 10. Many of those dropped points are due to avoidable goals from being over-run in midfield.
Unfortunately for Stefano Pioli, Jordan Veretout can neither be cloned nor cover the entire midfield by himself. Milan Badelj's summer departure has deprived the team of both ball-winning and calm leadership in the middle of the park. With Marco Benassi currently suspended, Pioli last weekend resorted to fielding Gerson out of position in a midfield three, an experiment that predictably did not work.
Nonetheless, the Coppa Italia field is wide open. With Juventus, Napoli, and Inter all knocked out, Fiorentina's fans can realistically hope their club can put up a fight against the likes of Atalanta, Milan, and Lazio to bring home their first piece of silverware in almost two decades.
And with all of five points separating fourth from 10th in the league table, Fiorentina will be pushing hard to finish in a competitive top six and secure a spot in next season's Europa League. However, they cannot afford any more slip-ups like the draw with relegation-threatened Udinese.
Over the next four weeks, they face tough fixtures against Napoli, Inter, and Lazio but have the advantage of hosting them all in Florence. Facing Napoli without Milenkovic or Benassi may be too much to ask. But if Fiorentina can snatch a win against Inter or Lazio sides currently in disarray, it would send a message to their competitors for Europa qualification.
Even more crucial is the league and cup double header with their direct rivals Atalanta. Gasperini's men have a well-earned reputation as giant-slayers in the league, confirmed by the recent rout of Juventus. Perhaps it will fall to another squad of upstarts to knock the Orobici out of the cup and Serie A's top six.
Fiorentina winning the Coppa or finishing in a Europa spot would be an unmitigated success for this campaign. But regardless of how the season ends, the Della Valle brothers need to resist the pressure to sell their young core - at least for the next transfer window. If they can pair their rising stars with solid players like Veretout and Muriel entering their prime, La Viola might just have a recipe for putting themselves in regular European contention.