The weekend's most intriguing match is between two teams with attacks spearheaded by some of the unlikeliest candidates for Capocannoniere: Duvan Zapata and Krzysztof Piatek.
Fourth-placed Milan travel to Atalanta with a single point separating the two. In their previous encounter this season, the Orobici escaped San Siro with a point thanks to a stoppage time equaliser. In fact, Milan have been unable to beat Atalanta since May 2015, as five of their last seven encounters were draws, with La Dea winning the other two. Only one of those meetings remained scoreless, so the portal www.Scommesse24.net odds reflect they are expecting goals from Zapata and Piatek.
Duvan Zapata had been consigned to that strange fate of many a good-but-not-great modern footballer: that of the perpetual loanee. He spent five seasons officially a Napoli player, but was loaned out for the last three of those, first to Udinese, then Sampdoria. And then when Sampdoria were obliged to purchase him, the club quickly shipped him out on a two-year loan with option to buy to Atalanta.
The 6'2" centre-forward has repaid Coach Gian Piero Gasperini's faith in him by providing his squad with 16 league goals, just two behind current top scorer Cristiano Ronaldo. Key to the Colombian's success is his combination of strength with surprising speed and agility for his frame.
Most strikers in today's game have adopted the practice of making darting runs from the half spaces to receive the ball in the centre of the pitch. A movement born of the wisdom that receiving the ball in motion is harder to defend against than standing static in the box and waiting.
But Duvan Zapata reverses this, often taking up a traditional centre-forward's position and then breaking into the channels where he can use his disarming speed to beat most centre-backs. If some pacey defender manages to keep up with him to put in a challenge, he can more often than not hold them off with his strength. If he beats his man, he can go for a shot, otherwise he can use his impressive passing ability to swing in a cross like he did against SPAL with a perfectly weighted ball to his strike partner Josip Ilicic. Or he'll take the ball to the byline and cut it back for an onrushing player, often Papu Gomez.
Close calcio followers may have been familiar with the journeyman Zapata's name before this year. But if you asked an observer whether they knew who Krzysztof Piatek was before this season and they said that they did, they would be lying. His explosion onto Serie A's centre stage has been no less extraordinary than it is surprising — perhaps to everyone except the striker himself, who is brimming with confidence.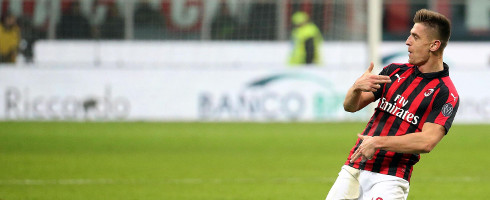 Piatek's form has Milanisti optimistic that they've finally found someone who can shoulder the goalscoring burden. He has also become something of a Rorschach test, with people seeing in the Polish "gunslinger" what they want to see. Former Milan CEO Adriano Galliani said Piatek reminds him of Andriy Shevchenko, while his new coach Gennaro Gattuso said Piatek shares characteristics with Jon Dahl Tomasson. Others see in the young Pole shades of Pippo Inzaghi or Marco Van Basten.
Regardless of any specific comparison's merits, the fact that so many can see glimpses of a multitude of different players in Piatek is a testament to how complete a forward Milan's Number 19 is.
While he might not possess Pippo's preternatural positioning, Piatek showed off how intelligently and intentionally he uses space within the box when he scored the opening goal in Milan's 1-1 draw at Roma.
As Paquetá fought for the ball near the byline, Piatek retreated from his position past the near post to move more centrally, stopping in between De Rossi and Fazio, just out of either's peripheral vision. Then he retraced his steps with a darting near post run just before Paqueta got free to pass. By the time either Roma player saw Piatek, he already had the half step on them he needed to beat them to the ball and score.
But more than his positional sense or his ability to score with both feet and his head, the Pole's greatest asset is undoubtedly his confidence that borders on arrogance. After scoring a debut brace to knock Napoli out of the Coppa Italia, Piatek's response to reporters was simply "I expected a night like this."
The one area Zapata may undoubtedly be better than Piatek is in combining with his teammates. This is partly owed to Zapata's familiarity with playing in two-striker systems with a trequartista, first in Marco Giampaolo's 4-3-1-2 and now in Gasperini's 3-5-2. It's also due to the simple fact that Piatek is still getting to know his new teammates in red and black.
More to the point, it's just not the kind of player Piatek is. He wasn't brought to the San Siro for his link up play. He was brought in to put the ball in the back of the net. Fortunately for Milan, that's a task he happens to be particularly adept at.
Neutrals will be hoping for a goalshow this weekend, as Milan's 19 and Atalanta's 91 try to climb a notch or two closer to CR7 in the capocannoniere hunt. But more than individual glory, this fixture could be crucial in determining who makes the top four, or even the top six, this season. Piatek and Zapata will be essential to the fates of their teams this evening and for the rest of the season.