A trip to the Wanda Metropolitano to face Diego Simone's Atletico Madrid is a daunting prospect, but now with Cristiano Ronaldo, there was no venue or team in Europe that Juventus – supposedly – could not handle.
Following Wednesday night's game, that could not be further from the truth. A 2-0 first-leg defeat is nothing short of a disaster, an embarrassed Juve will return to Turin attempting to figure out how to turn this tie around.
It was a cagey first half, both teams attempted to lock out the game and restrict their opponent at any given moment. Atleti were typically disciplined and tenacious, pressing and snapping into tackles while Max Allegri's team appeared happy to contain their hosts, playing safely in possession in an attempt to see the half out quietly.
However, the second period was a different story, with Allegri's team finding the onslaught from the Rojiblancos too much handle. Conceding two set-piece goals will come as a huge disappointment to Allegri and his defence, but in truth the home side should have already been ahead.
Fingers will be pointed, harsh criticism directed toward the Italian champions will be fully warranted. Discussions around this performance will rage on for weeks. Ultimately, it came down to the battle on the sidelines with the Argentine tactician reigning supreme. There were undoubtedly below par individual performances from the Juventus players, but the game swung towards Atleti with their substitutions. Simeone was bold, brave and was duly rewarded for his positivity with his opposite number only choosing to react once the damage was done.
The introduction of Alvaro Morata, Thomas Lemar and Angel Correa changed the home side's dynamic. Atletico's intensity increased, a shift to a more orthodox 4-4-2 with wingers left Juve flustered and unable to respond. Already struggling to progress play through the pitch, the removal of Miralem Pjanic for Emre Can did nothing to help matters, Allegri's team were being swamped. Now two quick-fire goals in the last 15 minutes has left Juve's dream of lifting the trophy with the big ears in tatters.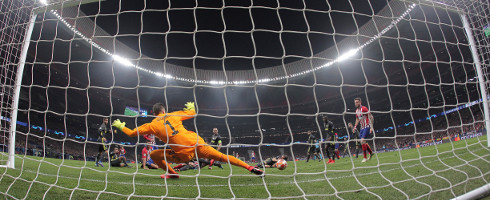 It all crumbled so quickly and a deflected second goal off their superstar summer signing, who was supposed to help make their Champions League dream become a reality, just rubbed salt in the wounds.
There has been unrest for some time amongst the Bianconeri faithful over their style of play. Performances have been hard to watch, with many asking if Allegri is the right man to take them forward. This result will only fuel the doubters and increase the calls for him to be shown the door come the end of the season.
The pieces of the puzzle just didn't fit for the game in Spain, so leaving out one of the team's most creative players in Joao Cancelo will certainly be questioned. Mattia De Sciglio was deployed at right-back to provide stability, but in possession he was a passenger. The Italian international would often come inside when his team had possession, with either Paulo Dybala or Rodrigo Bentancur providing width on the right, a role that suits neither, leaving Juve's play disjointed. La Joya was horribly ineffective, his role in this team is becoming increasingly questionable.
This was just one part of the problem. Pjanic was isolated in midfield, Blaise Matuidi's energy was nullified by opponents that could match him, while Mario Mandzukic was gobbled up by the fantastic Diego Godin and ruthless Jose Maria Gimenez. Alex Sandro's display will go down as one of the worst by a Juventus player in recent memory and fortunately he's suspended for the second leg.
Juventus needed a goal in Madrid, and with just over an hour gone Allegri watched on as Simone grabbed the game by the horns. The introduction of Federico Bernardeschi and Joao Cancelo came too late, both should have arguably started the game. The dynamism, variety and creativity they provide could have been the key to not only matching Atletico, but unlocking them and snatching that all-important away goal. Hindsight is a wonderful thing, but reports earlier this week were of Allegri deploying a 4-4-2. What a difference a confident move like that could have made.
Allegri is undoubtedly one of the world's top Coaches and this defeat is not solely on his shoulders. After everything he has achieved over the last few seasons, he deserves praise and respect, but while he can be credited as the man that made Juventus relevant in Europe again, it is somewhat ironic that he could also be responsible for their downfall on the same stage.
Stranger things have happened in football, but it is unlikely we will see Ronaldo and co return to Madrid for June's final.