Ryan Nolan just turned 20, but he has already played for Villarreal and is the captain of the successful Inter Primavera youth team. The Irish defender sat down for an exclusive interview with Football Italia Chief Correspondent Richard Hall.
Describing himself as an "old school centre-back," his football career has taken him from Limerick to Spain and since 2015 Italy, where he dreams of making his San Siro debut.
I have spent so much time in Milan over the last 10-12 years and it's a fantastic city. How easy has it been to adapt to life in Italy?
I found it quite hard to adjust to the culture initially, but it wasn't hard for me to learn Italian because I already knew Spanish. My team-mates were a big help too, plus the Italian lessons at school of course.
You started playing for Park Rangers in Shannon, then you moved to Murcia. You're well-travelled, what differences did you notice between Irish and Spanish Football?
I played in Ireland until the age of eight. In Spain they want you to keep the ball on the ground and you learn a lot from a technical point of view. I've always liked to defend and I wanted to take after my Dad, who used to be a defender in Ireland.
You also speak three languages. Is it something you find comes naturally? How is the Italian going?
Yes, I speak three languages. I learnt Spanish pretty quickly. I was only eight when I moved to Murcia and going to a Spanish school really helped. All my friends were Spanish too and that definitely sped things up. In Italy, the dressing room was a big help for learning the language.
Is it true you nearly went to Villarreal? Tell me how the move to Inter came about?
I had a couple of trials at Villarreal, but when Inter showed an interest in me, I was in no doubt. Pierluigi Casiraghi played a big part in bringing me to Milan and he was really important for my development too. I'll always be grateful to him.
Casiraghi spotted you and took you to Milan coached by Roberto Mancini at the time. I interviewed Mancini in 2015-16 and watched his training sessions, he was meticulous, so what was it like being in the prestigious youth academy at first?
It's amazing to be a part of this club. I noticed a big difference between Inter and my previous clubs, but over time I got used to it and everything improved. In Spain they want defenders with good technical ability to build moves from the back, whereas in Italy there's more room for "old school" defenders, which is what I consider myself to be. I really enjoy defending and stopping opponents, so Italy is the ideal place for me to develop in that sense.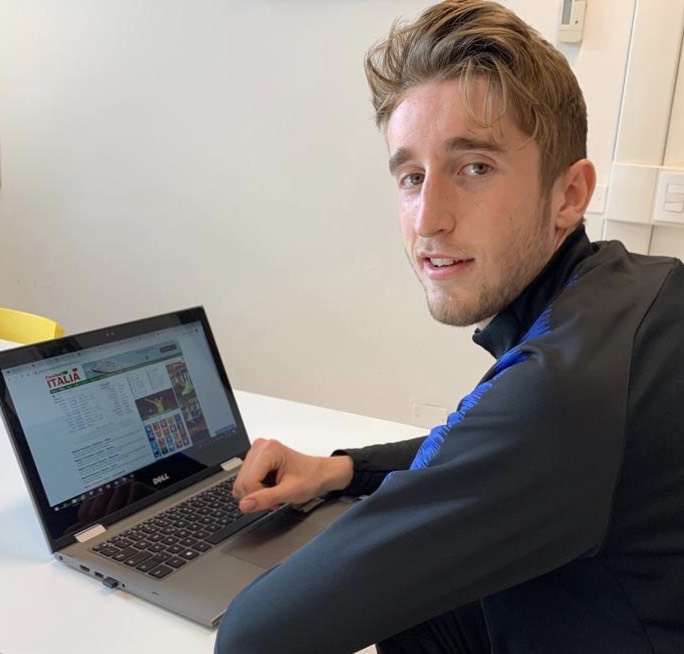 Being at Inter, you will brush shoulders with some big names in football, but who were your early influences as a child? Who did you always want to emulate?
When I was young, I really liked Rio Ferdinand and Nemanja Vidic. The desire to defend and stop opponents that I saw in Vidic is the same thing I feel myself. I've had the chance to see Milan Skriniar close up now and I really like him – he's an amazing defender.
After you made your debut against Lugano, Gianluca Vialli was impressed and told the press "the main challenge will be to get minutes under his belt." Do you think that you will have to go on loan to get more playing time?
Right now I'm just focused on doing well at Inter this season, as I have the responsibility of being captain of the Primavera team. My main aim is to be successful with them, then at the end of the year I'll sit down with the club and we'll decide what's best for my career.
Inter's youth academy is producing some superb players, Nicolò Zaniolo (now of Roma) Andrea Pinamonti, Xian Emmers and Ionut Radu being just a few. Who do you tip (apart from yourself) to have a big impact in the future?
Facundo Colidio.
The U-19 Supercoppa against Roma and the Viareggio Cup v Fiorentina were brilliant achievements. Which was the most satisfying and why?
I think winning the Scudetto was the best experience. You feel so much pressure when you play in the final because there's an entire season on the line in one match. Winning that game in extra time was an amazing feeling.
On Instagram you seem to watch a lot of Inter at San Siro. Have you ever been in the Curva Nord?
I've never been in the Curva Nord, but I often go to watch Inter. It's useful for me to see things and learn, and take in the San Siro atmosphere too. I dream of making my Nerazzurri debut in that magnificent stadium one day.
Watch Serie A live in the UK on Premier Sports for just £11.99 per month including live LaLiga, Eredivisie, Scottish Cup Football and more. Visit: https://subscribe.premiersports.tv/