Ramón Rodríguez Verdejo, Roma's sporting director, the man better known as Monchi, looks all but certain to trade capitals this summer, leaving Roma for the likes of Arsenal. Few sporting directors receive as much attention or scrutiny as Monchi, so it bears asking: Has his brief stint in Rome been successful?
Some context is required. Monchi moved to Roma at the height of Juventus' domestic supremacy, facing a behemoth even more dominant than the Barcelona team that regularly topped La Liga during his time at Sevilla. Every year, Juventus are odds-on favourites to lift the Scudetto, with Roma, no matter what, underdogs at best. UK betting sites had Roma behind not only Juve but also Inter at the start of the current campaign.
Success in this situation shouldn't be measured by Roma's chances of winning the title, so, when other factors are taken into account, does Monchi's tenure fall on the positive or negative side of the ledger?
The short answer is: It's too soon to tell. Monchi's approach is based on prioritising youth and bargain veterans. In doing so, the Spaniard tries to build a competitive squad filled primarily with undervalued players, most of which he can turn a significant profit down the line. If he were a real estate developer, Monchi would be the master of flipping properties.
But that process takes time. Monchi had 16 unbroken years at Sevilla to show what he can do, signing the likes of Sergio Ramos, Adriano and Ivan Rakitic. The fans at Roma, who are ready to eat him alive and will never forgive him for some of the tough sales he was forced to make, may not give him that much time.
His youth signings at Roma have been extraordinary. Critics will latch onto Patrik Schick's lack of sharpness in front of goal, since forwards always receive outsized attention. But leaving aside that Schick still has time to make good on his promise, Monchi also signed three of Italy's most promising young midfielders in back-to-back seasons. After signing Lorenzo Pellegrini in the summer of 2017, he went ahead and acquired Bryan Cristante from Atalanta the next year.
More to the point, the Cristante deal was a splendid piece of business, with only €5m on Roma's books for the first year loan, another €15m for the obligatory purchase, and up to €10m in bonuses. By spreading the costs out over several years, Monchi ensured that Roma will be able to keep purchasing new players while paying off the deal. Sure, Pellegrini has had injury issues and Cristante has struggled for form, but both are young with plenty of time to grow. And Cristante finally hit his stride in December, notching three goals and two assists in eight matches.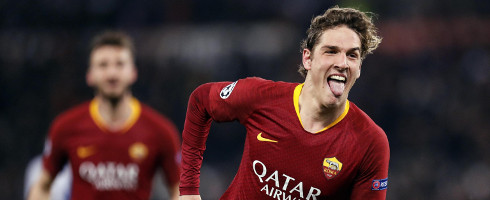 Monchi also pulled off the coup of the summer when he swapped a fading Radja Nainggolan for the starlet Nicolò Zaniolo — and got Inter to pay €30m for the privilege! The deal that brought Zaniolo to Rome will probably be discussed for the next decade as the biggest mistake Inter have made, adding to an already lengthy list.
At the other end of the spectrum of Monchi signings are your Aleksander Kolarovs and your Steven Nzonzis. Far from Pep Guardiola's ideal full-back, Kolarov was offloaded in Manchester City's infamous summer of revolution. But Monchi saw an opportunity to fill a gap in Roma's squad at a bargain price. Signing Kolarov for €5m looked like a stroke of genius, as he provided experience and goals on the left flank. Despite the Roma ultras issues with Kolarov, he remains a core player for the club, even if his pace is slowing.
Nzonzi, for his part, will be able to hold the middle of the park for a few more years as Daniele De Rossi requires more time between matches and will soon inevitably retire.
Some of Monchi's sales have been contentious, to say the least. Being the man responsible for selling both Mohamed Salah and Alisson Becker to Liverpool was never going to ingratiate him with fans. As Salah's profile has skyrocketed since his time in Rome, the €42m that Liverpool paid for him seems like an unmitigated steal.
Monchi has defended the sale, saying that Roma had "no choice" but to sell the Egyptian because of Financial Fair Play restrictions. If you look at the balance sheet, he's right. Roma posted a transfer profit of €25m. Without Salah's sale, the Giallorossi would have again been in the red, which could have seen them excluded from the Champions League.
But Monchi's most acrimonious sale has been Kevin Strootman, a player arguably loved more by Roma fans than Salah — who was never truly appreciated in the capital. But just like in Salah's case the year prior, Strootman's sale was necessary to balance the books. If you take away his €25m sale, you wipe out Roma's €23m summer profit.
But Strootman's sale highlights the one key issue with Monchi's time in Rome. At times it has felt more like his club than Eusebio Di Francesco's, That led to the bizarre situation in the Fall when Di Francesco's job was threatened as Roma sat in the middle of the table, only to be apparently saved by Monchi threatening to resign if the Coach were sacked.
The consequences are that some of Monchi's sales have unbalanced the squad. Kolarov looked like such a genius signing the year prior because he could be covered defensively by Nainggolan and Strootman in the middle of the park, as the club played a 4-3-3. This year, as a combination of transfers and injuries have forced Di Francesco to switch to his less favored 4-2-3-1, Kolarov has been more exposed on the left flank, particularly for pace. Nowhere was this more evident than when Federico Chiesa burned by him in the Fiorentina's 7-1 Coppa rout.
If Monchi does indeed leave for the Gunners this summer, the most significant immediate loss for Roma will likely be Cengiz Under following the man who signed him to North London. But the longer term effect will be on Roma's financial health and scouting network going forward.
As much as Roma fans may not want to hear it, Monchi's business decisions are beyond reproach. He's made quick profits where he was able, like offloading Leandro Paredes to Zenit Saint-Petersburg for four times the €6m that Roma paid for him, and signed youth that will either turn a significant profit for Roma down the line or become core to the squad.
Some signings, like Javier Pastore, have admittedly been a mistake, as the Argentinian seems to not have the motivation or intelligence to play up to his abilities. Nonetheless, he can probably still be offloaded at a profit to a mid-table English club willing to take a chance on him.
It may be hard to think of a club that finished second in the table two years ago as rebuilding, but that is precisely the phase Roma are in right now.
The Totti and De Rossi era is coming to an end. Roma needs to build for its future. Monchi tried to prepare the club for that. The fans forced him out for it.