In the short crossing from the wreckage of the derby to the close shores of the Empoli game, Roma threw overboard both captain and quartermaster: Coach Eusebio Di Francesco has been sacked, and sporting director Monchi rescinded his contract.
These events dominated the headlines of sports publications for the past 48 hours, but really this is hardly news. The sharks that follow the Roman vessel must be the fattest in all the seven seas, as more than one Coach per year plus countless staff and players get thrown their way. Even Francesco Totti was fairly chewed up when he made it to his port.
What is it about Roma that makes her so enamoured with mutiny, with cycles of self-destruction, with fire? I know of no other club in Europe with an environment so unforgiving, in which expectations are so tediously unrealistic, the air so rarefied, the pressure so intense. This really is a club of wolves, and its ferociousness consumes all would-be alphas, aborts continuity even those rare times when management isn't taking that task onto itself.
Monchi and Di Francesco were supposed to represent a clean break from that. When they stepped aboard in the summer of 2017, both refreshingly younger than their predecessors, it looked like the beginning of what would be a long and fascinating journey.
The Spanish sporting director wasn't recruited to beef Roma up: he was hired to heal her of her perennial malaise. He was at once therapist and surgeon, cooling the fever of his patient by removing the bulging hot-heads and the stars, reducing frenzy but gaining composure. Fans hated him for that, but then nobody likes going to the doctor, least of all the Lost Boys of that ineffable Neverland, Rome.
After years of sporting director Walter Sabatini, who chain-smoked his way through the club's finances by gambling every last penny before he earned it, Monchi managed something nigh-impossible: he fixed the treasury. In less than two years, Roma rode a wave from 24th to 15th in the list of the richest football clubs, sailed out of the Financial Fair Play shallows, secured two sponsorship deals, and finally slashed her deficit and debt. And this without a single brick of the property stadium yet laid down.
The process was painful, as outstanding players like Mohamed Salah and Alisson Becker had to be sold off to the highest bidder, but a new Roma was being built, and after a coherent vision: a core of highly promising youngsters propped up by a few cheap, excellent veterans, and more Italian blood than ever before. Sabatini used to speak openly of his disdain for potential Azzurri candidates, but Monchi knew these players had to be nurtured and not just purchased wholesale. That's where Di Francesco came in.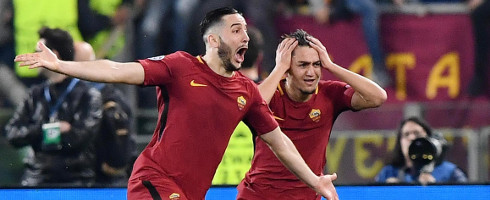 There is no need to revisit the career of this very perplexing Coach, who was able to break his hull against an Udinese raft on one day and sink the Barcelona battleship on the next. Let's just agree that he was good with youth, had guts to spare in the decisive moments, and was fantastic in Europe, even with a team so often broken down and put together again. But he was also middling-to-poor as a pure tactician, and his failure to marshal Roma's defensive line and hold on to leads might have cost him the bench in other clubs too.
Old-time Giallorosso DiFra was, in layman's terms, a good Coach – no more and no less. He was never going to be Pep Guardiola or Antonio Conte, but give this guy a team, and he'll do as well with it as may be expected. Yet it's unlikely that even the Napoleons of the sport could have bettered his achievements in the Champions League – in any case not with this team. That was entirely Eusebio's glory, and perhaps his legacy.
What made this Coach different was that he was young, flexible, willing to explore new ideas, and therefore promising. In this, he broke the rules of the Roman environment, which command a perpetual entropy, an endless collapse inwards rather than an expansion outwards. It was this philosophical distinction that saw Roma, under his lead, transcend their limits on the European stage and at one point outdo even Juventus to reach a Champions League semi-final.
Di Francesco was a man whose ambition bloomed quietly, who knew what it meant to plant seeds and wait for the harvest. His eye matched Monchi's vision, which explains why the Spaniard was so attached to Eusebio, even to the point of diving after him into the open sea. The ship they built together may have been ill-equipped, unsteady, and far from unsinkable, but for the first time in a city that knows all about time, it felt like it was taking us somewhere.
And so, in perfect Roman tradition, they're gone. The Spaniard went with a bang, getting in a row with fans at Porto Airport, while DiFra couldn't even manage a whimper, sliding away from Trigoria in the silence of his grey car. President James Pallotta proved himself a genuine Romanista in his impatience, but it all feels so been-there-done-that, so clotted and tired, like a passé comic strip that keeps rehearsing the same jokes.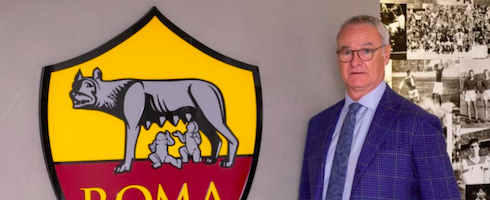 As of today Roma are back in the safe, warm hands of old men. Once more as a Coach there is Claudio Ranieri, a battle-hardened boss adept of the old Italian art called losing with a smile, and maybe Walter Sabatini too, who surely can't wait to barter off all this painstakingly-assembled Italian talent.
Roma fans can look forward to three months of fighting for a place on the podium (that's a figure of speech – the fourth place is really not on the podium), and then more of the same, years of the same.
Our motto is Grazie Roma and we usually extend that kindness to those who served our cause. But I cannot bring myself to say this to you, Monchi, nor to you, DiFra. You showed me a door out of the old pantomime, and then defrauded me of its key. I am tired of sailing nowhere on a wind of talk, I have grown numb even to sharks and pirates.
Grazie for what, you moved on to where football happens and you left the rest of us here alone, trapped in this crowd that screams all the time and says nothing at all.
Watch Serie A live in the UK on Premier Sports for just £9.99 per month including live LaLiga, Eredivisie, Scottish Cup Football and more. Visit: https://subscribe.premiersports.tv/