Prior to Wednesday night, Juventus had never previously overturned a 2-0 1st leg deficit. However, prior to this season the Bianconeri had also never had an extraterrestrial striker, the Champions League's greatest marksman, Cristiano Ronaldo.
The headlines will belong to their hat-trick hero, the media will have exhausted all the superlatives, but beyond The Old Lady's superstar Number 7 was a team that played close to a perfect game and a Coach that had planned every detail.
Max Allegri has come under fire in recent weeks, the defeat in Madrid lead to criticism of his tactics and approach. If Diego Simeone played his best hand in their first meeting, Allegri deployed his Joker in the return leg, leaving Cholo bewildered. The final outcome will go down in Juventus history as arguably their greatest ever Champions League victory, with Allegri the man behind it all.
The tone was set early on. A controversially disallowed goal in the opening minutes did nothing to diminish Juve's intent. There was a noticeable change in approach from the game that took place at the Wanda Metropolitano. Atletico were unsurprisingly defending in their famous deep block, all of the XI in their own half, risking nothing and attempting to keep their hosts at arm's length. The intensity from the stands was replicated on the pitch, as Juve hunted every ball and left Atleti without time to think or gain any kind of rhythm.
The home side's passing was slick, if understandably a little forced at times. Play was direct, it was adventurous and the belief that they could win this game was evident in every element of Juve's individual and collective play.
Allegri had learned from his mistakes, Juve were pinning Atleti back, using width to stretch the opposition back line. Leo Spinazzola and Joao Cancelo played essentially as wingers, often playing up against their opposite numbers. Ronaldo and Federico Bernardeschi would often double up out wide to help create a numerical superiority. This allowed Juve to create overloads in wide areas, where they could fashion some space to get crosses into the box.
Alternatively, once Juve had explored the options down one side, a quick switch of play manufactured one vs one situations down the opposite flank for the player in possession. This was seen on the second goal, as the ball was neatly worked from Spinazzola to Cancelo, before the right-back's cross was met by his Portuguese counterpart.
Juventus occupied as much of the pitch as they could, asking serious questions of Simeone's tactical set-up, and it provided multiple avenues of attack from Allegri's players.
Mario Mandzukic had the unforgiving task of being the team's facilitator. The Croatian striker's physical presence was used to occupy centre-backs Jose Maria Gimenez and Diego Godin, allowing the aforementioned pair of Ronaldo and Bernardeschi somewhat free roles so they could roam in to dangerous pockets of space to collect the ball. This was highlighted on the first goal. As Juventus recovered the ball in midfield, Bernardeschi drifted into space before delivering a pin point cross for Ronaldo to power home.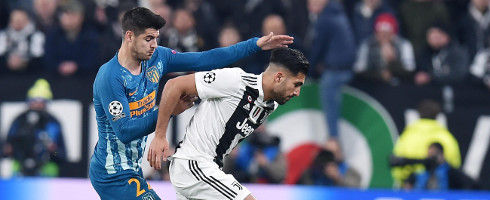 Behind the ball there was the protection of a three-man defence. In a move we hadn't seen previously this season, the excellent Emre Can played a double role and covered deep on the right-hand side of Leo Bonucci and Giorgio Chiellini. This move provided cover for the expansive attacking set-up and nullified any attempted counters launched by Alvaro Morata and co. Miralem Pjanic was freed to move higher and join in the attacking phase, at times all but Wojciech Szczesny were in the opposite half of the field.
With the score at 2-0 and everyone sensing that they were about to witness something special, Allegri shuffled his pack in a move that took many by surprise. Using Juve's momentum and enthusiasm, he decided to take advantage of a wounded and vulnerable Atleti.
The first sub saw Paulo Dybala enter for the tiring Spinazzola. After some confusion on the pitch, this move resulted in Emre Can dropping to right-back with Cancelo moving to the opposite side, Bernardeschi playing a more withdrawn role in midfield and Dybala taking up a spot on the right side of the attack.
A forced change followed, Mandzukic struggling with injury was removed for teen sensation Moise Kean. Both moves worked wonderfully. At a time were the visitors thought they would be given a break, the fresh legs allowed Juve to maintain their intensity and gave the Spanish team a different problem.
Play became stretched as Kean used his pace to sprint through on goal only for his shot to go wide, while Dybala's dribbling ability was important in helping maintain possession in the final third.
Then the moment that changed it all. Bernardeschi took advantage of the newly formed space afforded. A smart turn was followed by a powerful driving run from midfield, drawing a foul in the penalty area, the rest is history. The comeback was complete.
The side from Madrid were too passive and Juventus took full advantage. An away goal would have completely changed the picture, but La Vecchia Signora rediscovered her defensive solidity. Lead by the immense Chiellini – theatrics aside – alongside a Bonucci that resembled something of his former self, it was the platform from which this success was built.
Redemption for Juve and their Coach Allegri, who served up a timely reminder of just why he is regarded as one of the world's finest tacticians. The blueprint for success in this competition has been set, Allegri rediscovered his best and must continue to encourage his team to play in this manner. With this intensity, tactically flexibility and attacking intent, this Juventus can achieve anything.