The score draw says advantage Juve, but based on the 90 minutes we witnessed in the Johan Cruijff Arena, the Champions League quarter-final is very much in the balance, with both teams fancying their chances of progression.
Erik ten Hag's exuberant Ajax team were yet again impressive on Europe's elite stage. The expectation surrounding the Dutch team has significantly heightened and their players are clearly revelling in the spotlight. From the outset they were energetic, skilful, creative, and full of attacking intent.
The Bianconeri were clearly wary of what they were up against and tread carefully, there was almost a nervousness about their game but that is perhaps understandable given the absence of captain Giorgio Chiellini and Ajax's previous performances in this competition.
It was clear that Max Allegri was taking no chances in his approach and wanted to limit the home side's opportunities in transition. There was little attempt at retaining possession for long spells and instead direct balls into the attack were favoured. This was done in part to limit Ajax deploying the intense press they thrive off. Dynamic trio Dusan Tadic, Hakim Ziyech and David Neres relish exploiting the spaces available when possession is turned over – something Neres would later highlight empathically - and Juve simply did not want to take the risk in attempting to play out from the back.
Adopting slightly more direct tactics also meant Allegri's team could use their physicality in attack to impose themselves on Ajax. It was very much a territorial approach. Federico Bernardeschi was undoubtedly his side's driving force in the first half and carved out a couple of good openings that he should have done better with. It made for a somewhat ugly first 45 minutes from La Vecchia Signora, lots of loose passes and poor decisions made their play disjointed as they struggled to control proceedings.
Out of possession, there was an eagerness on Juve's part to lock down the insanely talented Frenkie de Jong, but it was done with little success. Allegri wanted to force Ajax long and pushed high against them in an attempt to make this happen, but the home side were smart and de Jong in particular adapted quickly, causing Juve to re-think their strategy, often needing to retreat into a defensive 4-4-2.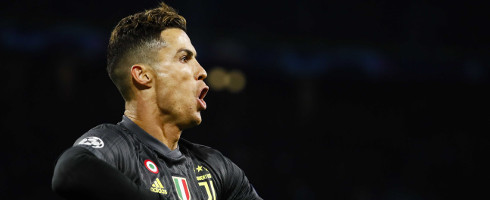 Despite the first half display, when you have Cristiano Ronaldo the game can change in an instant and so it proved. On his return from injury and in what was a quiet night for him, the Portuguese superstar was still decisive.
With Joao Cancelo dribbling forward on the right, teammate Rodrigo Bentancur - who had started the move and was Juve's best midfielder on the night - then continued his run, intelligently creating space for Ronaldo to exploit centrally and CR7 did not need a second invitation. Cancelo's perfectly executed cross met Ronaldo's explosive run and his powerful header had Juve ahead.
The way Juve conceded straight after the break was extremely disappointing. In the previous round against Atletico, the Juventus full-backs essentially played as wingers in Turin but were more withdrawn tonight, mindful of the space they were leaving behind them. However, that did not stop the goal from coming as a result of a mistake down the flank. If we had seen the best of Cancelo a few minutes' prior, this certainly exposed the immaturity in his game.
As a long ball was floated in Cancelo's direction, the 24-year-old already under pressure attempted to keep the ball in play instead of allowing it to bounce out. Neres proceeded to snatch the ball, Cancelo struggled to recover and on reflection Juventus defender Daniele Rugani will probably feel he could have impacted Neres as he entered the box. Choosing to stand his ground - despite there being cover around him - gave Neres the room he required to round off a fine individual goal.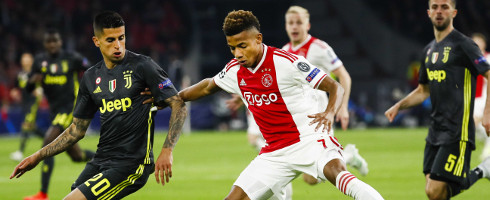 Rugani came under intense pressure all night, but defended diligently and methodically throughout, so this performance will go some way to restoring faith in the Italian defender. Defensive side-kick Leonardo Bonucci stepped up in the absence of Chiellini and performed close to his best, something that's been seen sparingly this campaign.
Wojciech Szczesny yet again proved his worth with a confident and solid display, as the Polish goalkeeper continues to prove why the club chose him to succeed Gigi Buffon. After Ajax equalised, there was a period of fierce pressure and it looked like it would not be long before they took the lead. But Juve held firm.
Allegri's changes helped his team regain some control as the game wore on and as Ajax's energy level finally began to decrease. Douglas Costa returning to action will be a welcome sight for the Bianconeri faithful, there is no better impact sub and he rattled the post late on following a trademark run.
The same cannot be said for Paulo Dybala, his continued drop-off is of real concern and his presence made no impact on the team. Man of the moment Moise Kean would have certainly been the better choice given the tiring Ajax defence.
As the teams left the pitch, both will feel they could have done more. Nothing was decided on Wednesday night in Holland, setting up a fascinating return in Italy next week. Juventus will hope to have a few players back from injury and that could be a decisive factor. Ronaldo will be sharper, while returns for Chiellini and Emre Can would come as a huge boost.
Does Allegri have something special lined up? His tactical flexibility has proven to be a difference-maker before, and it will be required again here.