The dimensions of the Stadio Luigi Ferraris in Genoa prime it for spectacle. During the city derby, the 36,000 capacity stadium brims with Genoa and Sampdoria fans, an explosion of colour and noise that feels more intense in smaller surroundings.
As another atmospheric Genoa Derby approaches this Sunday, there are so many compelling aspects to focus on. How the city's main lighthouse inspired the derby's name of Derby della Lanterna (Lighthouse Derby). How it is a derby between two teams who boast arguably the best home shirts in the league. How the Morandi Bridge collapse of this past August prompted civic solidarity between Sampdoria and Genoa fans.
Among all these topics of conversation, the question of the clubs' ownership seems mundane, but Sampdoria President Massimo Ferrero and Genoa President Enrico Preziosi are parallel theatre to the derby.
Ferrero is a ball of energy, a frenetically-drawn caricature come to life. A background in the movie business (he is a producer and actor) has configured him for perpetual showmanship, so that every interview is an ambush ("he should die," he said of Catania President Antonio Pulvirenti in 2015 after it was revealed that he had fixed matches in Serie B, and "I am the most normal of all" he said of himself when asked if he was crazy a few months ago).
Preziosi, by contrast, may not possess the thespian calibre of Ferrero—though a video of him belting out Franco Califano's classic Tutto il Resto e Noia (All Else is Boring) at a gathering is on the Internet—but he has nonetheless insinuated himself into Italian football's supporting cast. The owner of Italy's most successful toy company, Preziosi profits from buying low and selling high to big clubs, a policy that has antagonized Genoa fans for years, prompting some venomous protests against him.
What both Ferrero and Preziosi have in common are catalogues of mischief. Preziosi took over Genoa in 2003 when the team was in Serie B, and both he and the club were plagued by legal issues almost from the outset. From a match-fixing conviction that condemned Genoa to Serie C1 in 2005 to his own involvement in Bilanciopoli (false accounting case involving players) to his several other bans for creative accounting, Preziosi's time as Genoa owner has been blemished by scandal.
Ferrero only took over Sampdoria from the late Edoardo Garrone on June 12, 2014, and as if drama moved in lockstep with his life, he was convicted of declaring false bankruptcy the same day. Just this past November, he also had his assets seized as part of an investigation into embezzlement and money laundering.
On the one hand, eccentric figures like Ferrero and Preziosi are welcome comic relief to the tight-lipped owners or gruff bureaucrats teeming in football's administration. But on the other, these types of colourful owners almost always have a complicated relationship with their own fanbase.
Paradoxically, despite their own instability, both Preziosi and Ferrero have brought a degree of stability to Genoa and Sampdoria respectively - but is consistent Serie A status enough for their fans?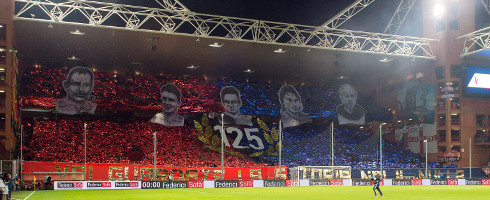 Even though Genoa's fortunes have declined post-war, they have won nine Scudetti in their history, and it was during the lifetime of many Sampdoria fans that their club won the Scudetto in 1991, reached the European Cup Final in 1992, and came close to qualifying for the Champions League proper in 2010, only falling to Werder Bremen in the play-offs.
Neither club has played in the latter stages of any European competition for years, and while Sampdoria are currently having a better season than Genoa, they remain an outside bet for one of the Europa League places.
Without transformative investment, both Genoa and Sampdoria will continue to make up Serie A's crowded middle-class of clubs who flirt with European places (occasionally even reach them) but are unable to take that decisive leap into the upper-reaches of the table.
Admittedly, clubs like Atalanta have made that transition recently without heavy investment, relying instead on an unsurpassed youth and scouting system, but that is a route that has eluded many in the past.
Rightly or wrongly, Preziosi and Ferrero can evoke the trauma of financial and sporting ruin when fans agitate for success. After all, Preziosi took over when Genoa were in Serie B and under his ownership the club has been in Serie A for the last 12 consecutive seasons. But even in Sampdoria's case, it was only eight years ago that they were relegated to Serie B (the image that perhaps best symbolizes the debacle is of former captain Angelo Palombo standing under Sampdoria's Gradinata Sud Curva, tearful, hands joined in imploring forgiveness).
While there seems to be no imminent escape from the clutches of Preziosi for Genoa, there are multiple reports that Sampdoria could be sold to a foreign American fund who would be interested in installing former club legend Gianluca Vialli as President or team manager.
Even though Ferrero vehemently denies the sale is about to materialize, Sampdoria fans can still dream of the possibility of meaningful investment and slight sporting modifications that could propel the club even further. Maybe seeing a city rival flourish would shame Preziosi into holding on to his prized assets a little longer—unlikely given his history, but one can hope.