Italian football's precipitous decline has left despondent those of us who grew up on Milan derbies, jaw-dropping fantasisti, and thrilling Scudetto races.
Undoubtedly, the main reasons for this fall are the Calciopoli scandal of 2006 and Italy's weak economy. The two combined to leave Serie A in the wake of the ascendant Premier League as well as La Liga, both of which were starting to capitalise on lucrative broadcast deals. As Serie A has rebuilt itself from those ashes, one obstacle to reclaiming its former glory has been a comparatively dull style of play.
Italian football has a somewhat unfair repetition for defensive football, often thrown around by overpaid pundits who love to use the word "catenaccio." And yet if you watch the game today, with Spanish and English football side by side, a lack of flair and a lack of pace would be your first observations.
Is it any wonder Cristiano Ronaldo scored his spectacular overhead goal while playing for a Spanish club against an Italian club? The fact that he has yet to replicate such a feat for Juventus only drives the point home.
Fans of Italian football — this writer included — love to praise the league's so-called "tactical" depth. But tactical rigor should not be a substitute for what makes the game so enjoyable in the first place: witnessing nearly inhuman feats of skill and athleticism. Every player who comes to Serie A admits the training regime is far tougher and more specialised, yet each time Italian clubs are crushed for pace and stamina in European matches.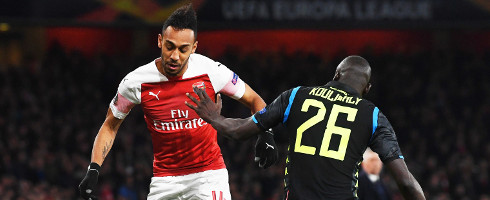 Italian football is guilty of this offence at both ends of the table. Parking the bus and hitting on the counter have become a hallmark of bottom table sides across all leagues, especially as the wage bills have grown so drastically apart in the past decade. So Italian football is not particularly noteworthy in that regard. What is far worse is the teams at the top end of the table.
Inter, especially under Luciano Spalletti, have played a predictable and boring game that often devolves into pumping crosses into the box for their lone poacher to try to either fashion a goal out of nothing or get fouled. It's been effective at getting the club back into the Champions League, but it's hardly inspiring stuff.
Juventus have famously adopted a "just enough" style in Italy in the Antonio Conte and Max Allegri years. Despite their superior firepower, the club rarely engages in blowouts and routs, preferring to hold on to thinly secured leads while seeming to relish simply demoralizing their foes into submission.
It's proven effective, as the Bianconeri are a mere point from securing their eighth consecutive Scudetto. But it has done significant damage to the league's reputation and left them struggling to deal with opponents in the Champions League who refuse to give in.
Maurizio Sarri's Napoli may have been predictable and Gian Piero Gasperini's Atalanta may be infuriatingly inconsistent, but you can't say they're not entertaining. More clubs need to play like them, regardless of the results — a commitment to a style and way of playing football.
Juventus' domestic dominance has seen the league gain a reputation for being a one-team league, even if Milan and Napoli have pushed the Turin club close in a couple of these past eight seasons. But the other Italian clubs need to step up and do their part to make the title race more exciting.
The problem, of course, is that because of Financial Fair Play, they can only do so if they bring in more money — which they are unlikely to do so long as Serie A remains less watchable than other major European leagues.
Another league often derided as being a one-club league, the German Bundesliga, has somehow managed to garner a younger and more avid fanbase. But even a cursory comparison in the most shallow metric of "excitement" — goals scored — shows why the German league is more popular. Its rarely disputed champions, Bayern Munich, have scored 107 goals across all competitions this campaign. Juventus? Well, they've scored just 78.
The economic advantages secured by La Liga and the Premier League through lucrative broadcast deals are for the time being insurmountable. But there is absolutely no reason that Serie A should not firmly establish itself as the third best and most popular league in Europe. In recent years, Italy has started to edge out Germany in UEFA country coefficient ranking. But what it needs even more is to usurp it in the far more vague entertainment ranking.
A key indicator here will be what 21st Century Fox chooses to do when its global Bundesliga broadcast rights expire after the 2019-2020 season.
In the meantime, Serie A football needs to regain some of the thrill it had during the best of the Football Italia years, when clubs from Milan and Inter to Parma and Brescia and, yes, even Juventus, were all exciting to watch. The league today needs Calcio in all its colors, not just staid black and white.