There can be no excuses, no alibis and no hiding place for Max Allegri, his players and Juventus football club. Regardless of the opposition's excellence on Tuesday night, exiting the competition was not an option. This was not an unfortunate defeat, where the underdog had defended for their lives and stolen victory. Juventus were dominated and were fortunate not to concede more. A scintillating Ajax team destroyed the establishment and deservedly progressed to the semi-finals of Europe's elite competition, edging a step closer to legendary status.
The first half was somewhat tentative from both sides, with Juve seemingly managing the opening stages better. Ajax showed glimpses of what they could offer, but rarely threatened. Then came the inevitable, Ronaldo headed home to add another goal to his incredible Champions League record. It looked set for the Portuguese Number 7 to make this another night about him, but on 34 minutes came the moment that changed the quarter-final.
Donny van de Beek reacted quickly to control a wayward shot before slotting home coolly. Federico Bernardeschi had failed squeeze up and get with his defensive line, playing the Dutch midfield man onside. There was an instant feeling of shock around the stadium, half-time came quickly and the full effect that goal had on Juve would only be seen after the break.
Moise Kean was introduced in place of the injured and disappointing Paulo Dybala, but Kean could do nothing to prevent what was coming. Ajax bossed proceedings, the equaliser was galvanising and they sensed another incredible victory was on the cards.
Juventus were nervous and the pressure of the situation was too much for them to handle. Instead of intently searching for the lead or attempting to control possession, Allegri's team crumbled. Ajax excitedly pressed on, knowing that a second goal would be devastating for their hosts and when the colossal Matthijs de Ligt powered home a header with a little over 20 minutes remaining, there was only one team going through.
Juve's insecurities were laid bare for all to see. Earlier this year, Atalanta had paved the way for others to exploit this team and Allegri ignored the warning signs, only for it come back and haunt him once again on the biggest night of the season. The Old Lady simply could not contain Ajax's energy levels, their technical ability and above all, intelligence. The Dutch team have complete understanding of their game. Ajax dominate the pitch, create space and exploit it with clever movements and combination play. It is something wonderful to watch.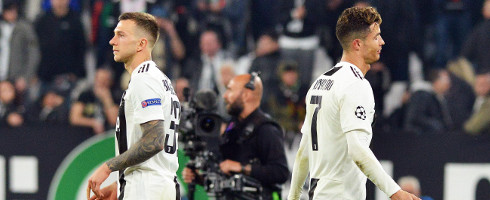 It is difficult to understand what Allegri's thought process was coming into the second leg. After familiarising yourself with Ajax, leaving The Johan Cruijff Area with a draw and an away goal, there should have be change in approach. One of Allegri's strongest assets has always been his tactical flexibility and variety, but it seems like he has no answer to the deployment of an intensive, progressive style of football. It begs the question, is Allegri becoming outdated?
The Juventus boss will point to the absence of captain Giorgio Chiellini, Mario Mandzukic and Douglas Costa as decisive factors. His squad has been struggling with injury problems and it is far from ideal preparation to have those players and the likes of Emre Can and Ronaldo all missing recently, but you are in charge of Italy's best club, it is no reason for this loss.
In response to last week's game, he leaned on experience to help. Experience means little, especially when you are being over-ran. Regardless of those players missing, take a look at the Juventus bench. Joao Cancelo, Leo Spinazzola, Rodrigo Bentancur and Moise Kean all started on the side-lines, all players that are undoubtedly better-equipped at playing against Ajax. Those players would not sit on the Ajax bench, they would be encouraged to go and play without fear. Instead, what was offered up to Erik ten Haag? Mattia De Sciglio, Alex Sandro, Blaise Matuidi, Emre Can and an out of form Paulo Dybala.
Ajax epitomise the beautiful game, but this isn't a team of world class players, it has a nice blend of qualities that work perfectly well as a unit and had Juventus running scared. The Italian champions were punished for having a sense of inferiority, a lack of bravery, that stems from the man that sends the starting XI on to the pitch.
The aggregate score was close, but in reality, this should have been a more comfortable victory for Ajax. If not for the superb Wojciech Szczesny - who was easily his side's best performer this round - the score would have been three or even four.
On the face of it, this Juventus isn't the best team in Europe, it isn't even Allegri's best Juve, it is simply the team that has Ronaldo, the player responsible for all of their knockout round goals. That in itself tells a story.
Ajax deserve all the plaudits, while Juventus deserve every criticism and this result goes to further prove that in modern football, if you have belief in the way you play, define a clear style and approach, then you do not need to constantly search for ways to stop an opponent. You deploy Plan A and let that lead the way.
Watch Serie A live in the UK on Premier Sports for just £9.99 per month including live LaLiga, Eredivisie, Scottish Cup Football and more. Visit: https://www.premiersports.com/subscribenow