In an exclusive interview, Football Italia's Chief Correspondent Richard Hall talked to Michael Gandler of SENT Entertainment about their innovative plans for Como 1907 to become 'a digital Ajax.'
To walk alongside the lake in Como, it is easy to fall in love with the backdrop. Walking from the Stazione San Giovanni, you soon come to the lake. The sea plane hangar brings back memories of years gone by, amidst the boats and the mountains, stand a mixture of 1930's architecture and hotels from the late 1800's.
This is as glamourous a place to have a football club as any, then just as you turn around the corner, there it is, the Stadio Giuseppe Sinigaglia named after the Italian rower and war hero. Built on the specific orders of Benito Mussolini, it has an art deco feel. Times here however have not always been good.
Como 1907 have a proud history, if not perhaps an illustrious one. First promoted to Serie A in 1949 for four seasons, they have spent many years between Serie B and C, but returned on occasion to the top flight. After relegation in 1989, the club went into decline and bankruptcy hit in 2005 and then again in 2017.
A bizarre turn of events hit the club thereafter, when Michael Essien's wife, Akosua Puni, acquired the club but the investment wasn't enough to see them fulfil the criteria of the FIGC and they were admitted into Serie D.
It was then that SENT Entertainment took an interest, so Football Italia spoke to Michael Gandler to see what the plans were for this British, American and Indonesian takeover.
"SENT is a media company first and foremost which focuses on producing content. The company is relatively new, it's already made massive strides, it focuses on music and also sports, mostly football. Deals have been signed with Inter and Borussia Dortmund and we are working on other clubs on a series called 'Dream Chasers', sports documentaries about the clubs that are looking to distribute and sell on a global basis."
It was through his contacts at Inter that Michael and SENT learned of the opportunity in Como. Once they saw it, they didn't look back.
This was going to be football ownership that hadn't been seen before. "The idea was that by owning intellectual property and owning a football club, you could then create more engaging and more dynamic content."
The reason that this was so fascinating, as Michael explains is because "most football clubs create media companies, they are a media company creating a football club." Whilst the idea is innovative, especially in Italian football, SENT are very careful about the way in which they execute this project. They went on to say that they were "insistent on respecting the club's history and that it was imperative to respect the fanbase and the roots, projecting their values and not trying to reinvent the club."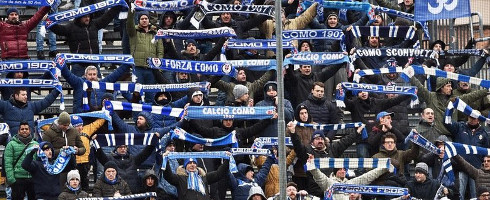 SENT have a clear vision, they want to take the club to new heights with the media company creating content to rival Europe's Elite clubs, but are keen to recognise that Como 1907 will not lose their heritage.
The project is long term and Michael is keen to make it clear that this is no Manchester City type approach, so money won't be thrown at this. When I quizzed him if he would understand the scepticism due to the failed Palermo take over (by a British consortium led by Clive Richardson), his answer was clear. He quickly pointed out that "by having business objectives rather than sporting objectives, this would allow them to grow the project in a more sensible and cohesive manner rather than trying to simply put money into the club and the playing staff."
When Como 1907 are stabilised, this will take investment, then (and only then) can they invest, when the business model is in place. As Gandler is points out, this is future-proofing.
The plan is a slow build, a strong infrastructure, developing Como's own talent. They want to rival Inter, Roma and Atalanta when it comes to youth academies, so it's new investment yes, but a traditional approach in this manner.
It is easy to imagine that clubs like Inter, Milan or Juventus would prefer to loan their players to Como as opposed to others, to give them the opportunity to play in a glamourous location and be put in the shop window with Hollywood-like projection.
"Providing proximity to the first team and the opportunity to play in a Serie A atmosphere. That is, until Como itself returns to Serie A."
The content of the digital platform will allow any player at Como 1907, loaned or bought to play in an incredible setting whilst showcasing their talents and having them broadcast globally. It is almost like SENT will be doing Serie A or teams in Europe's scouting for them, they are a going to become a 'Digital Ajax'.
Perhaps Italy's under-used but brilliant academies will be put to better use. This is the shop window of all shop windows and even a €10m sale means investment and longevity for Como 1907, this is a long-term plan. Ask yourself this, if you are a young Italian player who is struggling to get in the squad, why wouldn't you move to a location like Como where you will be shown all over social media and on documentaries like Dream Chasers? Your stock will only increase, as coming to Como means you will be noticed.
Gandler talks often of brand and this may not suit everybody's palate, but it makes sense. Como 1907 will become a brand, as it can't succeed otherwise. Michael then hits home when he says that that they want to make Como 1907 "a place where clubs are proud of loaning their players." It's simple, you make them famous before they are famous. SENT have a philosophy that rings true in the modern game: "You can't grow if you can't attract new consumers. For Como 1907 this is an evolution not a revolution."
They are first and foremost a local club in one of the most glamourous locations in the world, so if you haven't heard about them before, trust SENT Entertainment, you will soon.
Watch Serie A live in the UK on Premier Sports for just £11.99 per month including live LaLiga, Eredivisie, Scottish Cup Football and more. Visit: https://subscribe.premiersports.tv/