Juventus finally secured a historic and record breaking eighth consecutive Scudetto last weekend with a victory over Fiorentina. For most clubs, winning one of Europe's major leagues would be considered as a success, but Juve are not in that majority. When you have exerted absolute dominance domestically for years and are now spearheaded by one of the greatest players to grace the beautiful game, you are rightly viewed and judged in a different light.
Prior to this season commencing, the message was clear. There was a requirement to win Serie A, reach another Coppa Italia Final and attempt to claim the trophy that has continually evaded Juventus, that elusive Champions League crown.
The reigning champions of Italy have strolled to another title, as they continue to show unerring levels of consistency in the Peninsula. However, a damaging Coppa Italia exit at the hands of Gian Piero Gasperini's fantastically intense Atalanta was followed by a schooling in Europe's elite football competition by a delightfully fluid young Ajax team. Never more than this season were Juve favourites in Champions League free bets, but they faltered at the quarter-final stage yet again.
That Champions League quarter-final exit has led to a flurry of questions and accusations being thrown at the club and Coach Max Allegri, making things anything but #W8NDERFUL.
So, have the Bianconeri regressed despite Cristiano Ronaldo's presence? The simple answer is no, but the Turin giants have plateaued. The blame for this cannot be laid at the feet of their record signing, who on a personal level has had a fine first term in black and white. However, once you begin to look beyond the smokescreen that Ronaldo provides, the problems were arguably there all along.
Mixed recruitment left the squad top heavy and without balance, while Allegri has remained cautious, failing to embrace the talent Juve undoubtedly possess and instead choosing to cripple his team due to its midfield deficiencies.
Constant rotation has seen the team suffer stylistically. There is an undeniable need to keep players fresh over a long season, but the fact Allegri has named 180 different starting line-ups in 185 Serie A games screams of a Coach that is suffering from a lack of direction.
While rotation may help physical conditioning, needlessly chopping and changing has an adverse effect. It is a consistency killer and would almost certainly break a player's rhythm and affect individual displays, resulting in numerous disjointed Juventus performances. Selecting individuals to navigate successfully through the next 90 minutes has become something of a trademark for Allegri over the last couple of years. Out of this, a default strategy emerged.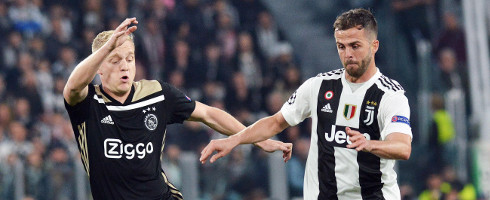 Despite the introduction of superior technical players such as Ronaldo, Joao Cancelo and the return of the much-maligned Leo Bonucci, there has been no progression in the way Juventus play. They remain methodical, risk free and rely on quality individuals or set plays to produce the necessary goods. Their pattern of play is simplistic. Develop attacks using numerous switches of play, advance through the wide areas where they can create crossing opportunities to deliver for the likes of Ronaldo, Mario Mandzukic or more recently, Moise Kean.
This is backed up by the numbers. Juventus have averaged 23 crosses per game in Serie A, second only to Inter, whilst also racking up 15 set piece goals, a league high. Of course it can be said that the use of crosses is an effective and common way to win games of football. The likes of Liverpool, Spurs, Man City and Ajax all record a similar number of crosses per game to that of Juve, but watch any of those sides and you will notice a distinct difference in the way it is done.
It is now imperative that Andrea Agnelli and co address the issues in the squad that have been glaringly obvious for some time. An injection of youth is required, the team is ageing and the next generation of footballer is required.
One dimensional players are becoming dispensable, there are a wave of energetic and athletic players taking over football's landscape. But beyond physical attributes, they are technically exceptional with great range and variety to their game. Their awareness and football intelligence are allowing for the creation of an increasingly fluid game, pushing football to new levels of intensity.
It is that kind of player that this Juventus sorely lack, especially in midfield, and of the team brutally exposed by Ajax. None of the current crop of midfielders complement each other, hampering them as individuals and damaging the collective.
La Vecchia Signora have not been scared to change. From the badge, to the stadium name and now breaking away from their symbolic black and white striped home shirt. This bravery in embracing a new way must now be transferred to the pitch. Step away from the low risk, low tempo approach and become a dominant, incisive unit. Defensive stability can be maintained when adopting a more expansive, intensive game.
Ultimately, many fans will call this impossible while Max Allegri remains in charge, but the market for available top coaches is sparse. Should Juventus push the agenda and provide the Tuscan tactician with the appropriate support cast for Ronaldo, then Mister Allegri simply must conform and perform or lose his job.
Change can be painful, losing can be part of that process, but nothing will be worse for the Bianconeri than to do all this work only to stay in a position where they feel they don't belong.