After a year on a £9M-a-season sinecure from Chelsea, Antonio Conte looks ready to take his next coaching position and work for a living. The Premier League and Serie A winner has been linked with a number of benches for next season, including both Bayern Munich and Manchester United. But it seems most likely that Conte will return to Italy. But which top club will he be coaching by the time next season kicks off?
Roma
Conte has been linked most heavily with Roma, with director Francesco Totti saying "every club would go wild to get him." Even caretaker Claudio Ranieri has taken the almost unheard of tack of not angling for the permanent position himself and instead saying he'd "love Conte at Roma." The advantage of Roma, for Conte, is the opportunity to make his mark in the history of one of the most passionate fan bases in Italy. It also comes at a pivotal time for the club, as owner James Pallotta finally looks set to get approval for his new stadium plan.
Conte, however, is not known for particularly long stints at any club, with the three years at Juventus his longest. While Roma have a number of promising youngsters, Conte may not stick around long enough to see them grow. And he isn't exactly known for bringing youth through the ranks - in his first season at Juve, there was barely a player under 25 in the squad and none who featured regularly.
Conte has yet to be tested at a club squad that wasn't set up to be immediately competitive. So it's hard to imagine him taking the job if Roma finish outside the top four this season, which would almost certainly see them forced into selling NicolòZaniolo.
Roma's squad, in general, is probably the weakest on this list, which would be a challenge for any Coach. But for Conte it poses a particular problem: the lack of three quality centre-backs to play his favored 3-5-2 or 3-4-3 systems. Kostas Manolas is the only top central defender in the squad and his release clause is so dangerously low that he may not stay even if the club do secure a Champions League berth.
Roma affords Conte the opportunity to become a club legend if he shepherds them to success, but it also has the potential to end in disaster.
Inter
Unlike Roma's problems in defence, Inter could have one of the most fearsome back threes in world football next year should they choose to play Milan Skriniar, Stefan de Vrij and Diego Godin together. Conte would surely relish sending that back line out on to the pitch.
Inter have a reputation under Luciano Spalletti of lacking a clear identity, something Conte would certainly provide. He'd have to get the locker room in order after the Mauro Icardi saga. But that might make his reputation for brutal training sessions and strict discipline more welcome at Inter than at other clubs.
Coaching the Nerazzurri would be a massive rebuke of Conte's Bianconeri heritage, which may not be his first choice. But of the options in Italy, it gives him the most chance for success at a club whose project is well underway and has significant financial backing to see it through. Conte will demand new signings anywhere he goes, and Inter are well-positioned to deliver them.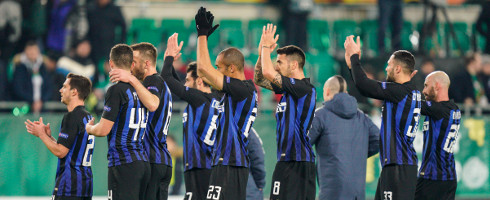 Milan
Like Inter, Milan could martial a solid back three, with the likes of Alessio Romagnoli, Mattia Caldara and Mateo Musacchio. Caldara even has the advantage of being familiar with three at the back from his time playing at Gian Piero Gasperini's Atalanta. A dual strike force of Patrick Cutrone and Krzysztof Piatek wouldn't look so bad either, though neither is particularly noted for their link-up play.
Being the Coach to bring Milan back to its glory days certainly has its appeal. The Milanese project has recently turned a leaf by bringing club icons Paolo Maldini and Leonardo back to the club. And they are in the market for a new, top tier Coach after Gennaro Gattuso has brought them as far as he can (after, it's worth noting, exceeding everyone's initial expectations of him).
But Milan, like Roma, are at risk of missing out on the Champions League. Failing to qualify for the lucrative tournament would surely set back their project and see Conte look elsewhere. If they do make the top four, the Rossoneri would be a fine choice for Conte. Especially since it seems likely that if Conte were to displace Spalletti at Inter, going across town to Milan would be Spalletti's first choice.
Juventus
On the one hand, reprisals rarely go well for any Coach. Just ask Spalletti about his second time in charge of Roma. But on the other hand, Conte could be the man to bring the long-awaited Champions League trophy to Turin. Being on the pitch for the club's previous Champions League triumph and in the technical area for their latest would transform Conte into a permanent Juventus legend.
And there's a solid argument to make that Conte is the right man to win the Champions League for Juventus. While the biggest trophies in his cabinet are the Scudetti and Premier League title he's won, Conte has actually shown himself to be a quite adept cup manager. He led a Diego Costa-less Chelsea to the FA Cup in his second season at the helm and he somehow steamrolled an Italian national team lacking any real talent to the Euro 2016 quarter-finals where they lost on penalties to a German side that had just won the World Cup.
Unfortunately for Conte, Juve's management have been sending signals that Max Allegri will be sticking around for another season. If Conte wants this job, his only hope would be that Allegri chooses to walk away from the perpetual criticism he endures.
Regardless of where Conte ends up next season, it should make Serie A all the more thrilling and we have the possibility of seeing all of the best Italian managers back on the peninsula at the same time: Allegri, Ancelotti, Spalletti. And soon: Conte.