Another missed opportunity. That's probably what the majority of the Juventus fans are thinking after seeing Tottenham completing a dramatic comeback against Ajax to reach their first Champions League final against fellow English side Liverpool.
Considering the quality and the experience of this Juventus team, as well as the underwhelming campaigns of sides like Real Madrid and Bayern Munich, on paper the Bianconeri were undoubtedly one of the favorites for the trophy. However, Max Allegri's men rarely lived up to that tag on the field, as the aggression, skill and dedication of Ajax never gave them a chance in the quarter-finals.
In fact, despite having Cristiano Ronaldo and arguably superior individual quality all over the field, the Bianconeri looked lost against the Dutch side and were by far the worse team after the two legs. So after investing €112m and a whopping €30m in yearly salary to bring in the Portuguese, a logical question arises - did Ronaldo live up to the expectations and his price tag?
When it comes to contribution off the field, there is little doubt that CR7's arrival had a sensational impact on the marketing side of Juventus and Serie A as a whole. However, this was just one side of the transfer and whether Ronaldo succeeded in his debut season in Turin should be judged on his exploits on the pitch.
The 34-year-old started the season slowly, especially in Europe, where he was sent off on his debut and scored only one goal in the group stage. In fact, Ronaldo finished the season with "only" six goals in the Champions League, which is his worst tally in the past eight seasons. The Portugal international netted at least 10 Champions League goals in each of those campaigns, which at first glance shows a significant decrease in his performance.
However, like in most cases, the numbers don't tell the full story, as what's arguably been more important than Ronaldo's goals this season, has been the way he is driving the team forward.
Giorgio Chiellini, Federico Bernardeschi, Blaise Matuidi and pretty much everyone at Juventus highlighted more than once how impressed they were, when they saw his ambition and dedication in training. Ronaldo's mental strength can also be seen in every game that he has played this term, as he always tries to fire up his squad and shows a never-say-die attitude that only a few of his teammates possess.
It might sound bizarre, but Cristiano is showing more effort, more dedication and more love for the jersey than many of his colleagues, who have been wearing the Juventus' colours for years. The Bianconeri have looked slow and uninspired in the majority of their games this term, with Ronaldo, Chiellini and Mario Mandzukic looking like the only players with the needed motivation and capable of displaying the "Fino alla Fine" motto on many occasions.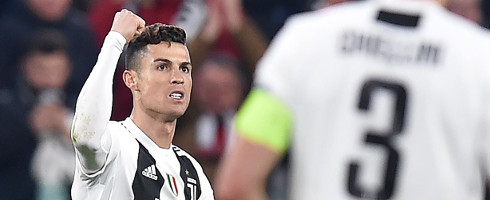 That was arguably the biggest reason for the elimination against Ajax, as with Chiellini and Mandzukic injured, Ronaldo was Juve's only leader on the field. While Erik ten Hag's men showed extremely strong unity, sense of belonging and awareness, on the other end of the field players like Leonardo Bonucci, Daniele Rugani, Alex Sandro and even Miralem Pjanic were lethargic, confused and played like a bunch of individuals instead of a team.
Putting CR7's mentality and leadership aside, his goals in each of the two legs against the Dutch team were the only positive thing for Juventus and while they weren't enough to secure qualification, those strikers were the perfect example of his predator's instinct. Back in January he also scored the winner in the 1-0 Supercoppa victory against Milan in what was another underwhelming display from the Bianconeri, proving that he is still the man for big occasions.
Undoubtedly Juve's best (only?) team performance this season came in the second leg against Atletico Madrid, but even that would've not been enough, if it weren't for Ronaldo's hat-trick to secure the sensational 3-0 win.
CR7's 21 domestic goals and eight assists are also below the numbers he reached in each of his last nine seasons in La Liga. However, contributing to 29 goals in as many games in his debut season is still sensational, considering that even the leakiest Serie A defences are tougher to break than most in Spain and the fact that Allegri failed to create any cohesion in the team's play all season long.
Winning an eighth-consecutive Scudetto and a Supercoppa Italiana cannot be overlooked, despite the shortcomings in Europe. However, the Bianconeri have raised the bar so high in recent years that nobody would judge their season nor Ronaldo's contribution based on their domestic success.
With the Portuguese superstar contributing 28 goals and 10 assists in all competition, he has been Juventus' top goalscorer and undoubtedly best player. Those stats also prove that Ronaldo is capable of scoring enough even when the team around him is not playing well.
Despite Ronaldo's stats showing a decline, compared to his tallies from previous years, this is mainly due to Allegri's inability to establish any identity in his side all year long. The rest of the team should also take a significant portion of the blame, as only a few players can hold their heads high and say that they gave their all to the Juventus cause.
Once again the Coach should and probablywill be held accountable for that as well, but it can easily be concluded that Ronaldo met and probably even exceeded the expectations after his move to Turin.
CR7 was expected to bring goals and he did. He was also expected to deliver in the big Champions League games, and despite his slow start, he eventually did that as well.
What came as a bonus was his overall attitude, dedication and mentality that instantly turned him into one of the biggest leaders of this Juventus. So the answer to the question is simple - it's not him who fell short. It's the team and the Coach around him.