The three-man backline has long been synonymous with Italian football and is still extensively used in the modern day, with many of Serie A's Coaches choosing to deploy a system underpinned by three at the back. There has been a resurgence in its use during the last decade and has perhaps been most famously used in recent times by Antonio Conte's renowned 'BBC' 3-5-2 while in charge at Juventus.
In the current campaign, 85% of the teams in Italy's top flight have used a 3-5-2 – or variation of – in at least one game during this season. Of the 20 sides that have participated in Serie A this term, only Napoli, Sampdoria and Cagliari have not used some form of the 3-5-2 formation.
It is a tactical framework that is currently featuring heavily in the intense race for those all-important Champions League places. The likes of Walter Mazzarri at Torino, Simone Inzaghi at Lazio and Gian Piero Gasperini's Atalanta are all successfully using the shape as they fight for a European spot.
The latter pair of Inzaghi and Gasperini have produced consistent results over the last couple of campaigns with their own versions. The experienced Atalanta boss has favoured the system for many years.
Part of football's intrigue is that multiple Coaches can favour a particular formation, but their interpretation of its use will be applied in different ways. This is certainly the case for Inzaghi's Lazio and Gasperini's Atalanta. Le Aquile predominantly use a more conventional 3-5-2, while La Dea use a more flexible 3-4-1-2.
There are marked differences in how Lazio and Atalanta approach both phases of the game. The defensive structure of the Bergamo side has been well documented. An intense, physically demanding man-to-man orientated press has taken the peninsula by storm. This high risk but highly rewarding strategy is aggressive and effective, with Atalanta proving this by being the side that concedes the fewest shots per game in the league. The nature of this press means that 'Gasp' and his players must be adaptive, as it will see them adjust their pressing scheme depending on the shape of their opponent.
The idea is to force numerous turnovers in possession where Atalanta can exploit an unbalanced opponent in transition. Gli Orobici are unsurprisingly leading the way for interceptions and dribbles per game in Serie A. Once they have stolen possession, containing two of the best ball carriers in the league in Papu Gomez and Josip Ilicic certainly helps in turning defence into attack.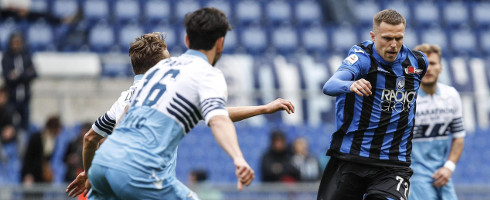 On the occasions that Atalanta retreat from their press they do attempt to retain their collective man marking strategy, with the exception being that they will leave the deepest of three centre-backs free as cover. As for Lazio, their defensive shield is structured in a different way. Also looking to be pro-active and winning the ball via a press, Inzaghi's team like to draw their opponents into a crowed midfield area before springing a trap.
With their front two providing central cover, Lazio like to force play wide and as play travels toward their half, they look to lock the opponent out. Using an overload provided by their nearest outside centre-back, wing-back and widest midfield player, the Biancocelesti look to smother the ball and execute counters with quick passes for the likes of Ciro Immobile, Felipe Caicedo or Joaquin Correa. Lazio are more conservative in their defensive approach, with patience and timing favoured over a fierce high press. This midfield block or sometime low-block requires the team to remain compact, defending in numbers before intelligently luring play into the areas they want.
When it comes to attacking, there are again distinct differences in their approach, but both like to maintain maximum width through the use of their wing-backs. Atalanta are as fantastically frantic with the ball as they are without it, it is supremely organised chaos when they go forward. There is a fluidity and speed to the Nerazzurri's attacks with positional rotations, forward runners, combinations, overloads and wing play at the centre of it all.
Equally as comfortable with building play from deep and having spells of possession as they are breaking quickly, Atalanta have attacking variety, making them a dangerous prospect. A quick look at the numbers shows the diversity to their game. Averaging 56% possession, they rank third for the most short passes and crosses per game, second for most shots and as previously mentioned, first for most dribbles. So it is no surprise that Duvan Zapata and co are the division's top scorers, as they contain a variety of weapons in their armoury.
In comparison, it is the high and wide positioning of Lazio's wing-backs that forms an important part of their attacking set-up. Not only are the wide players positioned this way to stretch the pitch and provide the team penetration, but importantly to create space centrally. It is these gaps that clever runner Ciro Immobile thrives off but it also key in freeing up areas for Luis Alberto, midfield runner Marco Parolo and the talented Sergej Milinkovic-Savic to operate in.
It is the Serbian's presence in the team's midfield that means Lazio favour attacking via the left flank with a huge 42% of their play coming down that side. The capital outfit look to overload this part of the pitch in order to create 1 v 1's and isolate play, specifically for Milinkovic-Savic. More recently with 'SMS' missing, it has been up to creative Spaniard Luis Alberto to fill this role. Forcing the defending team to compensate for this overload sees Lazio create the option of a diagonal switch to the right side wing-back.
With both teams hoping to end the season with silverware, tonight's Coppa Italia Final should be a fascinating tie and will be a momentous occasion for both clubs. In their recent league meeting at the Stadio Olimpico, Atalanta were just too strong for Lazio and ran out 3-1 winners, forcing Inzaghi into formation changes during the second half.
With final preparations being made for the game, it will be 43-year-old Simone who will be calculating a formula in an attempt to overcome Gasperini's imposing Atalanta team.
Watch Serie A live in the UK on Premier Sports for just £9.99 per month including live LaLiga, Eredivisie, Scottish Cup Football and more. Visit: https://www.premiersports.com/subscribenow