For the first time since the summer of 2014, Juventus are looking for a new Coach. It was announced last week that Max Allegri would be departing the club after five successful seasons, winning an impressive 11 trophies and enhancing his reputation as one of the game's top tacticians. In truth, it was a separation that felt somewhat inevitable, but the news still came as a shock when officially communicated.
In the aftermath, attention has immediately turned to who will succeed Mister Allegri on the Juve bench. Speculation is rife with media outlets reporting the names of numerous potential candidates. There are the desirable options such as Manchester City boss Pep Guardiola and Mauricio Pochettino of Spurs. Then the seemingly more attainable choices of former coach Antonio Conte and Chelsea man Maurizio Sarri, while the surprise names come in the form of Lazio's Simone Inzaghi, Bologna's Sinisa Mihajlovic and even Jose Mourinho.
With the Serie A season coming to a close and the European finals on the horizon, it is likely we will find out who the chosen one will be within the next couple of weeks. So from the names that have been repeatedly linked with the job and gambling deals reflecting the uncertainty of the outcome for the eight-times reigning champions of Italy, who is Allegri's ideal replacement?
The Bianconeri's management team appear to have been considering this change for a while, with the motivation behind it being an eagerness to restore a playing identity on the pitch. This is not a battle between pragmatic or stylistic football, it is a case of Juve having a recognisable way of playing again, as they did for example with the famous 'BBC' 3-5-2 set-up.
It is with that in mind that the likes of Guardiola and Pochettino should obviously be top of the list. Coaches that promote playing a modern, fluid brand of instantly identifiable football and produce teams that are enjoyable to watch, not only for their own fans, but neutrals too. The names of Guardiola and Pochettino draw attention and with it an attraction to their teams naturally follows. There's acknowledgment from within the game that the pair of them are managers who create a positive environment, one where individuals improve and the collective progresses.
The same can also be said of Sarri, however he has been accused of failing to utilise his squad, marginalising players and is known to have a spiky personality that is not as media friendly as his Premier League counterparts. Pochettino is arguably the better choice, having worked under restrictive conditions at his current club he has maximised their potential and then some. It is well known that Juventus do not have unlimited spending power but can afford to add to an already star-studded squad, providing 'Poch' with resources he has not previously had access too.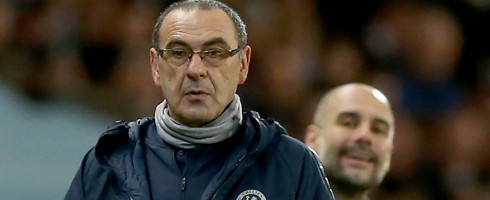 Perhaps unfairly, Guardiola is often accused of being a man that needs to spend millions in order to build his fully functioning football machine. The counter argument to that is, if you have the world's best Coach and can provide him with unlimited potential, then why wouldn't you? If you want Guardiola football then it makes sense to satisfy his demands, if not then you will potentially miss out on what you are trying to achieve.
As for the remaining candidates, it would have been easy to make a play for the Inter bound Antonio Conte. A triumphant former player and Coach of La Vecchia Signora who understands the Juventus environment. A passionate and emotional character, Conte would restore the fire that has evidently cooled in recent times. The ex-Chelsea chief would love another attempt at proving his worth in the Champions League with a Juventus team that has vastly improved since he was last there.
In making a brave decision to remove Allegri, it could then be argued that re-appointing Conte would be counter-productive. Question marks remain over his ability to adapt significantly enough and take this Juve to another level. There would undoubtedly be a short-term improvement, we would see a more intense, hungry side, but there should be concerns over its sustainability and what they would achieve longer-term.
Simone Inzaghi remains an interesting option. A young Italian tactician that has found a formula for success in difficult circumstances at Lazio. Inzaghi almost has a hint of Allegri about him in the way he has managed to maintain a level of competitiveness, across multiple competitions, at a club that has experienced a high turnover in players, whilst also being able to grab trophies on the way. There are other similarities with Allegri in that Inzaghi may not produce the most expansive sides, but he understands what it takes to win games. While it remains unlikely, Inzaghi would not be the first low-key name Juventus have appointed and helped grow into one of football's best gaffers.
The Italian champions have been courageous in many ways over the last few years and the decision to remove Allegri was no different. As a result, their next move is now the most vital step they have had to take in that time. Get it wrong and they risk undoing years of hard work.
There is untapped potential in the current Juventus squad. Talented stars like Paulo Dybala, Joao Cancelo and Miralem Pjanic are struggling under the current regime while the likes of Moise Kean and Rodrigo Bentancur could develop into top players under the right guidance. Federico Bernardeschi has shown vast improvement in the last year, Cristiano Ronaldo is a guarantee for any Coach and Juve are sure to make moves in the transfer market.
The foundations are firmly in place, the structure is secure, but the decoration remains incomplete. Consequently there will be an awareness from Andrea Agnelli and co that they need the right man to apply the finishing touches. If Pep Guardiola or Mauricio Pochettino are viable, affordable options for the Turin giants, then there are simply no other alternatives to consider.
Watch Serie A live in the UK on Premier Sports for just £9.99 per month including live LaLiga, Eredivisie, Scottish Cup Football and more. Visit: https://www.premiersports.com/subscribenow