The film of Daniele De Rossi's career as a footballer is over. You can hang around and hope for a post-credits scene in the MLS, in China, or wherever, but we all know that once his Roma shirt comes off after the game against Parma, it will be time for us to stand and leave the cinema.
Many feel outraged because there was no happy ending: the man wanted a renewal, and the club failed to honour his wishes, discarding him with not a trace of the respect his 18 years of service deserved. There is no way to sugar-coat that, and in the grand scheme of things the truth is even more bitter, as one of Italy's greatest midfielders walks down the sunset boulevard without having won a single Scudetto or Champions League.
This is certainly not the curtain call we expected. In the early 2000s, back when he began to turn heads, De Rossi promised truly great things. He was the scion and heir of a golden age for the Italian midfield, one lorded over by the phenomenal pair of Andrea Pirlo and Gennaro Gattuso, playing as a combo for Milan.
Those two embodied respectively the chisel and the hammer of the midfielder's craft, and it seemed natural to take them as two mutually exclusive archetypes: upcoming centrocampisti could try and emulate Pirlo, orchestrating play and shooting from outside the box, or they could try and do what Gattuso did, shielding the defence and dispossessing wingers.
De Rossi was both chisel and hammer, and at the time, this made him truly unique. He carried in his blood both the old world and the new, having the short, stout body of bygone Italian players while assuming the multitasking, variable roles of today's new champions.
It's no wonder that, aged only 21, he was already the darling of Italy CT Marcello Lippi. The blond wolf-pup had seemingly inexhaustible stamina, was excellent at tackling and intercepting, supportive in the offence, and even dangerous in the box: his Azzurri debut against Norway saw him bagging a positively rapacious first-touch goal.
Being so sanguine and energetic, De Rossi naturally peaked early. While he remained one of Serie A's best midfielders for pretty much the duration of his career, he reached his undeniable, scintillating prime roughly from 2006 to 2009, the years when an unknown Tuscan called Luciano Spalletti established him as the anchor in a revolutionary 4-2-3-1.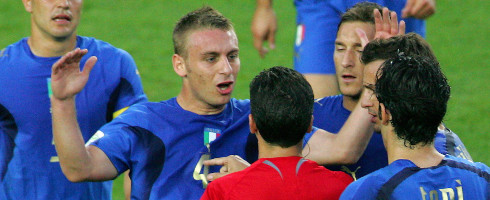 Because he played alongside a more traditional 'regista' (usually David Pizarro, sometimes Alberto Aquilani), DDR was quickly framed by pundits as a 'mediano', or a defensive midfielder. In reality, at that point in his career Roma's #16 was a force of nature that escaped traditional classifications and which had no equal in Europe except perhaps for Chelsea's Michael Essien.
Depending on the situation, Danielino could undergo a metamorphosis and become almost anything: workhorse, hyena, hound, hawk, shark, mule – you name it. He boasted a particularly effective long-range shot, a somewhat craftless weapon that was all rude power and ballistics, but dangerous enough to scorch Juve's own Gianluigi Buffon in 2009.
The best game of his career, at least in this writer's opinion, belongs to that period: the Champions League Round of 16 visit to Real Madrid, played in 2008. Roma won that game 2-1, knocking the Blancos out of the competition. De Rossi was less of a midfielder and more of a storm that raged over the entire pitch that day, playing with an inimitable combination of guile and brutality, control and aggression, tactics and muscle.
Later, Capitan Futuro became less of a Swiss army knife and more of a broad bronze shield. His long-range shot and his aerial game were set aside in favour of more exquisitely tactical roles, particularly in Euro 2012, a tournament in which he was deployed as a central defender (it turned out he excelled at that too).
The transformation was necessary due to a shortage of players, but this ability to plug holes in a sinking vessel should be seen as a defining characteristic of the Romanista. For both the Giallorossi and the Azzurri, De Rossi was the gold standard, the pillar that made sure his team would never crumble below a certain level.
Even when Roma were battered 7-1 by Manchester United in 2007, he was the one who came forward and scored a goal. Even amidst a disaster like the 2010 World Cup, he could be seen fighting to keep his team afloat, scoring a goal and earning a penalty for a squad that languished around him.
But for all of his temperament, De Rossi was born in a time that did him no favours. He ticked all the boxes to be a legendary captain, yet lived in the city with the most legendary captain of them all. He scored more goals for the Azzurri than any midfielder since Adolfo Baloncieri (a man who was born in 1897), but he did this in the age of Pirlo, who picked up all the headlines in the midfield.
Officially and unofficially, De Rossi always played under a shadow. His real tragedy was that he could never change this, no matter how blindingly bright he sometimes shone. He had everything it takes – the skill, the heart, the perseverance – to go down as 'the greatest something', but because of where and when he stood his ground, he was denied his own legend.
The film of Daniele De Rossi's career doesn't have a happy ending not because his club gave him the cold shoulder, but because football did. Roma could not give him the trophies that much lesser footballers keep in their homes, and his career with the Azzurri came to the most exemplary conclusion, with him raging on the bench against Giampiero Ventura's self-destruction, refusing to accept defeat.
The greatest compliment that I can pay this Roman is that he never let the injustice of his fate get to him. He never jumped ship, he never stopped rowing, he never caved in. For decades De Rossi has been stronger than his misfortune, and this makes him a man who wore the mantle of a footballer, in a world where so often it is the other way round.
If I'm not allowed to call him the greatest captain I've ever seen on a football pitch, he will forever be the greatest soldier.
Watch Serie A live in the UK on Premier Sports for just £9.99 per month including live LaLiga, Eredivisie, Scottish Cup Football and more. Visit: https://www.premiersports.com/subscribenow