May 27, 2007, never for me has San Siro felt like that. Inter lifted the Scudetto after beating Torino 3-0. Still revelling in the incredible goal scored by Douglas Maicon, the party lasted six hours on the Curva Nord from start to finish. That was my idyllic moment, however, it's only one of so many etched over almost a 15-year period of pilgrimage to Milan's second Duomo.
These are just my memories, but so many have their own. Even for those who haven't gazed up at that iconic stadium and only seen it from afar, the news of its potential demolition hurts just as much. This is one of football's seven wonders of the world, this is the Stadio Giuseppe Meazza.
News of Milan and Inter's bid to build a potential new stadium close to the site of the existing one was made official this week. It is first best to address the facts before becoming too melancholy. Both clubs have proposed to spend approximately €700m on a new stadium that will be completed by 2022. La Repubblica reported that ideas to refurbish the current structure were shelved so a modern project that would include a redevelopment of the surrounding area could be put in place.
Since the announcement however, there have been various comments that have led many to assume that this could be a project doomed to be lost in Italian bureaucracy. The Stadio della Roma is only the latest example. Does anyone remember the plans to the Siena stadium with the grass roof?
The simple fact is that Milan and Inter don't own the stadium, the local authorities do. As with many Italian stadiums, this is the reason that they often do not get refurbished. Why should the local authorities spend the budget on them? Surely only the clubs benefit? The club's argument is why spend the money developing rented accommodation, especially in the Milanese perspective, as it is shared?
The problematic nature of this relationship between the clubs and the authorities was made even more evident this week when Mayor of Milan Beppe Sala claimed that the ground would certainly not be demolished until 2026, as Milan had won the right to host that year's Winter Olympic games. The irony in this is that it would need modernising for this purpose, but this is something thought impossible by Milan President Paolo Scaroni, who claimed that this renovation cannot be completed as there is always a home game (perhaps he has forgotten about the summer).
Whether this project goes ahead or not is still to be seen. However, this isn't really the point for many of the fans. Stadiums mean a lot to any fan of any club, it is where they spend so much time, it is where they take their sons and daughters, it is a modern-day church of a kind. San Siro, however, is more than this. It is a stadium that resonates with so many, simply due to its iconic architecture and because of the games it has hosted.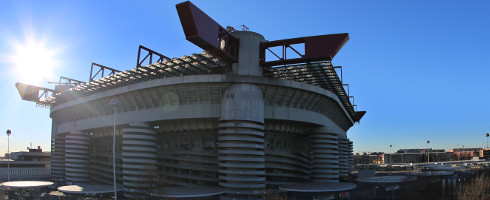 For many, including myself, the Inter and Milan teams of the late 1980s embody the image of the colossus. Other will fondly remember being mesmerised by the structure as it encapsulated just how far Italian football was ahead of the rest of Europe in 1990. As Francois Oman-Biyik's header squirmed past Nery Pumpido in the Argentine goal, a million dreams were born under the shade of the beautiful red roof.
Everyone has a memory of the Stadio Giuseppe Meazza, whether from having an unrewarding season ticket, to watching your team play away there, or even just memories from a game on television that captured your heart. It is a stadium that grabs your imagination, because it has history and an iconic design.
Since 1925, the stadium originally known as Stadio Calcistico San Siro has born witness to countless great events in football. How many Derby Della Madonninas have been played in her walls? Even in 1935, 35,000 saw Inter beat Milan 6-3.
The crowd has seen Giuseppe Meazza, Sandro Mazzola, the Derby of the Lemon, Gianni Rivera, two Milan Derby Champions League ties, European Cup Finals (Inter beat Feyenoord on 1965, then the Dutch won it four years later here), Champions League Finals won by Bayern Munich and Real Madrid, UEFA Cup finals, Italia 90, the Latin Cup and so much more.
There is another article which can and will talk about progress, the need for modernisation and the importance of the Milan clubs maximising revenue. These pieces are all going to make valid economic points and they are likely to be correct.
They may dismiss this admitted nostalgia for the structure as folly and point to the Bayern Munich's Olympic Stadium, which also held a place in the heart, but is now largely forgotten thanks to the Allianz Arena. Perhaps Benfica's Stadium of Light will also come up in this conversation. This however feels different.
Whilst it seems inevitable, there is also a hope that the insanity of Italian bureaucracy will once again thwart these plans. There are stadiums like Boca's La Bombonera that should be untouched, or at least only refurbished.
If football truly is a religion, and to many it is, then it should have to adapt to every century and its challenges. There are, however, things that shouldn't be desecrated. The enormity of it personally is that it has forced me to write in the first person for the first time I can remember.
San Siro is quite simply part of the fabric of football. Would you put solar panels on Milan's Duomo or pull it down for a glass skyscraper? Perhaps these are simply the ramblings of a man who has travelled to San Siro, like so many, so many times. Whether half-empty against Brescia in the fog or a fiery cauldron in the Derby Della Madonnina, it still embodies football. I for one will miss it greatly.
Watch Serie A live in the UK on Premier Sports for just £9.99 per month including live LaLiga, Eredivisie, Scottish Cup Football and more. Visit: https://www.premiersports.com/subscribenow