Juventus v Napoli was expected to be an open and entertaining affair. It most certainly did not disappoint.
Dutch centre-back Matthijs De Ligt was handed his Italian top flight debut in place of captain Giorgio Chiellini, who suffered a serious knee injury and could be out for six months. It proved to be a baptism of fire for the 20-year-old.
Knowing Maurizio Sarri's preferred 4-3-3 style of play, Napoli looked to stifle Juve's build-up early on with varying levels of success. The focus was on stopping Miralem Pjanic controlling possession. At every opportunity Juve's visitors boxed Pjanic off with Polish international Piotr Zielinski paying close attention to the Bosnian controller. This did open up space around Pjanic, with Sami Khedira and especially Blaise Matuidi exploiting the gaps in midfield – Matuidi's forward runs would become a key feature of the first half.
Meanwhile, Carlo Ancelotti's men morphed into a 3-4-3 in possession. Right-back Giovanni Di Lorenzo moved alongside Kostas Manolas and Kalidou Koulibaly. Going forward, Jose Callejon and Faouzi Ghoulam provided width high up the pitch with Lorenzo Insigne taking up his preferred role off the left. Centrally Dries Mertens and Fabian Ruiz sought to provide options around the box, with Allan and Zielinski providing support behind.
Juventus opened the scoring with a rapid counter-attack. Following a brave piece of defending from Leo Bonucci, the resulting break was all Douglas Costa. After travelling most of the pitch will the ball at his feet, Douglas Costa picked out Danilo inside the box, who scored with his first touch some 30 seconds after being introduced as a sub. The perfect start to Danilo's Juve career.
Napoli wasted positive attacking positions, their hosts did not. Matuidi picked out Gonzalo Higuain with a slide pass and the Argentine then reminded everyone of his class. Spinning away from Koulibaly, he adjusted his body to strike across a bouncing ball and his shot rocketed into the far top corner. It was a great individual goal and in the space of minutes, Juve were in the driving seat.
From that moment, the hosts took full control. Their press was intense, Juve smothered spaces and locked up the pitch as they sniffed out loose balls and forced Napoli into mistakes. If required, La Vecchia Signora retreated into a lower 4-4-2 block with Matuidi covering in left midfield, allowing Cristiano Ronaldo to save energy and move inside closer to Higuain.
As the half developed, Juventus grew in confidence, their play had a fresh fluidity. Passing was slick, Napoli were struggling to prevent ball progression and found themselves on the back foot. Come half-time, the Italian champions could have been further ahead but for a fine intervention from Alex Meret, who moved to quickly to block a Sami Khedira shot.
If those observing thought the second period would pass quietly, then they were in for a shock. Ancelotti reacted instantly with two substitutions. Mario Rui stepped in at left-back for Faouzi Ghoulam and there was a debut for big money signing Hirving Lozano. The Mexican attacker formed part of Napoli's front two with Mertens, as skipper Lorenzo Insigne went off injured. Zielinski moved to the left, with Spaniard Ruiz dropping into a central midfield role.
The away side suddenly had a different feel about them. Fabian Ruiz's presence in midfield aided the quality of their play through the pitch and Juve's press was now less effective. Zielinski and Lozano's penetrating runs began to cause Juve problems and Napoli now carried a different, more effective threat. However, it was Juve that appeared to seal victory with a third goal.
World Cup winner Matuidi combined with Douglas Costa down the left again and the Brazilian picked up his second assist of the match, as his cross found Cristiano Ronaldo. The Portuguese superstar had an off day at Parma last week and would have been delighted to see his left-foot shot bobble into the bottom corner. It was 3-0 and surely game over?
No one could have predicted what was to come in the last half-hour. Less than 10 minutes after that CR7 goal, the score was 3-2. Manolas headed home from a free kick and a couple of minutes later a swift forward move saw Lozano grab his first Napoli goal. The former PSV player was allowed the freedom of the area as he slotted the ball past Wojciech Szczesny. It became a debut to forget for De Ligt, as he completely lost Lozano and failed to track his run, instead making the questionable decision to pull back in anticipation of a pass that did not come.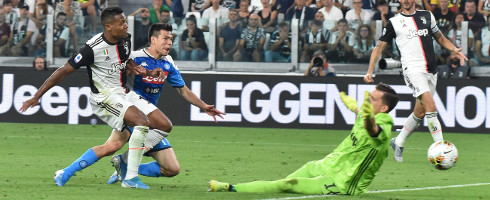 Pressure was now on Sarri's team and with him missing from the sidelines, his players lacked the support they needed. The atmosphere had changed and Juventus appeared stuck between old habits of wanting to defend deeper and a new pro-active approach. Their earlier confidence had eroded, passes were now going astray, energy levels dropped and the absence of Chiellini was evident.
Then in the 81st minute an incredible comeback was complete. Napoli full-back Di Lorenzo bundled the ball home from another set-piece, as he too escaped de Ligt. A baptism of fire for the 20-year-old defender. A concerning trend from last season continued for Juventus here, a weakness defending set-plays cost them last term and they will need to address the issue quickly.
For Napoli, a weak defensive display had turned into an unthinkable recovery. They looked to be on the verge of securing a memorable point that would have felt more like a win given the circumstances, but football has a cruel way of changing emotions in an instant.
Koulibaly – who had been excellent for most of the game – had a rare reckless moment deep into stoppage time. As Pjanic swung in a free kick from inside the Napoli half, Koulibaly under no pressure misjudged the flight of the ball and an attempted clearance was shinned into the top corner of his own net. It was like a circus mirror image of his stoppage-time winner here in April 2018.
For the neutrals, it was a fantastic advertisement for Calcio and follows on from an entertaining opening weekend. There are positives for both Coaches to build on, but a more balanced approached will need to be found as the season continues.