Mauro Icardi has formally completed his loan move to Paris Saint-Germain, with option to buy from Inter for a reported €70m. "I thank PSG for the confidence shown in me."
The exact financial details are not announced, but it is a loan with option to buy at the end of the season.
"FC Internazionale Milano announces that Mauro Icardi has joined Paris Saint-Germain. The Argentine forward has signed for the French club on an initial year-long loan with the option to make the deal permanent at the end of this period.
"Simultaneously, Icardi has reached an agreement with FC Internazionale Milano to extend his contract until 30 June 2022."
It was made possible by the striker signing a contract extension with Inter first, from 2021 to 2022, which protects the Nerazzurri from the possibility of losing him as a free agent if PSG don't purchase outright.
Sky Sport Italia point to it being a loan for €5m, plus a €7m plus bonuses salary paid by PSG, with option to buy for another €65m next summer.
If PSG activate the option to buy, his wages will leap up to €10m per season for the next four years.
"I'd like to thank Paris Saint-Germain for the confidence they have shown in me," Icardi told the official PSG website.
"I will give everything to help my new team go as far as possible in all competitions. Paris Saint-Germain has become an international football powerhouse, attracting some of the greatest players in recent years.
"The momentum is strong in Paris, ambitions are high and I am sure that we have everything here to go even further. And I'm really looking forward to playing at the Parc des Princes, a stadium famous for its beauty and passion!"
He will wear the Number 18 jersey.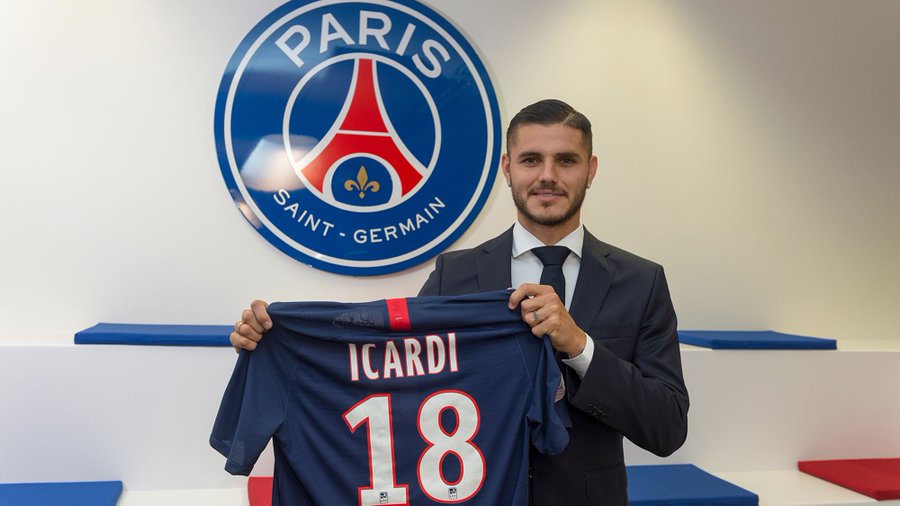 A deal was done with Inter overnight, he flew out this morning for a medical and put pen to paper on the contract, accompanied by wife and agent Wanda Nara.
Icardi has a sensational scoring record in Serie A, with 121 goals in 219 games, but his rapport with Inter broke down completely over the last six months.
It started in February when he was suddenly stripped of the captaincy for reasons that have never entirely been clarified, then immediately claimed he had a knee injury.
Even after a month of treatment and the medical staff insisting there were no physical issues, he refused to train and only 'recovered' sufficiently after his agent and lawyer had lengthy negotiations with the club.
When the season ended, Icardi was told in private and publicly that he was not in their plans and should find a new club, but he rejected every transfer and last week took legal action against Inter, demanding €1.5m compensation and to be put back into full training sessions.
His lawyer made clear that if Icardi did join another club in the transfer window, then the lawsuit would be dropped.