The Derby d'Italia was once again decided by a late Gonzalo Higuain goal at San Siro, but everything leading up to that moment showed the progress at both Juventus and Inter.
Inter came into this fixture with a 100% record in Serie A and welcomed Romelu Lukaku back in place of the suspended Alexis Sanchez. Conte's starting XI picked itself, as he unsurprisingly chose to continue with his preferred 3-5-2. Maurizio Sarri had been expected to play Welshman Aaron Ramsey behind the front two in Juve's newly formed 4-3-1-2. However, Federico Bernardeschi was favoured in Ramey's place with Paulo Dybala partnering Cristiano Ronaldo in attack.
Before anyone had time to find their feet, Paulo Dybala rifled the away side into the lead with a powerful shot from outside the box, one Samir Handanovic may feel he could have done better with. The tone had been set and it wasn't long before Ronaldo crashed a shot off the crossbar. Juve had made the ideal start, rattling their hosts in the process, but Conte's men reacted positively.
Another high-profile error from Matthijs de Ligt literally handed Inter a way back into the game, with Lautaro Martinez making no mistake from the spot. The goal boosted Inter and saw them have a bright few minutes as they sought to increase the pressure on their visitors, but it wouldn't last long and Sarri's side regained control.
As expected, Juve insisted on playing out from the back, and despite a few untidy passages of play, began to get to grips with Inter's press. Once they found ways to escape, Inter found themselves retreating. In the week we saw Inter expertly escaping from Barcelona's high press, but they had no such luck on Sunday evening and were now becoming penned in. Sarri's team nullified the Nerazzurri's attempt at progressing play. It was an issue that would become more prominent for Inter as the night wore on.
Juve went man-to-man against Inter's back three, with Blaise Matuidi releasing from his midfield position to press Diego Godin. Bernardeschi was doing a fine job in preventing Marcelo Brozovic from dictating play. Inter could not escape or find ways to quickly switch the ball, Conte's patterns weren't working, and once Stefano Sensi was forced off with injury, the Bianconeri established themselves on proceedings.
In a tactic that was reminiscent of Sarri's Napoli, Juve were overloading the pitch on the side of the ball. Conte had prepared for this, but neat combinations saw Juve escape, switching the ball to the free side and allowing them to maintain control. The ball was never needlessly thrown in the box, instead Miralem Pjanic and co looked for the right opening.
Dybala was causing problems, La Joya dropping in pockets of space outside and behind Inter's midfield line. If he has previously been criticised for playing too deep, in this match he got the balance right. Playing quickly when he received possession, his one and two touch play created useful openings for Juve. A great example of this was seen on Cristiano Ronaldo's goal, that was ruled offside.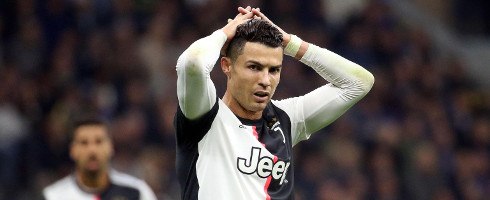 It was level at the break with all to play. The second 45 minutes continued how the first ended, with the Italian champions in the ascendancy. The pattern was clear, Juve were forcing the ball through Godin and Inter were regularly turning over possession as a result, so Handanovic attempted to play longer, but it kept coming back his way. Conte reacted, introducing Alessandro Bastoni in place of captain Godin in an attempt to give his back-line better balance in possession.
Juve's Coach made changes of his own with Rodrigo Bentancur replacing the quiet Sami Khedira and Higuain entering for an uninspiring Bernardeschi. It allowed fans to witness the dream trident of Dybala, Higuain and Ronaldo – for nine minutes. It was enough to show why this won't be repeated soon.
These subs affected Juve's balance, as suddenly Inter found gaps where there were none previously, with Brozovic now seeing more of the ball and Inter slowly started to show signs of life. Seemingly recognising this, Sarri made another change with Emre Can coming on for Dybala, a move that saw Bentancur pushed into a more advanced midfield role in order to help his team quash the home side's progress.
Somewhat strangely, Conte then removed Martinez, who up till that point been his team's best attacker. Then with around 10 minutes remaining, The Old Lady finally made their overall superiority count.
It was a winner of the highest quality, a goal that Mister Sarri would have dreamed up the night prior. There were 24 passes, patient play in midfield, clever rotation/movement from midfielders and attackers before a smartly executed combination on the edge of the box saw Bentancur find Higuain with a first-time pass. Pipita did the rest.
There was still time for Juve stopper Wojciech Szczesny to make an important save, but in truth, Juve got the result their play deserved. The Bianconeri are adapting and improving weekly under Sarri. There were a number of positive individual displays, their play carried confidence and Juve maintained an attacking threat throughout.
As for Conte, this was perhaps something of a reality to check for him. The former Italy tactician's Plan A is fantastic, but if that isn't working, he must be prepared to help his team by trying different methods.
The difference in squad depth was also evident here. Whilst Sarri was able to make changes to improve things and give his players fresh impetus, Conte did not have that luxury.
There is an ominous sign hanging over Serie A as the clubs go into the international break. Juventus are back on top and carrying a very different, potentially more dangerous threat.