Christian Eriksen will turn 28 in February and should be at the absolute peak of his powers the next couple of years. He has never been particularly quick and thus never had to rely on his speed. He is almost never injured and he has been used to playing many games over a season. Last term he played 35 Premier League matches (eight goals and 12 assists) and 12 in the Champions League (two goals and four assists). Statistically, he is often the player on the pitch who has run the most after Tottenham's games.
Eriksen is no Douglas Costa or Phillippe Coutinho. He does not take on players and dribbles past them. The Dane is an offensive playmaker who hardly ever loses the ball. Think Miralem Pjanic 20 metres further up the pitch. He is comfortable in tight spaces and always searching for the ball. He is excellent at controlling the tempo of the game and he has no problem just rolling the ball around in midfield if that is what it takes. The former Ajax player is a much better fit on a team that controls the game and has a lot of possession, than on a team that plays on the counter, although he can do that as well, if required.
At Tottenham, Eriksen has been an integral part of a historically, frankly, mid-league to sub-top side that have recently experienced its best period the last 50 years. Even though Spurs have not won anything, they have qualified for the Champions League – rather comfortably – the last four years. Last season they even made it to the Final, even though you would probably say they were very fortunate to do so. If you look at Tottenham historically, they probably won't make it back there again this century. Inter, however, with 18 Scudetto titles and three Champions League trophies, are a far bigger club than Tottenham, even though Spurs might have been a better team than Inter the last five seasons.
What Inter will get in Eriksen is a player who has an abundance of experience playing against some of the best teams in the world. The Dane will not be intimidated by going to Juventus, Napoli or Roma. He is used to playing against Liverpool, Manchester City, Arsenal, Real Madrid, Ajax - and not just once or twice a season...
As Austrian manager Ralph Hassenhüttl said when he came to Premier League club Southampton from Bundesliga side Leipzig: "We have six teams at the level of Bayern Munich in the Premier League. So you could say we play 12 times against Bayern per season." That may be a bit of an overstatement, but the Premier League's top six has been far superior to Italy's and Germany's for years now. No reason to deny that.
It remains to be seen whether or not Conte really wants Eriksen as a player on the pitch, or whether the Dane is simply CEO Beppe Marotta's idea of a great investment. If Eriksen does not work out at Inter, Marotta and Inter will have no shortage of suitors from the richest league in the world, where Eriksen is highly regarded. Filthy rich clubs like Manchester United would almost certainly be willing to pay at least €70m for Eriksen in the summer, if things do not pan out in Milan. In other words, the Dane is a relatively safe investment, even though his wages will probably be very high at Inter.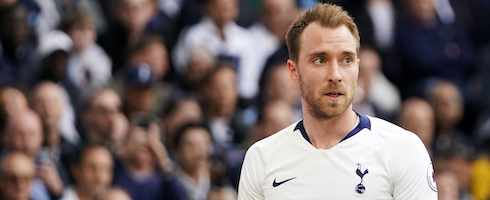 If Conte do take to Eriksen, he will get a very experienced, seasoned but still fairly young, in Serie A terms, player with an enormous amount of international and big game experience. Nicolò Barella, Marcelo Brozovic and Stefano Sensi are all very gifted midfielders, but Eriksen has more top football experience under his belt than all of them put together.
When Inter have had problems this season, they often played well in the first half, but lost control after the break – as in their match against Atalanta last weekend. With Eriksen on the pitch, they will be much better at controlling a game when they are a goal or two up. The last handful of seasons, Tottenham have been excellent at killing games when they are ahead, and Eriksen has been an integral part of this. He is a safe station to pass the ball to. He hardly ever gives the ball away.
In terms of defensive skills on the pitch, Eriksen is a hard worker and good at pressing, but by no means much of a physical presence. He doesn't tackle much or win many balls outright, but he is never lazy and always tracks back when needed.
Offensively, he is a real danger from the edge of the penalty area. He is one of the best two-footed players in the world – his left foot is amazing, even though he is right footed. His set-pieces used to be world-class, but eerily he has lost that skill slightly in the last couple of years. Assist-wise he is excellent. Romelu Lukaku and Lautaro Martinez should be salivating by the prospect of getting the Dane in the side, as Eriksen has created many of Harry Kane's goals for Spurs the last five seasons.
Whether or not Conte and Eriksen and Serie A in general will suit each other remains to be seen. There is no doubt, however, that Eriksen and Conte share one common trait: a hunger for titles. The normally very quiet and diplomatic Eriksen has, the last couple of seasons, been visibly frustrated by Tottenham's shortcomings when it comes to going all the way and winning trophies.
Eriksen won three Dutch titles with Ajax from 2011 to 2013, but he has won nothing in his prime with Spurs. He has repeatedly rejected Tottenham's proposals for a new contract – almost certainly because he did not see any signs that the London team would win anything soon.
Don't be fooled by Eriksen's disarming and almost self-effacing demeanour on and off the pitch. He desperately wants to win and in that respect he is no different from his new coach at Inter.
Karsten Krogh is a Serie A commentator based in Copenhagen and has worked on more than 300 Serie A matches for Danish viewers over the last 15 years. Twitter: @karstenkrogh14