SAMIR HANDANOVIC (Inter) - Goalkeeper
Now at his eighth season at the club, Inter's captain is once again among the top-performing goalkeepers in Italy. At 35 years of age, he has already managed to keep seven clean sheets, earning his team the title of best defence in the league. His best saves so far must be the fingertips on Joaquin Correa's finesse shot in a tight 1-0 win over Lazio and the crucial penalty save in last week's Inter 1-1 Atalanta.
ROBIN GOSENS (Atalanta) - Right-back
Sure, the German serves mostly as an offensive winger in Atalanta's 3-5-2 line-up, however he was originally scouted as full-back. So far he has missed out on three games only, treating himself to quite the season. With his tally currently standing at six goals and four assists, the 25-year-old has turned into one of Gasperini's most efficient secret weapons. He usually plays on the left, but can be versatile enough to switch flanks.
CHRIS SMALLING (Roma) - Centre-back
If you have been following Italian football closely, this pick will come as no surprise. But if you haven't... well, then you must be pinching yourself. One yellow card in 14 games, two goals, one assist and an overall rock-solid defensive display in Roma's back four have turned Chris into Smalldini, one of the most reliable centre-backs in the league. To be fair, not the easiest of accomplishments in Serie A.
FRANCESCO ACERBI (Lazio) - Centre-back
One of the most complete centre-backs in Italian football is also the undisputed defensive leader in Lazio's record 10-win streak. Missing out on only 20 minutes of play since the start of the season, the Italian international has played a key role in making the Biancocelesti'sdefence the second best in the league. His last yellow card dates back to late October.
THEO HERNANDEZ (Milan) - Left-back
There is currently no other left-back in the league who could possibly take this spot from him. Pace, grit, dribbles, assists (2) and goals (4): is there something the Frenchman can't do? With 14 games as a starter in the darkest months for his team, he has consistently represented a light of hope, delivering noteworthy performances on both ends of the field.
LUIS ALBERTO (Lazio) - Midfielder
His nickname in the capital is El Mago, and we honestly don't see how it could be otherwise. Just like a magician, the Spaniard first mesmerizes the opponents with his quick touches, and once they are lost in his swift moves, he tilts his head and threads yet another assist. He's already got 12, together with three goals. Try to stop him, if you can.
LORENZO PELLEGRINI (Roma) - Midfielder
Rome's very own midfielder is surely one of the most talented young Italians in the league, and Paulo Fonseca's attacking football is bringing the very best out of him. Despite missing six games due to injury, Roma's midfield beacon has already scored once, delivered seven assists and worn the captain's armband on one occasion. At 23, he's already an all-round leader.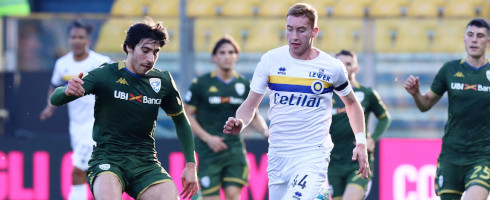 DEJAN KULUSEVSKI (Parma) - Right-wing
Undoubtedly the biggest revelation of this first half of the season, Juventus have managed to sign the teenage wonder beating the competition of some of Europe's top clubs. Parma's big-framed right-winger has got an unusual body type for his position, but his skillset is so complete that it will make everybody second-guess their preconceptions. Speed, vision, quick thinking and a powerful left foot have already taken his tally to four goals and seven assists.
CIRO IMMOBILE (Lazio) - Striker
With an average of 1.11 goals per game, the Italian striker is having the season of a lifetime. The true leader behind Lazio's 30-point run, he's shown determination, drive and maturity, besides relentless grit and a refined killer instinct in the box. With 20 goals at the end of the first round, Ciro might well be on course to win Europe's golden boot and, quite possibly, beat Gonzalo Higuain's record for most goals scored in a single Serie A season (36).
ROMELU LUKAKU (Inter) - Striker
Many people wondered whether he was worth "all that money", questioning if he was the right replacement for Mauro Icardi and if he could lead the Nerazzurri to a successful season. It turns out that Antonio Conte knew exactly what he was asking for. Ever since arriving in Milan, Belgium's big man has been nothing short of amazing, improving by the day and fitting perfectly in the team's tactics. He's got 14 goals already, and his partnership with Lautaro Martinez just keeps getting better.
CRISTIANO RONALDO (Juventus) - Left-wing
Death, taxes and… CR7. He'll be 35 years old next month, but the ageless Portuguese talent just can't stop breaking records and scoring goals. Maurizio Sarri's Juventus had a rougher start to the season than expected, and when people started questioning whether this was due to Cristiano's 'poor form,' he made a bold decision. As he has often done in his career, he took the team on his back and scored nine of his 14 total goals in six consecutive games. Retirement can wait.
Watch Serie A live in the UK on Premier Sports for just £9.99 per month including live LaLiga, Eredivisie, Scottish Cup Football and more. Visit: https://subscribe.premiersports.tv/