If you're feeling particularly mischievous, mention the date May 5, 2002 to an Inter fan, and wait for the reaction. It's a day that's woven into the fabric of Italian football. Inter, going into the final day of the 2001-02 season seemingly on the verge of their first Scudetto since 1989, spectacularly blow their chance in ways that only Inter could do in the Massimo Moratti era: glorious failure.
In case you are a younger reader and don't know the backstory, it goes as follows: Inter, one point ahead of Juventus and two of Roma, go into the final game of the season away to Lazio. Juve – without a Scudetto in four years at this stage – are away to Udinese, with Roma at home to Chievo.
Lazio, with nothing to play for, put four past Inter, much to the chagrin of their own fans, who feared a second consecutive Scudetto for arch-rivals Roma. The Old Lady swept Udinese aside 2-0, whilst Roma crushed Chievo 5-0. In the space of 90 minutes, Inter went from potential champions to finishing third. The visuals of that day became iconic. Ronaldo in tears on the Inter bench. Juve players stripped down to their underwear in the Udine sunshine.
Right in the thick of the celebrations was one Antonio Conte, then in his 10th year as a Juve player. Perhaps no one embodied the Juventus 'grinta' (grit in Italian) better than Conte, who, by his own admission, knew he didn't possess the natural ability that many of his teammates had.
"I didn't have the talent of Zinedine Zidane or Roberto Baggio as a player, and I played with both," Conte said in an interview several years ago. "Even when they were surrounded, they could break through or create interesting situations with the ball." On the eve of the 1994 World Cup final, Conte remarked that Baggio could 'dribble through 11 players and score'.
Conte's survival as a Juventus player throughout the 1990s and early 2000s was down to sheer work rate and willingness to sacrifice boundless amounts of energy for the black-and-white cause. Conte's diligence, as much as the balletic grace of Baggio, Zidane or Alessandro Del Piero, epitomised what Juve were about in the '90s.
Conte's history with Juve has made it all the more jarring for fans of the club now that he has pitched up with their loathed rivals Inter. Last summer, after it was announced that Conte had officially joined the Nerazzurri, a petition was signed by over 3,000 fans wanting his star removed from the club's Walk of Fame.
The stars, located on the outer concourse of the stadium, number 50 in total and the petition called for the recently retired Claudio Marchisio to be given the place instead. By October, the petition has reached over 15,000 signatures.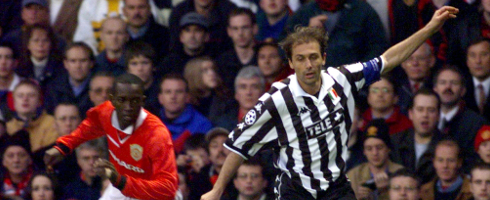 Rav Gopal, founder of the hugely popular website JuveFC.com, argues that whilst he doesn't believe Conte's star should be removed, his reputation in the eyes of the fans will never be the same.
"I don't think it [removing his star] would serve any real purpose, it would attract headlines of the wrong kind. The kind the Juve management are trying to leave behind," said Gopal.
This is echoed by Maurizio Giovanelli, creator of the hospitality AroundTurin.com and Curva Sud member, who says that Conte deserves his place. "The star is for what he did at Juventus, and for that, I will always be grateful," states Giovanelli.
Both however remain adamant that Conte's decision to join Inter has permanently fractured his rapport with the Juve fans. "Prior to the events of Calciopoli, it may have been something you considered and accepted, albeit with a real feeling of bitterness that may take some time to abate. Post-2006, it's a no-no," says Gopal.
There is evidence to support Gopal's opinion. Marcello Lippi agreed to take over at Inter in the summer of 1999 after five years in Turin. However, Lippi failed to sprinkle his stardust over the arkham asylum that was late-90s Inter, and was sacked within 14 months of taking the job. He returned to Juventus in the summer of 2001 and guided the club to two more Scudetti – including the May 5 title – and reached another Champions League final, to this day remaining a Bianconeri hero.
Furthermore, Giovanni Trapattoni went from Juventus to Inter in 1986, and then directly returned to Juventus in 1991, without so much as a blemish to his standing with the fans.
However the post-Calciopoli landscape in Italian football forever altered the Juventus-Inter dynamic. "I understand discussions around being a 'professional' coach and therefore being ready to accept new challenges, but Inter cannot be considered just 'another' team by Juve fans," reveals Giovanelli.
There is a feeling that considering Conte's lengthy association with Juve, first as a player – later captain - and then as coach, he should've known better. "For the vast majority of supporters that I speak to, especially those in Italy, it was an unforgiveable act, his legacy will be inevitably tarnished," says Gopal.
Similarly, Giovanelli reiterates the same sentiments. "Do I consider him a real 'Juventino' or a role model for every Juve fan? Absolutely not, not any more,"
Conte isn't without precedent. Born in the beautiful baroque city of Lecce, down in the Puglia region of Italy, Conte rose through the ranks of Lecce's youth system before playing for the first team in the late 1980s. In December 2007, Conte became coach of Bari, Lecce's biggest rivals in the region. To this day, Conte remains a figure of vitriol in his home city.
The spectre of the Derby d'Italia usually takes over the conversation of people the length and breadth of Italy, yet it has been overshadowed this time by the Coronavirus. The game will be held behind closed doors as the country struggles to contain the outbreak.
This will, coincidentally, save Conte from receiving a torrent of abuse on his first return to the Juventus Stadium as an opposing coach, according to Giovanelli. "I believe the majority of people attending the game would've whistled Conte. He chose to represent Inter, and he's made his choice. But with inter being one of our biggest challengers for the title, there wouldn't have been be any room for hugs and roses."
Some wounds simply cut too deep.