Words: Livio Caferoglu
The 2001-02 season was supposed to mark a turning point in Inter's fortunes, where they were supposed to right their wrongs of the past few years. The previous campaign saw them finish fifth in Serie A, 26 points behind Scudetto winners Roma, and crash out of the Champions League to Swedish side Helsingborg in qualifying.
It also saw them suffer six-goal thrashings at the hands of Parma and, most unforgivably, city rivals Milan. That led Massimo Moratti to rip up the script yet again and splash out more millions on what he hoped would be the Nerazzurri's final year-zero, starting with the appointment of coach Hector Cuper in June 2001.
Cuper was one of Europe's most in-demand coaches, having taken Valencia to consecutive Champions League finals in his two seasons at the Mestalla, and the idea was that Moratti's financial muscle could eventually push the Argentine over the line. La Beneamata didn't hold back with that muscle, spending over €120m on 18 new faces.
Francesco Toldo, Sergio Conceicao, Adriano, Mohamed Kallon, Cristiano Zanetti and Marco Materazzi all signed on the dotted line, while Galatasaray's UEFA Cup heroes Emre Belozoglu and Okan Buruk were both snapped up to bolster Inter's midfield. A part of that outlay was offset by the €17m sale of a certain Andrea Pirlo to arch-rivals Milan.
However, there was one who got away in the form of Sol Campbell. The former England defender was available on a Bosman free transfer, having decided to leave Tottenham Hotspur, and Inter were reportedly planning to make him the world's highest-paid player on £200,000 a week, at a time when there wasn't a footballer on even half of that.
"We will get him," Moratti was quoted as saying. "He will join us. He is well liked by manager Hector Cuper and he is ours." The President's prediction was wrong as Campbell ended up doing the unthinkable, crossing the divide to sign for Tottenham's arch-rivals Arsenal. Indeed, Inter only turned to Materazzi after their deal for Campbell fell through.
Ultimately, their lavish spending paled in significance to the return to fitness of superstar Ronaldo. The Brazilian seemed to have put two serious knee injuries behind him and there was genuine hope his fabled partnership with Christian Vieri could finally flourish after years of anticipation threatened by R9's regular trips to the treatment table.
Inter started the season spectacularly, opening with a 4-1 victory over Perugia – their biggest Serie A win of the campaign – with Kallon and Vieri both at the double. A month later, during a 3-0 win against Romanian side FC Brasov in the UEFA Cup, Ronaldo made his long-awaited comeback, replacing countryman Adriano after 17 months out.
Despite winning 10 and losing just two of their first 16 league games, the Nerazzurri were not crowned winter champions, missing out to Scudetto holders Roma after Week 17's goalless draw at home to Lazio. Across the first half of the campaign, points had also been dropped against the Giallorossi, Juventus and Milan, who condemned Inter to a 4-2 defeat. It was their first loss of the season, with a scoreline that would later haunt them.
Their momentum was further dented by Ronaldo suffering another setback in December, when he hobbled off with a thigh injury against Piacenza. The No 9 had scored three goals since his return to fitness, including a brace in the 3-0 victory over Verona. He would not be seen on a football pitch for the Beneamata again until mid-April.
On the flip side, they had a ready-made replacement in Alvaro Recoba. The Uruguayan had enjoyed his best individual campaign in 2000-01 with a career-high 12 goals, but missed all of pre-season due to the fake passport scandal. Coupled with the unstoppable form of Kallon, Inter seemed to have more than enough in their locker to cope without Ronaldo.
Or so they thought. Kallon didn't score again in Serie A for the rest of the season, while it took several months for Recoba to hit his stride. Meanwhile, Cuper's over-reliance on Vieri was starting to expose the lack of goals in the rest of the team, with Clarence Seedorf criminally underused, owing to the coach's insistence on a rigid 4-4-2 formation.
Despite the Argentine's preference for functionality over flamboyance, the Italian press had been won over. Gazzetta dello Sport went as far as to saythe Nerazzurri were 'a tactical masterpiece for 33 games', held together by their unflinching and uncompromising core of Marco Materazzi, Ivan Cordoba, Cristiano Zanetti and Luigi Di Biagio.
The season resumed in January with Inter, Juventus and Roma all taking it in turns to top the table. Form seemed to desert Cuper's side at the wrong time when they went three games without a win, their 1-1 draw with Venezia on January 27 marred by a Filippo Maniero penalty that the striker himself admitted shouldn't have been awarded.
"It seemed soft to me," said Maniero. "I must admit that I exaggerated the contact. There wasn't a penalty. If I was the referee, I wouldn't have blown for one." Curiously, that was the second such incident that cost Inter a win in 2001-02, with Udinese forward Roberto Sosa making a similar confession after his fall earned the late equalising penalty in October's 1-1 draw.
Nonetheless, Inter regained control of the Scudetto race with a run of six wins in their next seven Serie A games. The unbeaten streak saw them inflict revenge on Milan with a 1-0 victory and beat Roma 3-1, in a game that saw Recoba belatedly announce his return with two goals and an assist. The best of the bunch, however, came in a 2-2 draw with Juve.
Seedorf, enjoying a rare start for Inter on the left wing, stole the show with a pair of sensational long-range strikes. If cracking a half-volley past Gianluigi Buffon wasn't enough, he followed up with a rocket in injury time from 30 yards out. By the start of April, Inter not only had Ronaldo back from injury, but they were also effectively six points clear thanks to a superior head-to-head with Roma.
Cuper's side were also looking good in the UEFA Cup, despite minor scares against Wisla Krakow and Ipswich Town earlier in the competition. They set up a semi-final with Feyenoord after the coach got the better of former club Valencia in the previous round, courtesy of a 2-1 aggregate victory. The double dream seemed very much on.
That was reduced to just the Scudetto two weeks later, though, as the Nerazzurri went out of the UEFA Cup to the eventual winners, before the advantage they had worked so hard to build up in Serie A was reduced to just one point. A 2-1 defeat to Atalanta on home soil may not have resulted in scooters being thrown this time around, but it showed an Inter side pushed to their limits.
Inter had the chance to reassert their lead when they travelled to Champions League-chasing Chievo on April 21, but luck once more evaded them. The Beneamata were denied a seemingly clear penalty when Ronaldo was shoved in the box, before Federico Cossato grabbed an injury-time equaliser off the bench, holding the visitors to a 2-2 draw going into their remaining two fixtures.
With Inter, Juve and Roma all easing to big wins in Round 33, the Scudetto would be decided on the final day. Inter went in on 69 points, followed by Juventus on 68 and Roma on 67. Any of the three could take the title in those dramatic 90 minutes. Everyone had one eye on the pitch and one ear on the radio, listening to the other results come in from Juve's trip to Udinese and Roma at Torino.
Cuper's side were unfortunately dealt the toughest hand – a trip to the Olimpico against Lazio, who needed to triumph to ensure a top-six finish and European qualification ahead of Bologna. Despite that, the Nerazzurri were league leaders and in charge of their destiny. "The chances of the Scudetto are 90 per cent Inter, nine for us and one for Roma," said Juve goalkeeper Gigi Buffon. It was May 5, 2002. A day that will live in infamy for Inter fans.
The atmosphere at the Olimpico was bizarre in a typically-Italian way, as the Lazio ultras were openly hostile to their own team after recent poor results, banners urging their squad not to defeat Inter and risk giving the title to arch-rivals Roma. Many of the home fans openly cheered on Inter, preferring to give up a measly UEFA Cup spot if it meant denying Roma and Juventus the Scudetto. Rather than humiliate the players, it made them more determined to prove themselves.
Inter made a dream start against Lazio, taking a 2-1 lead through Vieri and Di Biagio, but their deficient left flank – comprising the ill-disciplined Recoba and erratic Vratislav Gresko – allowed Karel Poborsky to run riot, drawing the Aquile level with a brace before half-time. The title was fast slipping away, as Juve were already out of sight against Udinese, taking a comfortable 2-0 lead within 11 minutes.
At half-time, the table read: Juventus 71 points, Inter 70, Roma 68. It was still in the Nerazzurri's hands, it was 2-2 at the Olimpico.
Once the Giallorossi were out of the picture, and news filtered through that Bologna were losing badly at Brescia (who needed a win to stay in Serie A), any remaining pressure was removed from the hosts in Rome. Diego Simeone soared above the crowd to nod in a Stefano Fiore free-kick and put Lazio in front for the first time that day. Over in Udine, the Juventus bench went wild. It was like the rainy day in Perugia, but in reverse.
Antonio Cassano's lob at Torino sent Roma into second place, but it was still open. Inter could still take the title with a victory, their first since 1989. They had been leading twice before, after all. Instead, they crumbled and five minutes later Simone Inzaghi peeled away from defenders for a header on Cesar's floated cross. There was time to turn this around, but the Nerazzurri heads dropped. The iconic image of the day was Ronaldo bursting into tears after his substitution, with the game still going in the background for another 15 minutes. It would be the Brazilian's final appearance in an Inter jersey.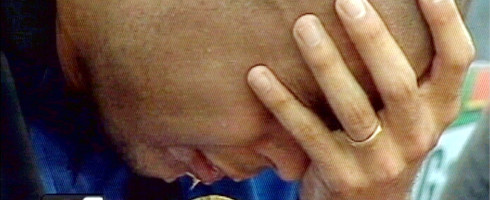 Not only did Lazio romp to a 4-2 victory, thereby handing the title to Juve, but Inter ended up finishing third, outside the automatic Champions League spots.
Ronaldo went on to fire Brazil to World Cup glory that summer with a record haul of eight goals in a single tournament, culminating in a big-money transfer to Real Madrid. However, he didn't leave Inter without aiming a parting shot at Cuper.
"With Cuper, I risked my career. He didn't play me when I was fit, and he made me train or kept me on the pitch when I wasn't. At times he didn't even follow the advice of the doctors." He later added: "I went to ask the President to choose between me and him. In the end I went to play for a wonderful team like Real Madrid, but I can say that Cuper was the worst coach I ever had in my career."
Moratti stood by Cuper for two more years, and another runners-up Serie A finish was delivered the following season, along with a run to the Champions League semi-finals. However, the South American was sacked in October 2003 after a poor start to the 2003-04 campaign, and so another project bit the dust.
Inter may have won several Scudetti since and gotten their revenge on Lazio, pipping them to Champions League football on the final day of 2017-18, but the disappointment of May 5, 2002 will live long in the memory.
Serie A 2001-02 classification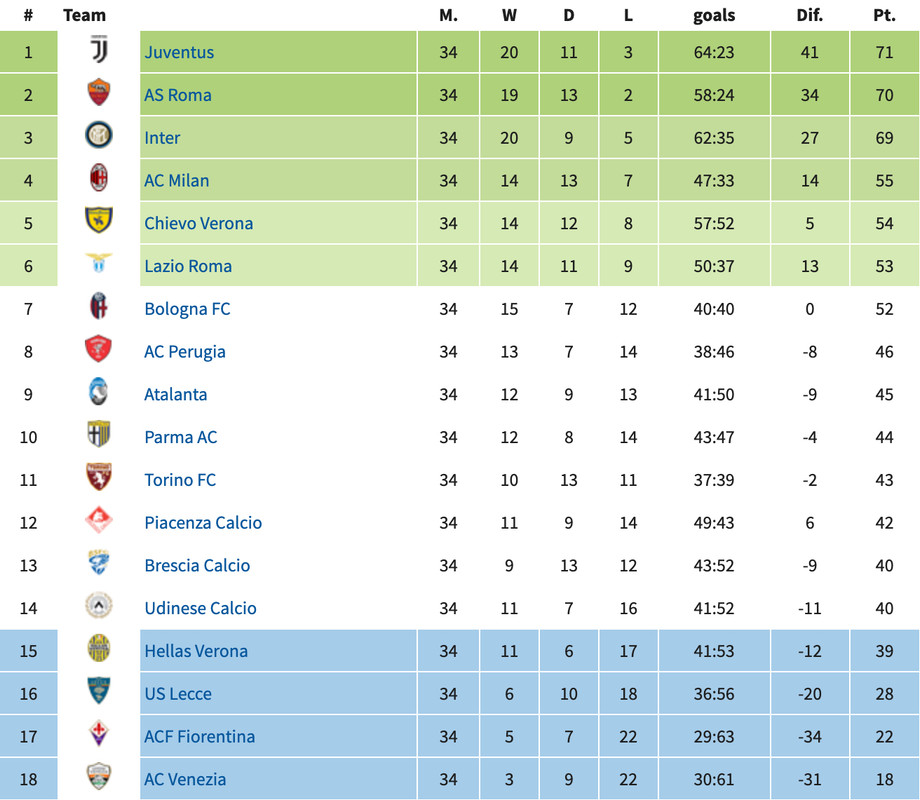 Serie A 2001-02 Capocannoniere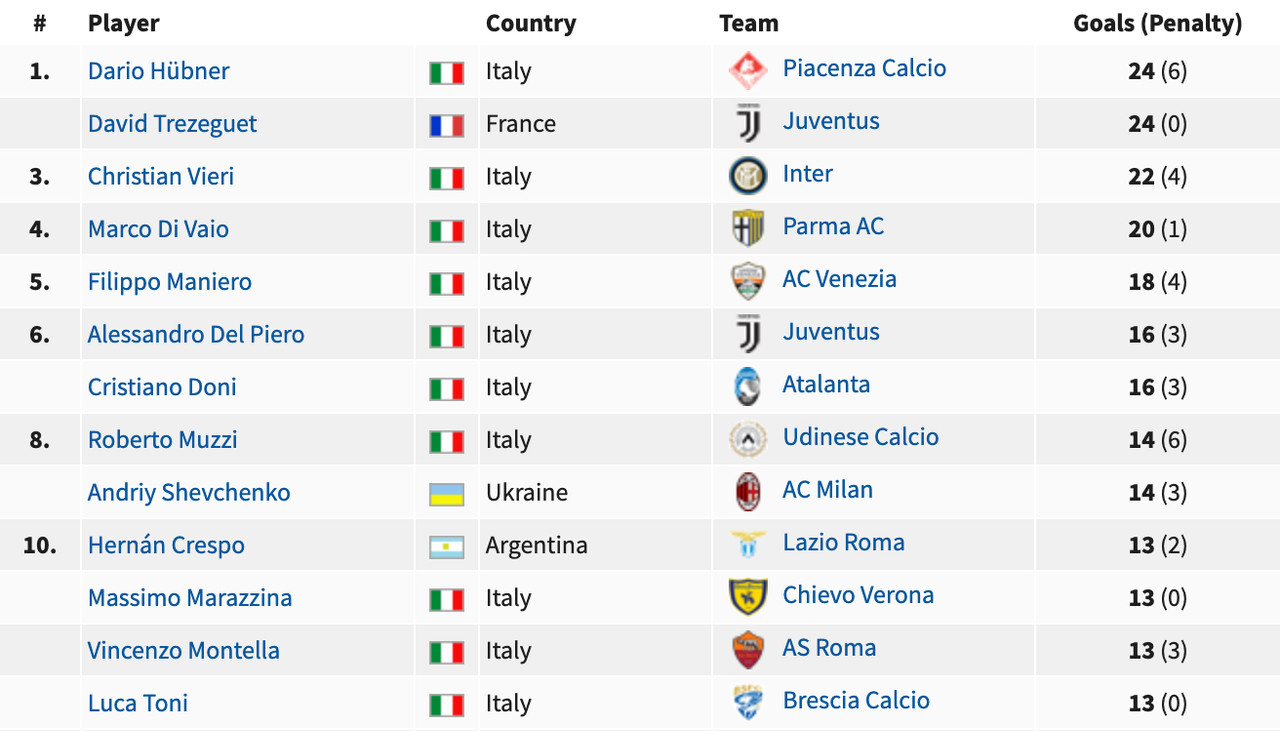 Source: worldfootball.net
Watch Serie A live in the UK on Premier Sports for just £9.99 per month including live LaLiga, Eredivisie, Scottish Cup Football and more. Visit: https://www.premiersports.com/subscribenow