Words: Livio Caferoglu
Roma are unrivalled when it comes to being the 'nearly men' of Italian football. Despite spending just one of their 92 years in existence outside of Serie A, they have won only three Scudetti and finished runners-up on no less than 14 occasions. Yet the 2009-10 campaign saw them come a whisker away from gatecrashing Inter's year of the Treble.
Luciano Spalletti had been in charge for the past four years, winning two Coppa Italia trophies and a Supercoppa, but his stylish reign was becoming increasingly sour. The Giallorossi fell away during the 08-09 campaign, suffering agonising defeats on penalties to Inter in the Supercoppa and Arsenal in the Champions League last 16. That was compounded by a disappointing sixth place in Serie A, which set up for a difficult summer.
The Sensi family had been bankrolling Roma since 1993, overseeing the most successful period in their history. However, money was drying up and a sale to a Swiss group broke down at the end of 08-09. That, coupled with no Champions League football, severely impacted on the club's spending that summer as Marco Motta, Nicolas Burdisso, Bogdan Lobont and young winger Stefano Guberti were all signed at zero cost.
Financial problems also forced Roma to sell Alberto Aquilani to Liverpool without replacing him. The midfielder was a product of the Lupi's youth system, tipped to follow in the footsteps of Francesco Totti and Daniele De Rossi. A crisis was threatening to unravel and, just days before 09-10 was due to kick off, Spalletti was forced to deny reports he was close to agreeing a bumper deal with Russian side Zenit St Petersburg.
"Not only do I categorically deny the report, but I also deny any contact," he told Sky Sport Italia. "For all intents and purposes, I am and will remain the coach of Roma." The first two games in, both of which ended in defeat to Genoa and Juventus, the capital club were bottom of Serie A and Spalletti handed in his resignation. Three months later, speculation of his move to Zenit became a reality, as he was appointed by the Russian club.
Fortunately, the Giallorossi did have a replacement lined up this time around in the form of Claudio Ranieri. The Roman was considered the coaching equivalent of his hometown team after trophy-less tenures at Chelsea and Juventus, but winning silverware was never his remit at the Olimpico. Instead, he was brought in to steady a sinking ship, vowing to shake the side up and add some much-needed steel to their soft underbelly.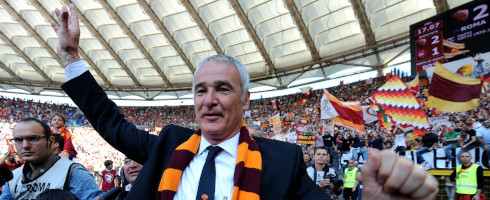 "They need a shock because this team has to react immediately," he said. "Maybe they have lost a bit of conviction. In the last four years this team has done great things, playing some of the most beautiful football in Europe. I was proud as a Roman to see them play. I can say I'm coming home with a huge desire to do well. My philosophy is a little different from Spalletti's. I will bring my pragmatism to this team."
Ranieri was true to his word, as he worked on stabilising Roma from the ground up, employing a back-to-basics approach that made his side not so easy on the eye, but hard to beat. He entrusted third-choice goalkeeper Julio Sergio with the No 1 jersey and tightened up a defence largely ignored by the free-flowing principles of his predecessor, scrapping the hipster-heavy 4-6-0 and settling on a 4-2-3-1 that kept things simple.
Most importantly of all, however, he fostered team spirit and a siege mentality that had not been seen since the Fabio Capello era. Whereas Spalletti was a perfectionist who pushed his players to their limits, Ranieri was a father figure and a master in man-management, ready-made for Roma's collection of colourful personalities, which seemed to have stopped responding to the Tuscan.
"He got the best out of me, he was such a people person," John Arne Riise, Roma's left-back at the time, exclusively told Football Italia. "You could talk to him, he was funny. He demanded a lot, but he gave us freedom to play how we wanted. We were so close to winning the title and I just loved playing for him. I still text him every now and then because he wasn't just important to me as a manager, but also as a person."
The 68-year-old could do no wrong at first, going unbeaten in his opening five Serie A matches, which included a 2-1 victory over Napoli, until three straight losses saw Roma drop down to 14th. The doom and gloom had suddenly returned to the Olimpico and they went into their next game against Bologna barebones, with no Burdisso, Francesco Totti, Daniele De Rossi, Marco Cassetti or Rodrigo Taddei available.
Little did anyone know at the time, but Roma would go on to stage one of the miraculous comebacks in Serie A history. Their second-string XI beat Bologna 2-1 and they battled to a 1-1 draw with Inter the following weekend. The Lupi ended the calendar year fourth in the table, on course for a Champions League spot, and they wouldn't lose again in the league until the final week of April – a run spanning 24 games.
Roma began the New Year by taking Luca Toni on loan for the rest of the season. The striker had been exiled from Bayern Munich's first team and, as well as having a place in Italy's 2010 World Cup squad in his sights, offered the Giallorossi some much-needed depth and presence in attack. He made an instant impact, scoring twice in his first full appearance to help his new team sweep Genoa aside 3-0 and move up to third in the table.
Ranieri's side confirmed their Scudetto credentials a week later, when they travelled to Turin to face Juve. They were 1-0 down until Totti equalised from the penalty spot and Riise turned the match on its head. Gigi Buffon was shown a straight red card for wiping out the Norwegian, who peeled off his marker to head in a dramatic, 93rd-minute winner at the far post. If that wasn't memorable enough, Carlo Zampa's commentary certainly was.
Three straight draws and elimination from the Europa League slowed down Roma's momentum, but they bounced back to win six on the trot in Serie A. They pulled through a bad-tempered clash with league leaders Inter, which spawned 10 yellow cards, to win 2-1 and cut the deficit at the top to just one point. Two weeks later, they moved into first place with another 2-1 victory, capitalising on the Nerazzurri's failure to beat Fiorentina.
With the Scudetto now in their hands, their first acid test came against none other than capital rivals Lazio. Trailing 1-0 at half-time, Ranieri took a gamble of make-or-break proportions, putting himself at risk of a mid-game dismissal or potential riot, by substituting homegrown heroes Totti and De Rossi at half-time. Just 45 minutes later, Roma ran out 2-1 winners and his apparent act of sacrilege was hailed as a tactical masterstroke.
At one stage, it looked as if Roma could rewrite history and deprive Inter of their historic Treble. Ultimately, Sampdoria put paid to that with a totally unexpected 2-1 win at the Olimpico. Antonio Cassano and Giampaolo Pazzini were playing like the second coming of Roberto Mancini and Gianluca Vialli, leading the Blucerchiati's charge to the Champions League places. However, Marco Storari outshone them both, despite Pazzini's brace, with a barrage of saves between the sticks.
"In the first half we were winning 1-0, we missed several chances," rued Ranieri. "If that match ends 3-0 in the first half, it's all over! Unfortunately, there were two balls from Antonio Cassano for the head of Giampaolo Pazzini. I don't believe we were tired. We'd made a comeback, we'd pulled ahead of Inter.
"At times like those, you no longer think about tiredness. There's only great euphoria. On that occasion, it was precisely the fact that in the first half we really had three or four chances to kill the game off and we didn't take them. After that, they scored twice and that really weakened us."
Much like Ronaldo sobbing at the Stadio Olimpico during a 4-2 defeat to Lazio in 2002, Roma players were in tears as they watched their Scudetto hopes evaporate in the final minutes of that Sampdoria match.
Roma did win their three remaining Serie A games to hold on to second place with 80 points, but so did Inter, who went on to achieve the best-ever season by an Italian club, lifting the Scudetto, Champions League and Coppa Italia. The latter was secured by a 1-0 victory over the Giallorossi at the Olimpico, although not without Totti disgracing himself as he let emotions get the better of him, giving then-teenager Mario Balotelli a whack from behind.
"He'd been provocative for years. He insulted me and the Roma fans," the No 10 later reflected. "It was building up and then it exploded. It was a horrible foul, just to hurt him. But then, strangely, the Inter players didn't confront me. As I left the field, Maicon even gave me a high-five. The feeling was that, even among his teammates, Balotelli created some irritation."
Ranieri finally shed his reputation as a gracious loser in 2016, when he miraculously masterminded Leicester City to Premier League glory. He returned to the Eternal City last year to perform another turnaround for his beloved hometown club and steer them into the Europa League. Ranieri's final game in charge was also De Rossi's swansong and the tears flowed again, perhaps thinking back to what could've been in 2010 had the stars aligned.
Watch Serie A live in the UK on Premier Sports for just £9.99 per month including live LaLiga, Eredivisie, Scottish Cup Football and more. Visit: https://www.premiersports.com/subscribenow