Serie A has always had a long-standing relationship with Argentina. The ports of Genoa and Buenos Aires at one point could have been the same place. There is no surprise then, that since football began in both countries, they shared an appreciation of the game and the union would continue. As Italians once travelled to South America to find their fortune, the reverse was then seen, as Serie A the opened up her doors to welcome footballers from the continent, no more so than in the last 50 years. Here is my best XI.
GK: Juan Musso (Udinese)
Even without a huge wealth of depth to choose from, Juan Musso may be a surprise. The current Udinese goalkeeper is extremely talented and at only 25 he has played over 50 times for the Zebrette. Tipped to replace Samir Handanovic at Inter, he is in this line-up due to his potential over Sergio Romero. Juan Pablo Carrizo played mostly as an understudy, even if at Lazio and Inter.
RB: Javier Zanetti (Inter)
There is an argument to say that Javier Zanetti was Inter's best ever player. He may not have been the most talented to pull an Inter shirt on (he still was incredibly gifted), but his work rate, intelligence, leadership and professionalism means that he embodies what an Inter player should look like. Captain of the Nerazzurri team that won the Treble, he won 16 major honours at San Siro, playing 615 times in Serie A, 860 in all competition.
CB: Daniel Passarella (Fiorentina, Inter)
Word Cup winning captain and River Plate legend may go on his tombstone, but he also has his place in Italian hearts. He is perhaps most fondly remembered in Florence, where by the banks of the Arno, he played 139 official games for the Viola. He scored 11 times in a single season for the Florentines, a for a defender record that remained until Marco Materazzi bested it in 2001. He joined Inter in 1986 for another successful spell.
CB: Walter Samuel (Roma, Inter)
Walter Samuel, Treble-winner described by Javier Zanetti as one of the toughest defenders he has ever played with. The Wall was quick and intelligent and his time at Roma will also be fondly remembered. His spell in Italy lasted from 2000 to 2014 (apart from a year at Real Madrid) and in that time, he won 15 major honours.
LB: Jose Chamot (Pisa, Foggia, Lazio, Milan)
Jose Chamot left Italy with a Champions League winner's medal for Milan and two Coppa Italia medals (Lazio and Milan). He also played for Pisa and of course Zdenek Zeman's Foggia. He was a blistering left-back who was extremely talented, but he was also tough. At Lazio in particular, he cemented his reputation as one of the best.
CM: Diego Simeone (Lazio, Inter)
Matias Almeyda just missed out on this team because 'El Cholo' was simply too hard to drop. The tough midfielder had played for Pisa before spending five years in Spain. He returned to Inter, a club that took him to their heart and won the UEFA Cup there in 1997-98. It was at Lazio however, where he was most successful lifting the Scudetto in 1999-00 as well as the Coppa Italia in the same year.
CM: Juan Sebastian Veron (Sampdoria, Parma, Lazio, Inter)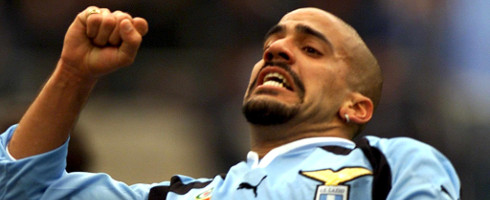 Anyone who loves Serie A will love Veron. The marauding midfielder may not have been portfolio littered with goals but the ones he did score were phenomenal. Perhaps remembered even more fondly for the incredible passes and sublime slight of touch, he had great spells at Sampdoria, Parma, Lazio and Inter, winning 10 major honours in the process.
CM: Esteban Cambiasso (Inter)
Esteban Cambiasso turned out 315 times in Serie A between 2004 and 2014. It was a golden period for the Nerazzurri and he was at the heart of the engine room. He was a beautiful passer of the ball, always calm and one must not forget, he scored 51 times for them in all competition. He won 15 major honours in Italy and whilst his work was not glamourous, it was essential.
CAM: Diego Maradona (Napoli)
The best player in the world according to many, well they do not argue against it in Naples. When he joined a struggling Napoli from Barcelona, a legend was born. He would light up Italy and take Napoli to two Serie A titles, a UEFA Cup, a Coppa Italia and a SuperCoppa Italiana. He gave the city hope and the world watched on in disbelief. If you saw him play at the San Paolo live, consider yourself blessed.
CF: Gabriel Batistuta (Fiorentina, Roma, Inter)
'Batigol', to many of a certain vintage, is immortal. That Fiorentina shirt and more importantly, the quality and quantity of the goals. He netted 167 in 269 for the Viola (staying with them in Serie B), then moved to Rome winning the Scudetto in 2001, scoring 30 in 63. He was the best striker of his generation and lives on with a mythical status with 183 goals in 318 games. Everyone remembers the power, the pace, and the audacity of the strikes.
CF: Hernan Crespo (Parma, Lazio, Inter, Milan, Genoa)
It feels like Hernan Crespo played, scored and was loved, by nearly every club in Italy. In his 11 years on the peninsula, he donned the shirts of Parma (twice), Lazio, Inter (twice), Milan and Genoa. In 340 Serie A games, he scored 153 goals, winning 10 major honours. He was the complete striker, who had pace, movement, composure, technique, power and he was good in the air. He was simply a joy to watch.
Watch Serie A live in the UK on Premier Sports for just £9.99 per month including live LaLiga, Eredivisie, Scottish Cup Football and more. Visit: https://www.premiersports.com/subscribenow