They are the kind of compilations no pundit savours in the age of social media. Once upon a time you could put together an all-time greats XI and inflict it on the public with little or no comeback other than perhaps the odd irate letter to the editor. Nowadays, the backlash comes immediately and in greater volume than an Iron Maiden concert.
However, I will go undaunted into battle once again with my shields of candour and honesty firmly in position. This is a personal best Fiorentina side and there will be plenty of major omissions – particularly from times gone by when even I was not around to see them play. However, it's a team I reckon shows just how lucky Viola followers have been down the years.
GK: Francesco Toldo
The old timers would tell you Enrico Albertosi or Giuliano Sarti, but those of a fresher vintage could not look past the portiere from Padua. His finest hour was probably with La Nazionale when he held off Holland at Euro 2000, but his time in Viola was pretty special too. A couple of Coppa Italias, an Italian Super Cup and his Champions League exploits made him a hero to more modern-day fans.
RB: Angelo Di Livio
Pure sentiment is at play here as Il Soldatino was not the most skilful, talented or spectacular. But he stayed at Fiorentina when they were relegated to Serie C2 and reinvented as Florentia Viola despite having an international career with Italy behind him. That loyalty and his positional versatility see him scoop a spot despite – whisper it – having once been a Juventino.
CB: Daniel Passarella
They love an Argentinian in Florence and one of the first to arrive after the foreigner ban was lifted in 1980 would also prove to be one of the best. El Gran Capitan was a natural leader of an uncompromising defence that kept the Tuscan outfit near the top end of the table in the mid-1980s. He chipped in more than his fair share of goals, too, before moving to Inter late in his career.
CB: Giuseppe Brizi
Probably the least well-known of this side, he played nearly 400 games for the Florentines after switching from midfield to a sweeper's role. His crowning glory was being part of the club's second Serie A triumph in 1969. History paints him as a quiet leader, renowned for his fair play.
LB: Sergio Cervato
A nod to the first Scudetto the club ever won in 1956, another defender with an eye for goal. Those who saw him play describe him as a model of concentration, rarely smiling, but with more footballing ability than most in his role at the time. Thumping free-kicks were a speciality and he would go on to win the title with Juve later in his career when he moved to a more central role.
CM: Giancarlo De Sisti
Another deliverer of the late 1960s league title, he was certainly a bigger name than Brizi and flourished over nine years in Florence sandwiched between two spells with his native Roma. A slick-passing playmaker, Picchio was famed for his vision of play and the balance he could give a side. He would also help to deliver Italy's only ever European Nations title in 1968.
CM: Giancarlo Antognoni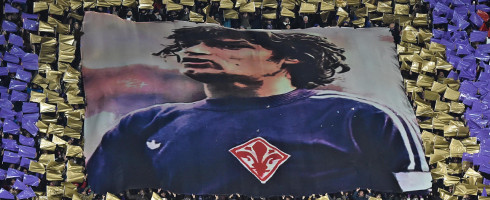 Surely the least contentious inclusion is Mr Fiorentina, who is still revered in the Stadio Artemio Franchi decades after he last kicked a ball. An elegant, pinpoint passer with an eye for goal, he was described as playing 'while looking at the stars', such was his poise. His loyalty to the club probably cost him countless honours, but it won the hearts of Viola fans to this day.
CM: Manuel Rui Costa
Some will argue this midfield is too light and graceful to truly be competitive, but who cares? The Portuguese playmaker was worth the admission fee alone during his seven-year spell in purple. His balance and vision were second to none and all delivered in a languid style that disguised the pace at which he cruised past opponents. He moved to Milan, but Florence stayed in his heart.
FW: Kurt Hamrin
The Swedish winger was let go by Juventus, who preferred John Charles and Omar Sivori, but their abundance of choice would be to the Viola's advantage. 'The Little Bird' would go on to become one of Fiorentina's all-time top scorers and help them win the Cup Winners' Cup against Rangers in 1961. A natural dribbler with a sense of mischief and a poacher's eye for goal.
FW: Gabriel Batistuta
Another no-brainer, as the Lion King remains an idol of the Curva Fiesole. Few forwards have ever battered down the defences of Serie A with greater gusto than the amazing Argentinian. Incredibly, he arrived as the less-fancied half of a double deal with Diego Latorre. He would go on to write his name into legend and become one of Fiorentina's greatest ever servants.
FW: Roberto Baggio
The Divine Ponytail may have travelled far and wide, but he left a little piece of his heart on the banks of the River Arno. The club bought him from Vicenza and nursed him through serious injury before seeing him flourish with some iconic goals – most notably a long-range dribble-fest against Napoli. A transfer to Juve was a dagger to the heart, but he was still one of the most exquisite talents the Viola have ever seen.
Watch Serie A live in the UK on Premier Sports for just £9.99 per month including live LaLiga, Eredivisie, Scottish Cup Football and more. Visit: https://www.premiersports.com/subscribenow