Words: Livio Caferoglu
If there was ever a club that set the bar for what not to do, look no further than Napoli in 2000-01. Their promotion in May 2000 should've been the catalyst for their revival, but it instead proved to be the first step towards their bankruptcy four years later. Aurelio De Laurentiis has since re-established the southern powerhouse, yet it could all have been avoided if Corrado Ferlaino - the man who brought Diego Maradona to the San Paolo – had it his way.
Ferlaino was and remains Napoli's most successful and longest-serving owner, presiding over their only two Scudetti and one UEFA Cup success, but the money well was running dry. His prayers seemed to be answered when Brescia-based businessman Giorgio Corbelli came on board, buying half of his shares. It meant the Partenopei went into the 00-01 Serie A campaign with the distinction of having two Presidents.
But that investment came at a price. Whereas Ferlaino preferred to keep the backbone of the team who went up under Walter Novellino, Corbelli was fixated on big names. Forced to accept the demands of their new co-owner, Napoli burned more than €30m on 23 new players, including Inter pair Francesco Moriero and Salvatore Fresi, Juventus duo Fabio Pecchia and Nicola Amoruso, plus Sporting CP trio Luis Vidigal, Abdellah Saber and Facundo Quiroga.
There was also a change of coach, as Novellino made way for Zdenek Zeman. The former Lazio and Roma boss returned to the Peninsula after six months in Turkey coaching Fenerbahce, and it was hoped his appointment would get fans off their seats with his all-out attacking approach and famed 4-3-3 formation. His last foray down south saw him work miracles at Foggia between 1989 and 1994, guiding the minnows to a ninth-placed Serie A finish in 1992.
"We all know that it's not possible to do everything in one go," he said at his official unveiling. "The league is dominated by the seven sisters and our objective is to include Napoli in them. Tradition compels it. We can't talk about the Scudetto, of course, but we'll create problems for everyone. We'll build a team who can compete with anyone. If we do our best, we'll have nothing to be ashamed of. If we do better than that, we'll enjoy success."
Instead, Napoli only created problems for themselves. Lumbered with a mishmash of a squad, Zeman got off to the worst-possible start, as the Partenopei exited the Coppa Italia to second-tier Sampdoria in the second round. They fared better in their opening Serie A match against Juventus, taking the lead through Roberto Stellone and showing promise with their play, but ended up losing 2-1 to Alessandro Del Piero's curler. Close but no cigar, much like the Czech's managerial career.
Local lad Ferdinando Coppola was Napoli's first-choice goalkeeper at the time, but his career was turned upside down in the space of a week. On October 22 he shipped five goals against Bologna and, four days later, he was shipped out himself – to the team he had just faced. It was at the very least an awkward presentation. Zeman promptly brought in Francesco Mancini from Bari to replace the youngster. Mancini was one of the coach's disciples, having been his No 1 during the days of 'Zemanlandia' at Foggia.
After a 1-1 draw with Perugia in November and without a win in his first six games, Zeman was sacked. Succeeding him in the hotseat was Emiliano Mondonico, a traditionalist tactician with over 700 games under his belt coaching Torino, Atalanta and Cremonese. Setting Napoli up in a no-frills 3-5-2 system, a goalless draw with Atalanta and narrow defeat to Milan was finally followed by a 1-0 victory over Bari, sparking a five-match unbeaten run.
One of those games felt like a throwback to the Zeman era, as they put six goals past relegation rivals Reggina. However, the peak of Mondonico's tenure came at the Olimpico, when they beat reigning champions Lazio 2-1. Amoruso brilliantly took down a long ball and poked a finish past Angelo Peruzzi, before the win was sealed by Giuseppe Pancaro volleying into his own net like a prime Rainer Bonhof. By then, the southerners had climbed to 14th and were just one point from safety.
Just when it seemed the Azzurri were on an upward trend, however, they crashed their campaign. Having two Presidents is complicated enough, but in a January transfer window, it becomes positively insane. Ferlaino had long set his sights on Boca Juniors pair Guillermo Barros Schelotto and – in particular – Martin Palermo. The latter was being coveted by clubs all over Europe, but had chosen Napoli with visions of emulating his idol Maradona. Sadly, a fee couldn't be agreed and Palermo ultimately signed for Spanish side Villarreal in a deal worth €7.6m.
"With Boca Juniors, where [Barros Schelotto and Palermo] both played, it was all decided, two loans with options to buy," Ferlaino later recalled. "I wanted to sign Palermo years earlier, but he suffered a bad injury. While I was in Buenos Aires, I received a phone call, where I was told Edmundo had been signed. Maradona got angry with me."
Deeming Palermo not enough of a big name, Corbelli went all out to poach Edmundo from Cruzeiro. The Brazilian forward was no stranger to Serie A, having flourished and frustrated in equal measure for Fiorentina between 1997 and 1999. On one hand, he appeared to have what it took to recapture some of Maradona's magic and give the Neapolitan people a new South American hero. On the other, 'O Animal' was considered a luxury who risked undermining Napoli's survival.
Fans were suckered in and 15,000 of them turned up to welcome Edmundo, in scenes not seen since Maradona dawned on the Campanian capital. 'El Pibe de Oro' even called him 'my true heir, not only on the pitch, but also off it'. Both men led colourful lives away from football, but the new boy was something else, abandoning ship at the height of Fiorentina's title tilt in '98-99 to attend the Rio Carnival, then returning to training two days late.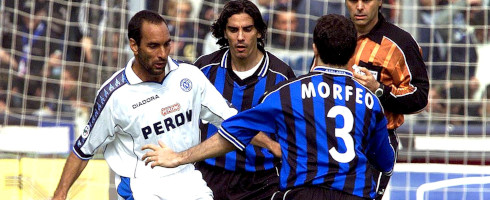 "I've already played in Italy and I've always played for great teams. Fiorentina were one, now Napoli are one," he assured. "It's true I had some problems in Florence, but it's different here and I'm ready to work. In Brazil, I didn't watch very much Italian football. Of course, Napoli's placing concerned me. The team I saw in Rome [against Lazio] weren't a relegation team. It's a shame Napoli have to think about survival. They should be thinking about Europe, the Champions League even.
"Matching Maradona is impossible and Napoli know that too, but I hope to do well here. I want people to see the player that I really am. Don't worry about the carnivals, I'll be here... I'll work hard for you [fans]. I haven't done anything yet and there's already this enthusiasm. I'll do everything to show I'm worthy of it."
Although his six-month loan may have been without any upfront costs, Napoli committed to paying the 30-year-old a net salary of €2m and spoilt him with no shortage of freebies, among them a brand-new BMW, a villa by the sea and round-trip airline tickets to Rio de Janeiro for him and his family. Before he scored his first goal, he was injured 41 minutes into his debut against Udinese and was caught up in a typically-controversial incident with his coach.
With Napoli 1-0 up on Inter and Mondonico keen to see out the result, the coach took off Edmundo just shy of the hour mark. That provoked the attacker, who insulted his boss as he left the field, before vanishing from the San Paolo altogether. He was fined one third of his monthly earnings and, despite returning in the Partenopei's next fixture against Bologna, neither he nor his teammates could prevent a 2-1 defeat. Meanwhile, Palermo was already on a goal and an assist just two games in for Villarreal.
Despite the drama, the Partenopei managed to cobble together another five-match unbeaten run between March and April, until a 1-1 draw with Brescia all but sent them back down to Serie B. They were on course to leapfrog their opponents in the table and thereby leave the relegation zone when Amoruso converted a penalty just after half-time, but Roberto Baggio's free kick right at the death proved the fatal blow.
Napoli went on to lose their next three games and concede 11 goals during that period. Despite a mini-revival in their final four fixtures, by the way of two wins and two draws – one of which saw them hold that season's Scudetto winners Roma – a hard-fought 2-1 victory over Fiorentina on the last day was cancelled out by Verona and Reggina both matching their result. Not only did that signal Napoli's relegation, but it also marked the beginning of the end. Three years later, they went bankrupt and were forced to start over.
Of course, their demotion wasn't without controversy. After Verona beat Parma 2-1 on the penultimate Sunday of the season, Corbelli complained the match had been rigged, owing to a conflict of interest between the Presidents of both Gialloblu outfits. No action was taken, yet prosecutors did undertake an investigation in 2010, suggesting Parma owner Calisto Tanzi had indirectly run Verona between 1998 and 2004 through his old friend and 'patron' Giambattista Pastorello, a former Ducali employee. Pastorello eventually accepted a plea bargain, but later insisted he'd only used Tanzi as a guarantor for his purchase of Verona, not taking any money, and just wanted the legal battle over with.
The 00-01 campaign will go down as one of Napoli's worst ever, but through all the darkness there was one bright spot. Edmundo may have been an expensive flop, scoring just four goals in his 17 appearances, yet a certain Marek Jankulovski introduced himself to Italian football. The left-back went on to make a name for himself in Serie A with Udinese and Milan, winning a Scudetto and the Champions League with the Rossoneri.