Words: Livio Caferoglu
It was all going so well for Fiorentina, who were bidding to win their first Scudetto in 30 years. Crowned winter champions midway through the 1998-99 season, they self-destructed spectacularly to not only finish outside the top two, but also exit the UEFA Cup at the hands of supporters (literally) and lose the Coppa Italia Final to Parma. So how exactly did potentially the Viola's greatest-ever campaign end with only a measly runners-up medal to show for their efforts?
The summer of 1998 brought about mass changes at the Artemio Franchi. Coach Alberto Malesani moved to Parma, making way for Giovanni Trapattoni, who returned to Italy after two years managing Bundesliga giants Bayern Munich. Stalwarts Michele Serena, Andrei Kanchelskis and Stefan Schwarz were sold, and an entire new backline was brought in as a statement of Trap's intentions for a title challenge, with Moreno Torricelli, Tomas Repka and Jorg Heinrich all arriving.
"I chose Fiorentina because the President and the fans are hungry for me," said the former Juventus boss shortly after his appointment. "Apart from the Coppa Italia won with Claudio Ranieri, the Viola's last successes date back 30 years. For me, it's a big surprise because I've always considered Fiorentina to be one of the best-run Italian clubs. Every game in Florence, with Juventus as well as Inter, was a battle for me. Now I want to experience the other side of the barricade, that is, in the Viola's dugout."
Despite his defence-first philosophy, the ex-Italy CT had an abundance of attacking riches at his disposal and he wasn't afraid to use them. Settling on a 3-4-3 formation, Edmundo and Luis Oliveira flanked Gabriel Batistuta, who was scrapping it out with the likes of Alan Shearer and Ronaldo to be considered the world's best No 9 at the time. Fiorentina went on to make their joint-best start to a season, winning all of their opening four games for the first time since 1969.
Among them was a 3-1 victory at Serie A rivals Milan, which spawned a Batistuta hat-trick, although the Argentine had Jens Lehmann to thank. The goalkeeper had just joined the Rossoneri from Schalke and put on a horror show at San Siro, letting Batigol's first two goals squirm through. The best was saved for last, when Lehmann mistook a toe-poked cross for a back-pass and gifted the Gigliati an indirect free kick. Up stepped the striker, who lashed the set-piece into the roof of the net.
However, their campaign threatened to implode in the weeks that followed. Gustavo Bartelt may be best known for his role in Passaportopoli, but that didn't stop him from being a king for a night when Fiorentina came to the Olimpico. Thrown on for the final 12 minutes, with Roma a goal down, Bartelt provided a late pair of assists for Dmitri Alenichev and Francesco Totti to seal a 2-1 win for the Giallorossi, thus ensuring a classic piece of Carlo Zampa commentary for the ages.
Then there was 'Salernogate'. Fiorentina thrashed Salernitana 4-0 the following weekend, but - in a turn of events that could pass for a sinister Hollywood plot - they travelled to the Campania city just eight days later for the second leg of their UEFA Cup second-round tie with Grasshopper Zurich. The Tuscans were unable to play at their usual home of the Artemio Franchi due to a two-game European ban, caused by crowd trouble in a Cup Winners' Cup fixture the year before.
They took a 2-0 lead in the first half and were subsequently 4-1 up on aggregate when half-time was signalled, shortly after which point a 'fan' – reportedly a frustrated Salernitana supporter - sensed revenge and threw a firecracker at linesman Philippe Flament, injuring his right knee. "It was a premeditated attack against our players, who were walking near the official," argued managing director Luciano Luna to no avail, as his club was kicked out of the UEFA Cup, with Grasshopper awarded a 3-0 win.
Despite those setbacks, plus a 2-0 defeat to Parma that knocked them off the top, Fiorentina strung together a run of results that earned them the title of winter champions, complementing wins against Juventus and Inter with a 4-1 victory over Cagliari, which bore another Batistuta hat-trick. Trapattoni also became the first coach to take three teams to the Serie A summit at the midway point, having previously done so with Juve and Inter.
"This Fiorentina side begin to remind me of my Juventus, the one with Platini, Boniek and Paolo Rossi, a team with great individual players capable of winning the match for you at any moment," Trap declared after Batigol's winner beat the Bianconeri. "The fact is that we can't hide it anymore, we're now in line to win this championship... I've explained that to win a League you have to get used to driving at 360 kilometres per hour, all the time and no matter what the road conditions are."
Two more wins followed against Empoli and Vicenza, the Viola scoring six goals with no reply, and a place in the Coppa Italia quarter-finals was sealed by a 5-0 demolition of Lecce across two legs. Next up was a showdown with Scudetto rivals Milan and, although Trapattoni's troops held the Diavolo to a goalless draw, Fiorentina's fortunes fell to pieces that day. Batistuta's knee buckled and he was stretchered off, fuelling fears that his season was over.
Batigol was back playing a month later, but by then his side's title challenge had crumbled. The Viola opted against bringing in a replacement, instead hanging their hopes on Edmundo to lead the attack alongside Oliveira, yet that decision proved disastrous as the Brazilian had other ideas. On the same day he took to the field against Milan, the forward flew out to his homeland for the Rio Carnival and not even an injury to his superstar teammate could change his mind.
"I'm going to Rio and I don't know if I'm coming back," he told reporters before boarding his plane. "No-one asked me to stay and, even if someone did, I still would've gone." Urban legends vary from Trapattoni following Edmundo to Milan Malpensa airport in a last-ditch bid to keep him from going, to there being a suspicious-sounding clause in his contract that allowed him to attend the carnival. Either way, 'O Animal' was walking out on Fiorentina when they needed him most, preferring two weeks of living up to his nickname.
Without Batistuta and Edmundo, Fiorentina were toothless and lost 1-0 to Udinese while the latter was busy drinking and partying. The troublemaker did come back a week later, although he was unsurprisingly read the riot act by Trapattoni on his return. "It's time to stop messing around," the coach is believed to have said. "It's time you grew up and became responsible, because without a head on your shoulders, you won't get anywhere, despite your talent."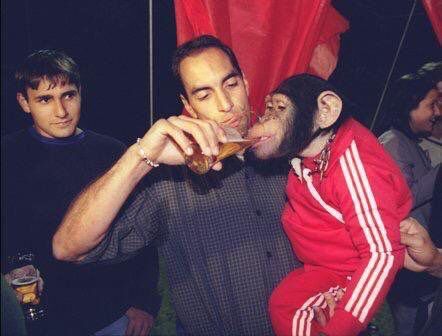 Split between dropping Edmundo as punishment and sustaining Fiorentina's Scudetto charge, Trapattoni was forced to restore the forward to his starting line-up with Batistuta still unavailable, but the move backfired and the Gigliati could only muster draws with Roma and Salernitana. He was replaced by the returning Batistuta against Venezia, but he couldn't recapture the form he showed before his spell out and the Viola were battered 4-1.
By then, Fiorentina had fallen to third in Serie A, five points off leaders Lazio. They would win just twice more against Piacenza and Perugia, while the Aquile and Milan steered clear of the chasing pack. Batistuta and Edmundo scored just five more times before the season was out and, at one stage, it seemed as if they could even drop out of the Champions League places, with Udinese suddenly breathing down their necks.
Fortunately, a top-four place was secured by a 1-1 draw with Lazio, which also handed the title initiative to Milan, and Udinese going down 2-1 at home to Perugia. The Tuscans ended the campaign in third place with 16 wins, eight draws, 10 defeats and 56 points – their best finish since the 1983-84 season and one that hasn't been bettered in the two decades that have passed.
That air of disappointment was an unwanted visitor in Fiorentina's two-legged Coppa Italia Final against Parma. Drawing the first match 1-1 at the Franchi, they were 2-1 up in the second through goals from Repka and Sandro Cois, until their future team-mate Paolo Vanoli sparked a run of scoring in three career Finals, finishing off a cross from Enrico Chiesa, who would become a Viola player only two months later. Malesani would then guide Parma to glory in the UEFA Cup, capitalising on his former employers' expulsion.
Years later Edmundo would come to regret his behaviour, but few in Florence have forgiven him. Sandro Cois, a teammate of his that season, certainly hasn't.
"I think so," Cois replied when asked if Edmundo was to blame for Fiorentina's lost Scudetto. "In football, being winter champions counts for nothing: we'd managed to close the first round of the season because we were strong and difficult to beat. That season, we'd beaten Milan away from home and Juve in Florence. In February, however, we lost two players: Bati and his replacement Edmundo.
"The club handled the situation badly... We needed a couple of strong forwards, maybe a clinical finisher from abroad. No-one like that came in and we ended up finishing third, throwing away a great chance to win the title... I'm convinced that if Batistuta didn't get injured and Edmundo stayed with us instead of returning to Brazil for the Rio Carnival, we would've won the Scudetto."
Ultimately Fiorentina's lack of squad depth cost them the chance to win the Scudetto, let alone pull off a clean sweep of trophies. However, as far as 'what ifs' go, their 98-99 campaign is littered with them. What if Salernitana fans didn't set them up? What if Batistuta was never injured? What if Trapattoni had convinced Edmundo to turn around? The Viola were wound up just three years later, so what if they'd won the Scudetto?
Serie A 1998-99 Table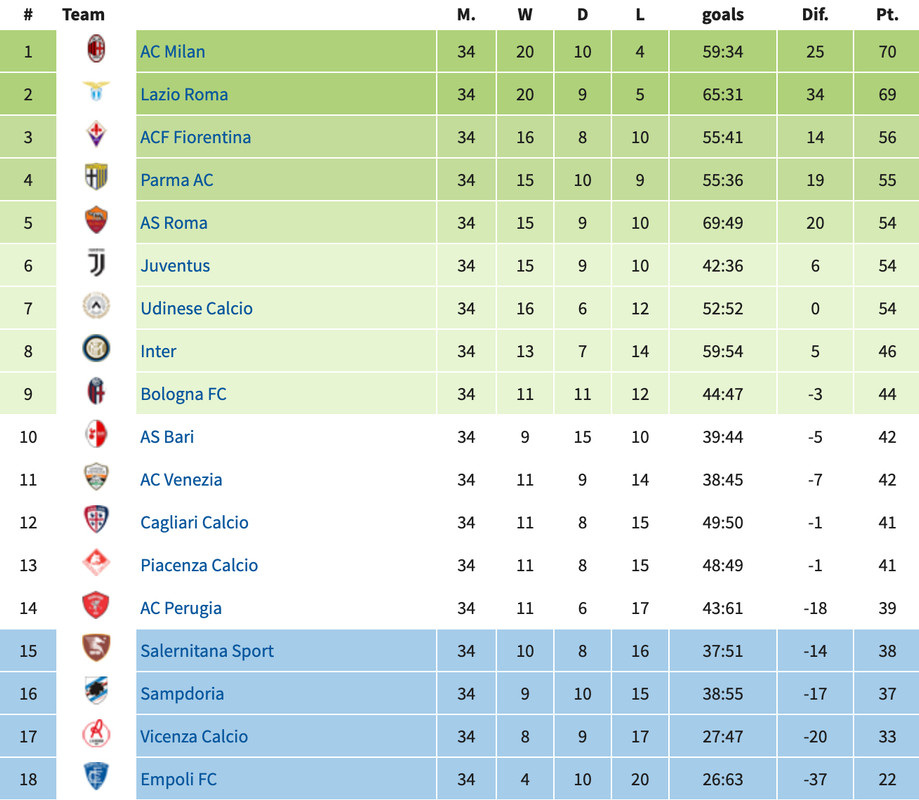 Credit: worldfootball.net
Serie A 1998-99 Scorers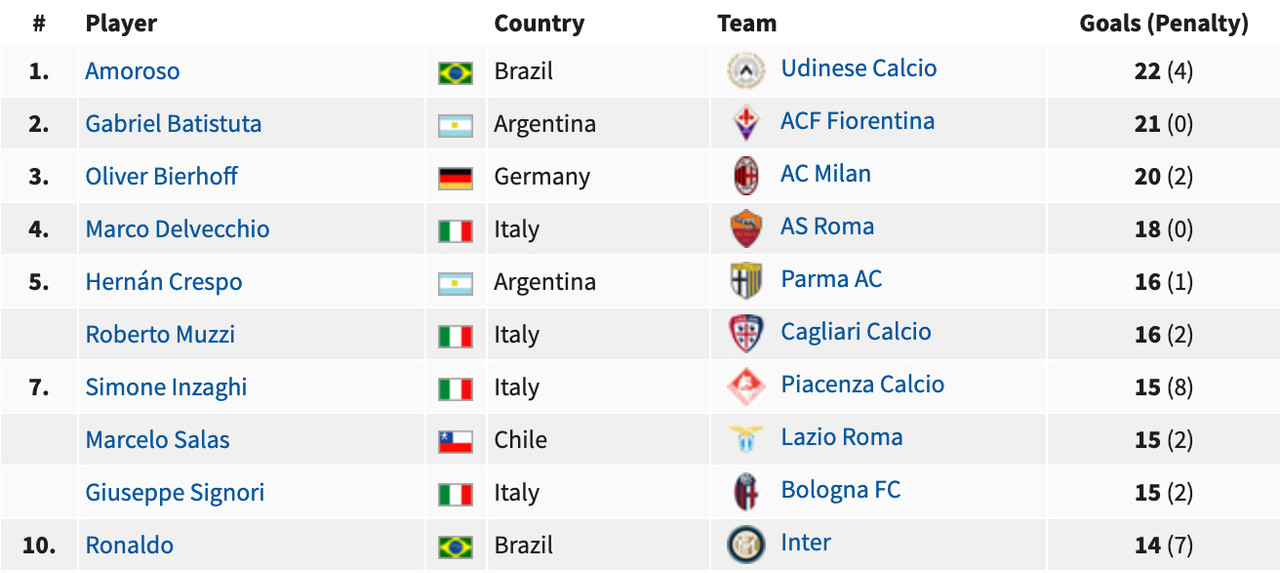 Credit: worldfootball.net
Watch Serie A live in the UK on Premier Sports for just £9.99 per month including live LaLiga, Eredivisie, Scottish Cup Football and more. Visit: https://www.premiersports.com/subscribenow