Serie A 2018-19 season review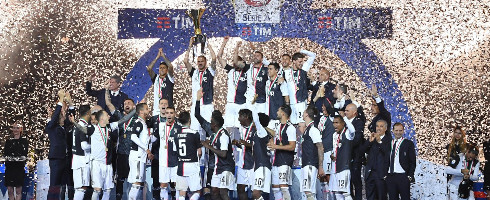 The Juventus dominance hit new records with an eighth straight Scudetto, but Atalanta were the success story of the season by finishing third and securing their debut Champions League qualification, not to mention reaching the Coppa Italia Final, beaten only by Lazio.
Inter and Milan seemed to be constantly on the verge of either glory or total collapse, Roma imploded and were rescued by Claudio Ranieri, while Chievo bowed out of the top flight along with Sergio Pellissier.
It was a year of uncertainty that saw Fiorentina and Genoa avoid relegation on the final day by the slimmest of margins, Empoli going down fighting at San Siro.
Relive the highs, lows and extraordinary in-between moments in Football Italia's season review of 2018-19.
How we'll remember 2018-19
Juventus ensured the Scudetto race was over before it started, but Giancarlo Rinaldi found plenty to enjoy and be critical of in Serie A this season. Read more
Player of the Season - Cristiano Ronaldo

He may not have guided Juventus to Champions League glory, but Cristiano Ronaldo was the most consistent individual in Italian football this season, argues Anthony Barbagallo. Read more
Capocannoniere - Fabio Quagliarella
At the age of 36, Fabio Quagliarella went from human highlight reel to consistent Capocannoniere, explains Emmet Gates. Read more
Coach of the Season - Gian Piero Gasperini

Atalanta have gone from provincial side battling relegation to the Champions League with perhaps the most entertaining football in Italy and Elio Salerno credits Gian Piero Gasperini. Read more
Young Player of the Season - Federico Chiesa

Federico Chiesa is only 21 years old, but already hit 100 Serie A games for Fiorentina and was decisive in avoiding relegation, claims Jay Cassano. Read more
Team of the Season

The 2018-19 campaign unveiled some hidden gems, but not all of them find a place into Vilizar Yakimov's 3-4-3 ideal formation. Read more
Top four sprint as it happened

Football Italia's Chief Correspondent Richard Hall looks back at the rollercoaster that was the race for a Champions League spot. Read more
Club by club review
Every Serie A side's campaign has been assessed by our team of experts, from the clubs who enjoyed record-breaking runs to those who endured forgettable form.
JUVENTUS - 1st - Pts 90 P 38 W 28 D 6 L 4 F 70 A 30

Juventus secured an historic eighth straight Scudetto, but disappointed in the cup competitions this year despite signing Cristiano Ronaldo, writes Ciro Di Brita. Read more
NAPOLI - 2nd - Pts 79 P 38 W 24 D 7 L 7 F 74 A 36

Napoli did well to defy expectations set for them by pundits, but their lack of identity under Carlo Ancelotti left many fans disappointed, writes Massimo Nuzzo. Read more
ATALANTA - 3rd - Pts 69 P 38 W 24 D 7 L 7 F 74 A 36

Atalanta made history this year, as Gian Piero Gasperini captivated the world with his attractive attacking football, writes Sam Wilson. Read more
INTER - 4th - Pts 69 P 38 W 20 D 9 L 9 F 57 A 33

It wouldn't be Inter if they didn't make their supporters' hearts beat a little bit faster and they left it late for Champions League football again, writes Richard Hall. Read more
MILAN - 5th - Pts 68 P 38 W 19 D 11 L 8 F 55 A 36

The ebb and flow of the season nearly resulted in a top four finish, but the Rossoneri dropped pivotal points and came up just short, writes Matthew Santangelo. Read more
ROMA - 6th - Pts 66 P 38 W 18 D 12 L 8 F 66 A 48

Roma's mediocre campaign ended with President James Pallotta pulling the plug on his entire project, and now prospects look awfully grim, writes Andrea Tallarita. Read more
TORINO - 7th - Pts 63 P 38 W 16 D 15 L 7 F 52 A 37

For the fourth time in five years, Torino finished in the top half of the table, but Walter Mazzarri will be disappointed after missing out on European football yet again, writes Michael Barbaro. Read more
LAZIO - 8th - Pts 59 P 38 W 17 D 8 L 13 F 56 A 46

Lazio claimed a seventh Coppa Italia trophy, but under-performing in the Europa League and Serie A will have left the club with some regrets, writes Vijay Rahaman. Read more
SAMPDORIA - 9th - Pts 53 P 38 W 15 D 8 L 15 F 60 A 51

Sampdoria displayed another promising season and Fabio Quagliarella was Capocannoniere, but their future doesn't look so certain, writes Adrian Carp. Read more
BOLOGNA - 10th - Pts 44 P 38 W 11 D 11 L 16 F 48 A 56

Bologna's season was a tale of two halves, one of despair and gloom, the other of hope and redemption, writes Kyle Debelak. Read more
SASSUOLO - 11th - Pts 43 P 38 W 9 D 16 L 13 F 53 A 60

Sassuolo had a sensational start to the season that had some suggesting they could challenge for Europe, but enthusiasm and victories quickly waned, writes Richard Gyasi. Read more
UDINESE - 12th - Pts 43 P 38 W 11 D 10 L 17 F 39 A 53

Udinese were all over the place this season, going through three tacticians, plummeting towards the drop zone and rising back up, writes Michelle Osei Bonsu. Read more
SPAL - 13th - Pts 42 P 38 W 11 D 9 L 18 F 44 A 56

Leonardo Semplici's side made another step up, combining attack-minded football with results and mid-table comfort, writes Susy Campanale. Read more
PARMA - 14th - Pts 41 P 38 W 10 D 11 L 17 F 41 A 61

Parma completed the job with three consecutive promotions and mid-table Serie A safety, writes Mads Hansen. Read more
CAGLIARI - 15th - Pts 41 P 38 W 10 D 11 L 17 F 36 A 54

Cagliari did what they had to and not a penny more, writes Stefan Girasoli after another not exactly outstanding season. Read more
FIORENTINA - 16th - Pts 41 P 38 W 8 D 17 L 13 F 47 A 45
| | | |
| --- | --- | --- |
| What was once a season of hope ended with disappointment, as Fiorentina barely avoided relegation, writes Philippe Hitti. Read more | | |
GENOA - 17th - Pts 38 P 38 W 8 D 14 L 16 F 39 A 57

Always prone to getting in their own way, Genoa did everything possible to get themselves relegated this season and it nearly worked, writes Susy Campanale. Read more
EMPOLI - 18th - Pts 38 P 38 W 10 D 8 L 20 F 51 A 70

Empoli tried to change what got them into Serie A in the first place and returned to their identity too late, writes Chris Matta. Read more
FROSINONE - 19th - Pts 25 P 38 W 5 D 10 L 23 F 29 A 69

Last season's promotion play-off winners couldn't prevent an instant return to Serie B, writes Rob Glover. Read more
CHIEVO - 20th – Pts 17 P 38 W 2 D 14 L 22 F 25 A 75

Chievo Verona faced an uphill battle from the get-go and churning through three Coaches just made matters worse, writes Kieran Thomas. Read more