Serie A 2017-18 season review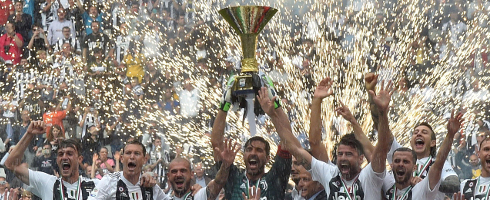 Juventus secured the Scudetto for a seventh season in a row, but they needed 95 points to hold off the challenge of Maurizio Sarri's Napoli. The Champions League race went to the wire, with Inter beating Lazio on the final day to secure their place in the top four at the Aquile's expense.
Milan once again underwhelmed, but Atalanta continued to impress and secured European football once again.
Benevento were out of their depth, despite a goalscoring goalkeeper, but the final relegation place was only decided on the final day.
Relive the highs, lows and extraordinary in-between moments in Football Italia's season review of 2017-18.
Rating the Champions

Juventus made history with their seventh consecutive Scudetto, and once again won the domestic double. Read more
Player of the Season - Miralem Pjanic

The Bosnian midfielder was the heartbeat of the Juventus side which made history with a seventh title in a row. Read more
Capocannoniere - Ciro Immobile & Mauro Icardi

In the end Ciro Immobile and Mauro Icardi couldn't be separated, sharing the Capocannoniere crown. Read more
Coach of the Season - Maurizio Sarri

He may not have led Napoli to the promised land, but Maurizio Sarri won admirers across Europe. Read more
Young Player of the Season - Milan Skriniar

Milan Skriniar wasn't the most heralded of Inter's summer signings, but he proved to be the best. Read more
Team of the Season

It was tough cutting Football Italia's Team of the Season down to just 11 names. Who proved worthy of a spot in 2017-18's dream line-up? Read more
In memoriam - Davide Astori

The 2017-18 season was scarred by the untimely death of Fiorentina captain Davide Astori. Read more
Club by club review
Every Serie A side's campaign has been assessed by our team of experts, from the clubs who enjoyed record-breaking runs to those who endured forgettable form.
JUVENTUS - 1st - Pts 95 P 38 W 30 D 5 L 3 F 86 A 24

The Bianconeri were run close, but eventually won a seventh Scudetto in a row. Read more
NAPOLI - 2nd - Pts 91 P 38 W 28 D 7 L 3 F 77 A 29

Maurizio Sarri's side cracked the 90 point barrier, but even that wasn't enough to win the Scudetto. Read more
ROMA - 3rd - Pts 77 P 38 W 23 D 8 L 7 F 61 A 28

The Giallorossi regressed in Serie A, but more than made up for that in the Champions League. Read more
INTER - 4th - Pts 72 P 38 W 20 D 12 L 6 F 66 A 30

Final day drama saw Inter finally return to the Champions League under Luciano Spalletti. Read more
LAZIO - 5th - Pts 72 P 38 W 21 D 9 L 8 F 89 A 49

Another positive season for Simone Inzaghi's side had a bitter ending. Read more
MILAN - 6th - Pts 64 P 38 W 18 D 10 L 10 F 56 A 42

Despite pre-season talk of a Scudetto challenge, the Rossoneri once again missed out on the Champions League in a season dogged by off-field rumours. Read more
ATALANTA - 7th - Pts 60 P 38 W 16 D 12 L 10 F 57 A 39

The Orobici enjoyed a memorable European campaign, and more than held their own domestically. Read more
FIORENTINA - 8th - Pts 57 P 38 W 16 D 9 L 13 F 54 A 36

The Viola missed out on Europe, in a season which was overshadowed by tragedy. Read more
TORINO - 9th - Pts 54 P 38 W 13 D 15 L 10 F 54 A 46

Andrea Belotti's injury problems contributed to what was a rather lacklustre season for the Granata. Read more
SAMPDORIA - 10th - Pts 54 P 38 W 16 D 6 L 16 F 56 A 60

Samp couldn't keep up the pace after a blistering start, but took some big scalps at the Marassi. Read more
SASSUOLO - 11th - Pts 43 P 38 W 11 D 10 L 17 F 29 A 59

Despite scoring just 29 goals, the Neroverdi avoided the drop in a season of transition. Read more
GENOA - 12th - Pts 41 P 38 W 11 D 8 L 19 F 33 A 43

Davide Ballardini's arrival breathed new life into the Grifone, and allowed them to move comfortably clear of the drop zone. Read more
CHIEVO - 13th - Pts 40 P 38 W 10 D 10 L 18 F 36 A 59

Another unspectacular season for Serie A's ultimate survivors. Read more
UDINESE - 14th - Pts 43 P 38 W 12 D 7 L 19 F 43 A 61

The Zebrette employed three different Coaches as they narrowly avoided relegation. Read more
BOLOGNA - 15th - Pts 41 P 38 W 11 D 8 L 19 F 40 A 58

The Felsinei stayed afloat, but things had become stagnant under Roberto Donadoni. Read more
CAGLIARI - 16th - Pts 39 P 38 W 11 D 6 L 21 F 33 A 61
| | | |
| --- | --- | --- |
| Diego Lopez just about kept the Sardinians in Serie A, but safety was only guaranteed on the last day. Read more | | |
SPAL - 17th - Pts 38 P 38 W 8 D 14 L 16 F 39 A 59

Spal achieved their objective for the season, staying up on the final day. Read more
CROTONE - 18th - Pts 35 P 38 W 9 D 8 L 21 F 40 A 66

The Squali actually garnered more points than last season, but it wasn't enought to keep them in the top flight. Read more
VERONA - 19th - Pts 25 P 38 W 7 D 4 L 27 F 30 A 78

A miserable season in which they scored only 30 goals saw the Butei head straight back down to Serie B. Read more
BENEVENTO - 20th – Pts 21 P 38 W 6 D 3 L 29 F 33 A 84

Benevento regained some pride after a historic bad start, but failed to make any real impact on the top flight. Read more