Club News - History - Records - Stadium - 2016-17 Review - 2017-18 Squad
After a surprise 2016-2017 campaign, Matthew Guastaferro wonders if Atalanta can repeat those achievements
Can Atalanta amaze again?
The citizens of Bergamo were ecstatic after clinching fourth spot last year, as Atalanta proved to be the diamond in the rough in Serie A. Above fallen giants Lazio, Milan, Fiorentina and Inter, no-one expected the Orobici to achieve their best ever finish.
Only once in the previous 10 years had they ended up in the top half of the table and starting out it looked like another relegation-battling campaign with Coach Gian Piero Gasperini on the hot seat. It wasn't until a match against Napoli that Gasperini had the genius to start up a youth revolution. Within weeks, Atalanta were climbing up the Serie A table, passing huge clubs such as Lazio, Milan, and Inter, while cultivating youth talent in the process. Huge European clubs were linked to Franck Kessie and Andrea Conti, while Roberto Gagliardini was poached by Inter in January.
However, this summer does not look as promising for Atalanta. With the newly owned Rossoneri and their stellar transfer market performance so far, Milan managed to secure both Kessie and Conti. It certainly will be difficult for Atalanta to repeat their illustrious 2016 with a squad lead by an ageing fan favorite Papu' Gomez.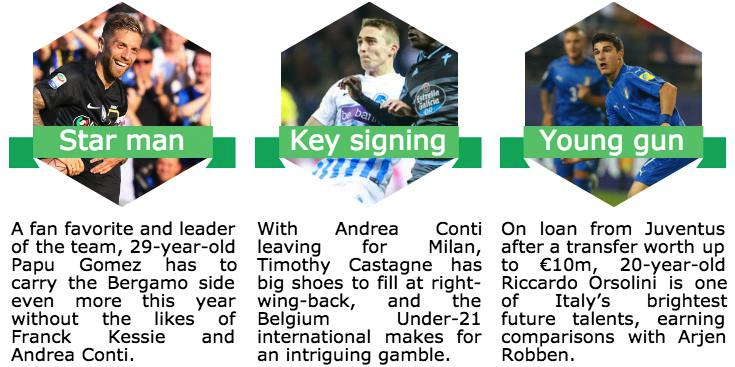 However, players within the Atalanta camp have already forgotten about their Cinderella story and have their eyes set on repeating another great season in 2017-2018. "This year will be a decisive one, because we will have to reconfirm our success," said Leonardo Spinazzola. "We have already forgotten last term, otherwise we will not go far. Last year, I thought we reached the peak of fatigue, but this year we must overcome it."
Spinazzola is certainly correct that the team must be more in form for the tough campaign ahead. With relatively inexperienced players, the squad must face Serie A, Coppa Italia and Europa League commitments. It will be a challenge, but one that Gasperini and company are willing to face.
Perhaps more importantly, Atalanta and their style are no longer a surprise to opponents, meaning another victory over Napoli, Milan, Inter or Roma seems less likely.
Realistically, fans of La Dea can expect another bottom half finish in Serie A. It will be near impossible for the squad to repeat their Cinderella season with their two most important assets gone, but Gasperini and company are ready for the challenge. Atalanta kick off their Serie A schedule against Roma, a team that finished second in Serie A last year.
The team


2017-18 prediction
Atalanta can be expected to finish Serie A in the bottom half of the table next year. As last year seemed too good to be true, the squad lost their two key men and had a very lacklustre summer. Do not enter the season with big expectations for the squad.
Graphics created using Piktochart