Serie A Capocannoniere 2018-19
Fabio Quagliarella, Sampdoria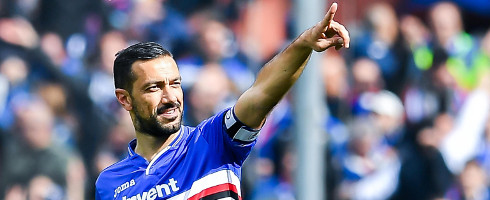 At the age of 36, Fabio Quagliarella went from human highlight reel to consistent Capocannoniere, explains Emmet Gates.
The view of Fabio Quagliarella had been that he is – at the very least – in the conversation for being the greatest YouTube footballer of all time. There isn't a type of goal he hasn't scored; there isn't a distance or angle he hasn't scored from. His goals range from the courageously outrageous to the technically sublime. He's a human highlight reel: producing moments of outlandish magic for our entertainment.
Yet to pigeon-hole Quagliarella as merely a highlight-specialist would be doing him a disservice. Never more so than this season. At the age of 36, he has shed the scorer of great goals tag, and produced the most consistent season of his career.
Many assumed the arrival of Cristiano Ronaldo to Italian shores, given his almost insatiable appetite for scoring goals, would see him crowned Capocannoniere. And here we are, in May and Ronaldo could only finish in fourth, some five goals behind the evergreen Italian.
What is all the more remarkable about Quagliarella's greatest season is that, by the end of October, he'd registered a hardly prolific two goals. But much like last term, when he started slow and hit his stride through the winter to produce his-then career best of 19 goals, he repeated the feat again. Only this time, he upped the stakes.
He scored in every game he played in just two days shy of a three-month stretch, from late October right the way through to the end of January, equaling the record set by the legendary Gabriel Batistuta with Fiorentina at the beginning of the 1994-95 season.
His form was so impressive, not to mention consistent, that he earned a recall to the national side for the first time since 2010. Quagliarella netted two goals against Liechtenstein in a 6-0 rout to go alongside a decent performance against Finland. Whilst few expect him to make Roberto Mancini's squad for Euro 2020, his selection was a feel-good story, and one that was deserved.
Of course, this being Quagliarella, he couldn't endure a season without leaving us with a piece of typically outrageous brilliance. In the second game of the season, at home against boyhood club Napoli, he leapt into the air to meet a right-sided cross from Bartosz Bereszynski with an instep-backheel volley that left David Ospina with no chance.
Quagliarella seemed apologetic (and he would apologise after the game) to have scored such a goal against his beloved team, and went over to embrace Ospina after the goal. It was a real touch of class.
It's a testament to the sheer quantity of wondrous goals that have peppered his career that when was asked about it in a post-match interview, he claimed it would be in his top three, perhaps. Asked what went through his head as the ball came his way, he replied it was all down to "instinct and madness."
Quagliarella is the latest in a line of Italian strikers who seemingly age like fine wines: Luca Toni, Antonio Di Natale, Alessandro Del Piero and Francesco Totti all won the Capocannoniere in their 30s. With the exception of Toni, who was 38 when he finished the 2014-15 season as top scorer with Verona, none of Del Piero, Totti or Di Natale were so long in the tooth when achieving the feat. Furthermore, he stands alone as the oldest player to ever score 26 goals in a single season, not to mention the eight assists he's also provided. Records have been set.
This could well be his final season at Sampdoria, with rumours abound that he may get his long-held wish of an emotional return to Napoli. And given the amount of quality in the Napoli frontline, it's unlikely that Quagliarella will ever reach these numbers again.
But if we get one or two 'impossible goals' before the sun sets on his long career, we can pretty much all agree we would be eternally grateful.