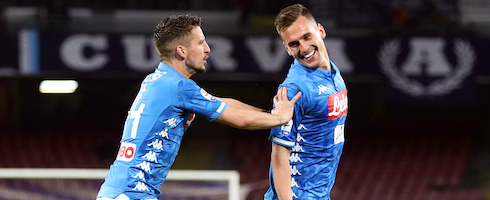 | | |
| --- | --- |
| | NAPOLI |
Serie

A

Pts

P
W
D
L
F
A

2nd

79
38
24
7
7
74
36
Coppa Italia: Quarter-final / Team rating: [7/10] / Top scorer: Arkadiusz Milik (17) / Europe: Champions League group stage / Europa League quarter-final
Napoli did well to defy expectations set for them by pundits, but their lack of identity under Carlo Ancelotti left many fans disappointed, writes Massimo Nuzzo.
Partenopei Lack Direction
After coming so close to winning the Scudetto in the 2017-18 season, it was widely understood that Napoli was going to have trouble recreating the amazing season that saw them finish with 91 points. With the memory of failing at the final hurdle fresh on their mind and Maurizio Sarri and Jorginho leaving their club, all signs pointed to a massive drop-off for the Partenopei heading into the 2018-19 Serie A campaign.
However, Napoli rebounded well. Club President Aurelio De Laurentiis brought in a world class manager in Carlo Ancelotti to replace Sarri and signed Spanish midfielder Fabian Ruiz to fill the role left by Jorginho. These two moves, along with the additions of Alex Meret and Simone Verdi, plus the ability to hold on to their star players, highlighted a well-worked transfer window for the Partenopei.
Despite an impressive summer window, many still wrote Napoli off as a big player in this year's league campaign. Ancelotti's side was often touted to finish as low as fifth place, with pundits believing they would be unable to perform at the same level under a new system. The concerns regarding this had merit, with Sarri's system being such a massive reason for the Azzurri's success in recent years. Additionally, it was Sarri who was able to get the best out of players most would only consider average. Ancelotti was a Coach who had achieved success all over Europe, but the lack of massive stars at Napoli created doubt that he would be successful in Naples.
Soon the time for talk was over, and all that mattered going forward was what happened on the field. In that department, things were going well for Ancelotti and Napoli. They started their season off with two impressive comeback wins against Lazio and Milan and Lorenzo Insigne was playing at a level where he was arguably the best player in the league. A 1-0 win over Liverpool highlighted the beginning of their season, and it proved to doubters that Napoli were far from falling off. The Partenopei continued to perform well and earn impressive results again PSG and Red Star, however, the cracks began to show following their disappointing Champions League exit after losing to Liverpool at Anfield.
Ancelotti's side continued to win for the most part, but there was an obvious drop-off in the quality of their play. They lacked their usual ferocity when going forward and on the counter, and against stronger opponents their inability to create in the final third was exposed and proved detrimental to Napoli's ability to win in big games.
On top of that, club legend Marek Hamsik left for Chinese side Dalian Yifang. Their Champions League exit was soon followed by a Coppa Italia exit after a 2-0 loss to Milan. If Napoli were to win a title this season, it would have to be the Europa League.
With teams like Arsenal and Chelsea still in the competition, a Europa League win would bring a level of prestige with it that many often say the competition lacks. Touted as favorites to win the UEL, the Partenopei started off strong by quickly dispatching FC Zurich. Next, they faced a strong opponent in RB Leipzig who they beat at home 3-0, an advantage they almost threw away after losing the away leg 3-1. Napoli still advanced, but their complacency was called into question heading into the quarter-final against Arsenal.
Arsenal would go on to outclass Napoli and take away their last hope of winning some silverware in Ancelotti's first season with the club. Both legs were two losses in a stretch of six competitive games in which Napoli only won once, a run that left many tifosi fed up with the club. Drama surrounding the relationship between the ultras, the club and players threatened to further derail Napoli's season, however, they won four of their last five games to bode well for the future.
While it wasn't an ideal season, there are still many positives to take away from Napoli's 2018-19 league campaign. Players such as Meret and Fabian showcased their quality and established them as focal points to build around going forward, Napoli veterans such as Faouzi Ghoulam and Dries Mertens found their groove, the Stadio San Paolo is undergoing renovations, and the glimpses of a definitive playing style under Ancelotti provide fans with a lot to look forward to.
The Coach: Carlo Ancelotti
Ancelotti came to Napoli with high expectations, with President Aurelio De Laurentiis describing him as the club's "biggest signing". Despite that, the 59-year-old tactician failed to fully instill his own identity. Napoli's great performance in a 4-1 win over Inter in Week 37 is what Ancelotti said his team's style will be for next season, so fans have a lot to look forward to with Carletto at the helm.
Player of the Year: Kalidou Koulibaly
Kalidou Koulibaly's performances this season added further support to his case of being the best defender in the world. Stellar outings against the likes of PSG and Liverpool were the highlights, as the Senegalese defender has once again proved how much of a valuable asset he is to the Partenopei.
Highlight: Napoli 1-0 Liverpool
Napoli's 1-0 win over Liverpool served as a testament to the potential the side has. Thrust into what was this year's 'group of death,' Napoli's win over Liverpool was their announcement that they were ready to compete with the world's best. Despite ultimately failing to go through only on goal difference, the win, and the manner in which it was achieved, showcased how good Napoli can be when firing on all cylinders.
Nightmare: Liverpool 1-0 Napoli
Despite finishing level on points at nine, Liverpool's 1-0 win over Napoli at Anfield meant that the Partenopei would be cast into the Europa League. After wonderful performances throughout the group stage, the initially sluggish attitude and late Arkadiusz Milik miss was the moment many cite as the beginning of their downward spiral.
Did You Know?
- Napoli hit the post 27 times this season, more than any other team.
- The Partenopei had the highest average of shots on target per match in the league at 6.2
- Thanks to Arkadiusz Milik and Dries Mertens, Napoli were the only team to have two players in the top 10 goal scorers