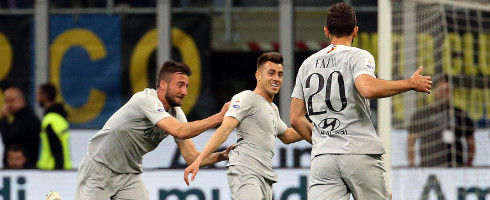 | | |
| --- | --- |
| | ROMA |
Serie

A

Pts

P
W
D
L
F
A
6th
66
38
18
12
8
66
48
Coppa Italia: Quarter-Finals / Team rating: [4/10] / Top scorer: Stephan El Shaarawy (11) / Europe: Champions League Round of 16
Roma's mediocre campaign ended with President James Pallotta pulling the plug on his entire project, and now prospects look awfully grim, writes Andrea Tallarita.
Giallorossi self-destruct
Only two seasons ago, President James Pallotta hired new Coach Eusebio Di Francesco and sporting director Monchi in what bore all the signs of a serious commitment to Roma's long-trumpeted, eagerly awaited 'project'. This season, that same project broke down, and in the ugliest way possible.
When the campaign began in mid-August, expectations ran unrealistically high, even by the standards of the Italian capital. After all, and allowing for the sales of Radja Nainggolan and Kevin Strootman, this was the same team that had reached the Champions League semi-finals a few months earlier.
Things were off to a rough and disappointing start: after a last-gasp 1-0 victory over Torino on their debut, Roma would pick up a mere two points from the next four matches. There were a few good stretches after that (including an excellent 3-1 win in the derby), but largely the team remained ineffectual for months, dropping points to flyweights like SPAL, Udinese and Cagliari, and drawing or losing to all of the bigger clubs.
Calls for Di Francesco's head began very early on, but Roma's problems were many and they ran deeper than tactics. Too many of their players were underperforming. Edin Dzeko was only effective in Europe, and it took him 20 games to pick up more than two goals in Serie A. Cengiz Under, last season's revelation, made one stupid mistake after another. New signings Bryan Cristante, Steven Nzonzi and Javier Pastore all struggled to fit in.
Perhaps the greatest and most decisive disappointment of all was young Patrik Schick. Last year, he had often been relegated to the bench, so many thought his moment had arrived when Dzeko was injured in November. The 23-year-old was given half a dozen successive games playing full time, with Di Francesco giving him opportunities in every position, and the return over that spell was a mere one goal against Sassuolo.
Roma had enough flexibility that they were able to deal with the other shortcomings, but with both Dzeko and Schick unable to do their job, Di Francesco was left with no options to convert his team's chances into goals. Indeed, his head might have rolled much sooner had it not been for his two saving graces.
The first was Roma's continued strength in Europe. Although defeated twice by Real Madrid, the Lupi could count on Dzeko actually playing like himself on the international stage, and they pulverised all other opponents to qualify from their group with a game to spare. For a club with Roma's history, this was a remarkable achievement.
The other positive was that, even as some players underperformed, others were indeed coming into their own. Lorenzo Pellegrini, Stephan El Shaarawy, Robin Olsen (at first), Davide Santon and a positively explosive Nicolò Zaniolo all showed that Monchi and EDF's project was not baseless, and that some of their long-term investments were indeed paying off.
Unfortunately, it was simply not enough. When Roma lost to Porto in the Champions League knock-out rounds, however marginally, EDF's last safety net was removed and he was sacked, which prompted Monchi to walk out. Claudio Ranieri was hired to try and snatch fourth place, but he did not have the time to fix Roma's many ills (which included, by then, an oppressive crisis of confidence), and he failed to meet that target.
To end the season on the worst possible note, Roma legend Daniele De Rossi announced that management was not willing to renew his contract, and he had his final game at the Olimpico amid the ovations of an alienated, embittered fan-base. The entire affair was handled awfully, and it sank what little faith was left in Pallotta's presidency.
Not for the first time, Roma will now have to rebuild their team almost from scratch. Yet with a management that has conclusively demonstrated it lacks the patience for long-term projects, no Champions League cash to fund plans on the short term, a fan-base in open revolt and a stadium project that still looks dead in the water, it's hard to see Roma breaking out of their self-destructive cycles any time soon. Expect what Romans call 'tempi cupi', hard times.
The Coach: Eusebio Di Francesco / Claudio Ranieri
Despite some admittedly glaring shortcomings, particularly when it came to defensive organisation and defending leads, Di Francesco does not deserve the lion's share of the blame. He tried a variety of formations and personnel and continued to perform well in Europe, doing a competent if not an especially good job with the material he had. His successor Ranieri would only keep that ship on the same course.
Player of the Year: Stephan El Shaarawy
El Shaarawy has been out of the spotlight for several years now, and his frequent injuries limited his contributions once again. When he did play, though, he was Roma's most ruthlessly efficient player by a mile, deadly in the box and tactically intelligent. A quick thinker who is also fast on his feet, if he can keep up his performances then he'll surely be called for Euro 2020.
Highlight: Zaniolo scores against Sassuolo
Zaniolo's gorgeous goal against Sassuolo, as he powered his way into the box and then calmly outwitted the 'keeper with a chipped shot, demonstrated all the talents of Roma's diamond in the rough: his rambunctious physical power, his refined technique, and his incredible coolness under pressure. The world of football was officially notified: if he keeps down this path, Zaniolo will be the future of the Italian midfield.
Nightmare: Coppa Italia shame
The Coppa Italia may not have been Roma's primary target this season, but losing 7-1 would be unforgiveable even in a friendly – and for Romanisti, that particular score-line opens sore old wounds. Fiorentina weren't even a world-beater of a team, so what went wrong? This may have been the day that James Pallotta first considered sacking Di Francesco, and few could blame him.
Did You Know?
- Lorenzo Pellegrini has scored 15 Serie A goals, but never against the same opponent twice.
- Roma kept 10 clean sheets in the league this season, but six of them were during Antonio Mirante's 11 games in goal.
- Daniele De Rossi concluded his Giallorossi career with 616 competitive matches, 63 goals, 54 assists, 147 yellow cards and 12 dismissals.