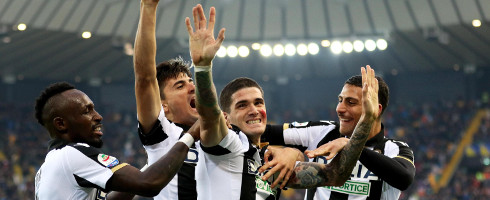 | | |
| --- | --- |
| | UDINESE |
Serie

A

Pts

P
W
D
L
F
A

12th

43
38
11
10
17
39
53
Coppa Italia: Third Round / Team rating: [3/10] / Top scorer: Rodrigo De Paul (9) / Europe: N/A
Udinese were all over the place this season, going through three tacticians, plummeting towards the drop zone and rising back up, writes Michelle Osei Bonsu.
Friuli rollercoaster ride
What an exciting season for Udinese fans – and not necessarily for the right reasons. The Zebrette went through three Coaches, flirted with relegation, and finally bounced back in the nick of time to secure a mid-table finish. First, Spaniard Julio Velazquez arrived in June, but was out by November after managing just two league wins in a miserable run that saw them lose eight of their 13 matches.
Then Davide Nicola, the man who helped Crotone stay afloat, was brought in as Udinese desperately needed someone to turn their fortunes around, but despite doing somewhat better than his predecessor (with six wins in 21 games), it was still not enough to satisfy Udinese's nervous executive board, and he too was given his marching orders to make way for Croatian tactician Igor Tudor.
Tudor, of course, is well known to Udinese fans, as he notably saved the club from the drop when he first managed them between April and June 2018. And that's exactly what the team was looking for when they decided to bring him back in March of this year when they pressed the panic button.
Under his guidance for the second time, Udinese slowly found their footing, and notably capped off an otherwise miserable year by winning three on the trot. That was enough to vault them from 16th spot all the way up to 12th, but it only papers over the cracks, as they could end up losing one of their standout players this summer.
It seems like a lifetime ago that Udinese, led by the evergreen Toto Di Natale, were mixing it up with Italy's 'bigger' sides for a spot in the Champions League. Those times are long past. Although they finished the season on a solid note, including a scoreless draw with Inter to make it four unbeaten, there is an air of uncertainty about the club. Will they be able to survive the drop next term? They did this time around, thanks to the arrival of Tudor once again, but will third time be so lucky?
The Coach: Julio Velazquez (Wk 1-12) / Davide Nicola (Wk 13-28) / Igor Tudor (Wk 29-38)
Udinese had managers from Spain, Italy, and Croatia on the bench in just the span of one season. Indeed, it was a very confusing and turbulent time at the Dacia Arena, but following the failed Velazquez experiment, Nicola started to right the wobbly ship, and Tudor got them back on track once again (just as he did last year). Now, it will be very interesting to see what's next in store for the club.
Player of the Year: Rodrigo De Paul
A solid season for the Argentinian midfielder, who was the standout performer in a club that otherwise struggled. With nine goals – more than even the club's strikers – and eight assists, his performance this term has reportedly attracted the attention of teams like Napoli, and as he will be representing his country at the Copa America this summer, De Paul will have more opportunity to put himself in the shop window for additional suitors.
Highlight: Udinese 2-0 Genoa
It's hard to see any real highlight in a poor season overall for Udinese. But, if one had to pick one shining moment, it may be when they picked up a 2-0 win over Genoa to mark Tudor's return to the club. Following that, they continued their slow and difficult climb back up the ranks towards mid-table safety.
Nightmare: Udinese 1-2 Benevento
Being knocked out in the third round of the Coppa Italia by none other than second-tier side Benevento in August perhaps was a sign of things to come for Udinese. Besides newly promoted Parma, the Zebrette were the only Serie A side to fail to progress to the fourth round. In addition, the extra time defeat took place at the Dacia Arena and naturally was a very bad way to start off the upcoming Serie A season.
Did You Know?
- Rodrigo De Paul's eight assists are more than any individual Udinese player since Pablo Armero had 10 in the 2011-12 season.
- Udinese's scoreless draw was the first time they held Inter to a stalemate in five years and the first time it was a 0-0 result at their home ground in 11 years.
- In two spells on the Udinese bench, Igor Tudor won five, drew three and lost only three games.