Serie A 2018-19 Player of the Season
Cristiano Ronaldo, Juventus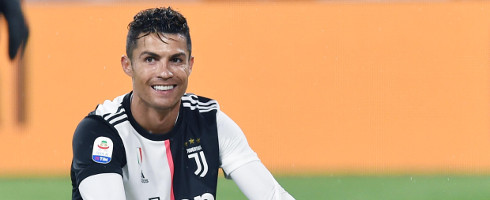 He may not have guided Juventus to Champions League glory, but Cristiano Ronaldo was the most consistent individual in Italian football this season, argues Anthony Barbagallo.
It was a shock for many Serie A and Juventus supporters when Cristiano Ronaldo flew to Italy and penned a four-year contract. The five-time Ballon d'Or winner, who was purchased for €100m, left Real Madrid after nine decorated seasons, seeking a new adventure abroad.
Ronaldo was signed by the Italian champions as the last piece of the jigsaw puzzle to win the Champions League, although that didn't go to plan for the Turin side. But from an individual perspective, the Portuguese star still had a successful maiden season in Italy's top-flight.
Most Calcio viewers may not realise that Ronaldo played with more dynamism in his debut Serie A season than we've seen in recent years. The former Real Madrid icon played more of an orthodox centre-forward role in his last four years at the Bernabeu – receiving a good portion of the service from Isco, Toni Kroos and Luka Modric.
But this season, we saw glimpses of vintage Ronaldo – the type so lethal and dynamic in the wide areas. The Bianconeri's prolific star man, who scored 21 goals in 31 Serie A appearances, altered his role in Massimiliano Allegri's 4-3-3 formation. The Portuguese international frequently rotated between the left and right flanks at times. Ronaldo was also heavily involved in the build-up to attacks, making those lively runs on the wings and showcasing his dribbling skills, sometimes teasing several defenders.
The five-time Champions League winner occasionally played in a 4-4-2 with Paulo Dybala up front, but it was evident that Ronaldo's assist and overall work rate decreased in that particular formation. Because of the Old Lady's midfield deficiencies, Ronaldo also ended up being Juve's top assist provider. His eight assists in Serie A highlighted the lack of creativity in the mediocre Bianconeri midfield line, and it also proved that the 34-year-old can still be play as a versatile attacker.
It might have taken Ronaldo four rounds to open his scoring account in Serie A, but once he got that quick brace against Sassuolo last September, the CR7 phenomenon emphatically took off in Italy.
Consistently performing in front of goal, making attacking contributions and scoring the winner against Milan in the Supercoppa Italiana, it's fair to say that Cristiano Ronaldo had a successful first Serie A season. To immediately adapt to a new league, one where it is harder for forwards to find space and score goals, Ronaldo rightfully deserves to be named the 2018-19 Serie A MVP.