Serie A 2018-19 Season Round-Up
So much more than a Scudetto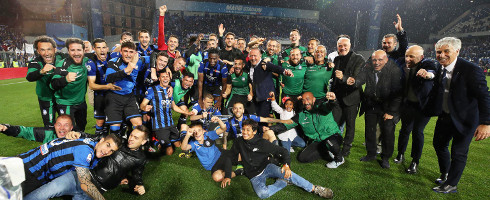 Juventus ensured the Scudetto race was over before it started, but Giancarlo Rinaldi found plenty to enjoy and be critical of in Serie A this season.
Young children seem to love watching the same film over and over again. There is something reassuring to them about seeing a familiar plot play out on repeat and knowing exactly what the outcome will be. Heaven knows they would have loved Serie A over the last eight seasons.
Juventus were already dominant before they went out and bought one of the world's best players to add to their armoury. It was not always pretty to watch, but they delivered yet another domestic league title to add to a haul so substantial that most of us have forgotten what it actually is. Think of a number - and then stick a couple more on top if you support the Bianconeri.
Every season we try to make a case that the league might not be the foregone conclusion many fear it is, but the Turin giants are making that awfully difficult. They have come back from Calciopoli with a fire in their belly that has made them relentless in their domination of the game. Hell hath no fury like an Old Lady scorned.
We thought Carlo Ancelotti's wider use of the Napoli squad compared with Maurizio Sarri might make a difference. There were brief dreams that a Milanese revival might mix things up. Perhaps Rome could trip up this procession of Scudetti. We were delusional, of course, it was a Juve stroll once more.
Those of us who sought a few surprises had to look outside the title fight. We got a rumbustious Atalanta side who barged their way on to Calcio's podium. They qualified for the Champions League ahead of both San Siro giants and were only denied the Coppa Italia by another astounding outfit - the constantly critic-confounding Lazio. And, from outside the Peninsula, some young lads from the Netherlands showed that it need not always be a formality every time La Vecchia Signora steps out onto the pitch.
Torino took a tilt at Europe too and Fabio Quagliarella thrilled us with an Indian summer to his goalscoring exploits. SPAL enjoyed a relatively comfortable survival campaign while Genoa, Empoli, Udinese and Fiorentina got caught up in a relegation battle that kept us gripped until the final day. It wasn't such an awful season to watch overall, really.
But it was an odd campaign for those looking from the outside in on to Calcio. There was little doubt that the acquisition of Cristiano Ronaldo grabbed a lot of attention at the outset of 2018-19, but the attraction seemed to fade as time went by. The repeated failure of Serie A sides to deliver in Europe - even with their biggest hitter - meant it still felt like a bit of a backwater in continental terms. It is up to everyone to raise their game to change that perception.
And then, once again, the ugly spectre of racism reared its head. The unwillingness or inability of the authorities to admit there is a problem and do anything to deal with it continues to tarnish the image of the Italian game. Sadly, there seems little appetite to tackle that issue head on any time soon.
That is to Calcio's shame at a time when it hopes to rebuild its reputation as one of the world's top leagues. There have been some brighter signs from the national team and a few clubs are starting to think differently, but there is still much work to be done. Every year, it feels, the global game moves a little further ahead of the domestic squabbles of Serie A.
And yet, for all the predictability that Juventus have managed to impose, there is still something magical - for some of us anyway - about the Italian game. The spectacle of the Curva, the wise-cracking fun-poking of its sassiest fans and the style of its city backdrops are still special.
Some of us remain of the view that the grappa glass is half-full, despite so much evidence to suggest it is half-empty. And, for that reason, let's keep watching the crazy, incredible movie that is the Italian league - despite being 99.9% sure of its outcome. If nothing else, it will let you feel like a child again.