Serie A 2018-19
Top Four sprint as it happened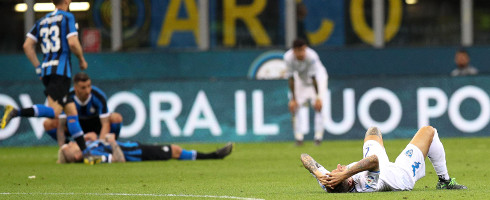 Football Italia's Chief Correspondent Richard Hall looks back at the rollercoaster that was the race for a Champions League spot.
Week 26
Milan 48, Inter 47, Lazio 44, Roma 44 Torino 41, Atalanta 41
The focus on this weekend was certainly on Napoli losing to Juventus, but it was also time for the Derby Della Capitale. Lazio believed at the time they had a slim chance, whilst Roma were expected to make a return to Europe's elite competition. Hopes were even higher as, on Friday night, Inter had surprisingly lost to Cagliari, but this wasn't enough to spur them on. Beaten 3-0 by their arch-rivals, the Giallorossi's campaign crumbled and Milan beat Sassuolo on the same day. Under the radar on the Sunday, both Atalanta and Torino recorded convincing wins.
Week 29
Inter 53, Milan 51, Lazio 51, Atalanta 48, Roma 47, Torino 45
Milan's defeat on the Saturday saw them lose even more ground. They had been beaten in the Derby Della Madonnina the week before and many assumed that this was the beginning of the end.
This was the time for Inter and Roma to lay down a marker, but as was so common in this race for Europe, nobody took the initiative. Lazio beat Inter in Milan, putting themselves back in contention for a place, whilst Roma were embarrassed 4-1 by Napoli in the Eternal City. Eyes were now glancing back towards Atalanta, as they thumped Parma 3-1 away and the populous started to take note.
Week 33
Inter 61, Milan 56, Atalanta 56, Roma 55, Torino 53, Lazio 52
The Easter holiday saw all teams but Atalanta play on Saturday and with staggering consequences. It was thought that Lazio and Milan could make headway, especially as Inter and Roma played out a 1-1 draw. Somebody in that game was always going to drop points, but perhaps the knowledge of this made others over-confident.
Lazio were inexplicably beaten at home by lowly Chievo, a team with only one win to their name up to then, as Sergej Milinkovic-Savic's moment of madness proved a turning point in their season. Milan scraped a draw away at Parma in a dramatic game meaning only the team from Bergamo had any say left. Atalanta were fantastic and beat Napoli at the San Paolo, meaning they required just seven points to enter the Champions League.
Week 37
Atalanta 66, Inter 66, Milan 65, Roma 63, Torino 60, Lazio 59
Perhaps one of the most crucial weekends in deciding the Champions League spots came in the penultimate weekend. On Saturday Roma went away to Sassuolo needing to win, but their build up was rocked by the poorly handled Daniele De Rossi departure. They were toothless against the Neroverdi and the 0-0 draw left them three points behind Atalanta and Inter on the final weekend, meaning they would need a catalogue of favours going into the final day.
Torino had their hopes ended by a resurgent Empoli and Milan managed a 2-0 win against Frosinone, which left them in fifth, one point off the Champions League.
So what of Inter? They could've secured their place with three points, but they had to travel to Naples. The Partenopei had nothing to play for, but on the night it was hard to distinguish who was the team fighting for Europe. The Nerazzurri were demolished 4-1, leaving them going into the final day with it in their own hands, but under enormous pressure.
Atalanta would finish the weekend in third spot after they rallied to draw with Juventus away. The team from Bergamo looked tired though just days after losing the Coppa Italia Final to Lazio, who were now automatically in the Europa League group phase, and the pressure was starting to tell.
Week 38
Atalanta 69, Inter 69, Milan 68, Roma 66, Torino 63, Lazio 59
The final day of the season was always going to be dramatic as Atalanta, Inter and Milan all went into the final day separated by one point. When Atalanta went a goal down to Sassuolo, many thought this was Milan's chance, especially when moments later they took the lead against SPAL. The side from Bergamo however, regained control and Milan's potential victory looked in vain, that was until Empoli equalised against Inter and the Rossoneri gained some hope.
With nine minutes to spare, Radja Nainggolan saved the day for the Nerazzurri and they held out under siege to relegate Empoli. Atalanta and Inter would compete in Europe's most prestigious competition, while Milan settled for the Europa League.